here are the rest of the easter pic's...we ended up going to the madison river but it was a bit windy so we headed back to the gallatin...which is 5 minutes from our house. the drive was nice though....it was in the 50's...um, heat wave! it ended up in the upper 60's here by the end of the day.
first the girls w/ their easter goodies from the bun bun...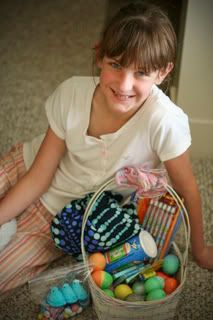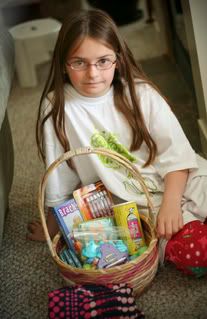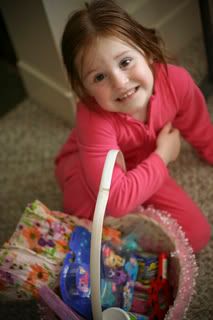 then off to the river...the sun was so bright & it was hard to take pic's...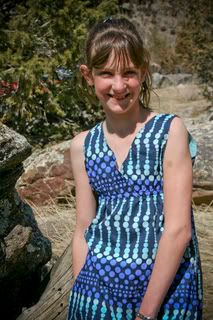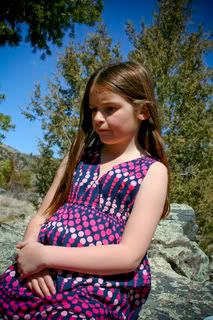 and this one makes my heart pitter patter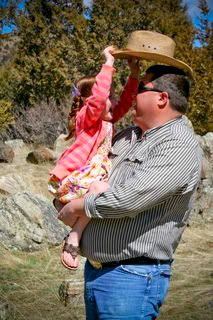 gallatin river...we went scoping out for some beaver ponds & threw sharpie her ball into the water @ her favorite look out point. it's so funny how she perches on the big rock & then does a total leaping belly flop into the water...look how high she gets!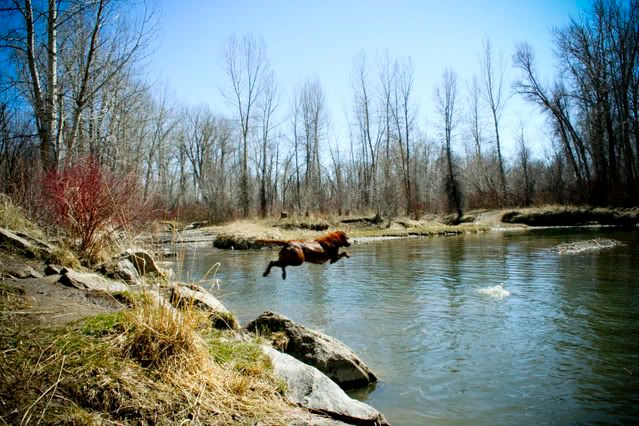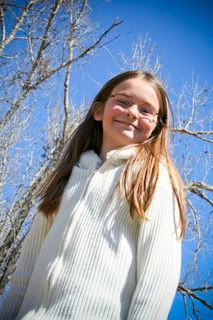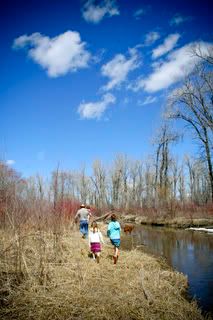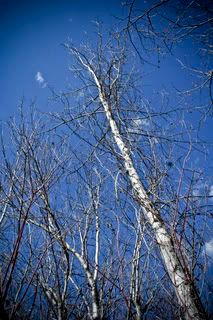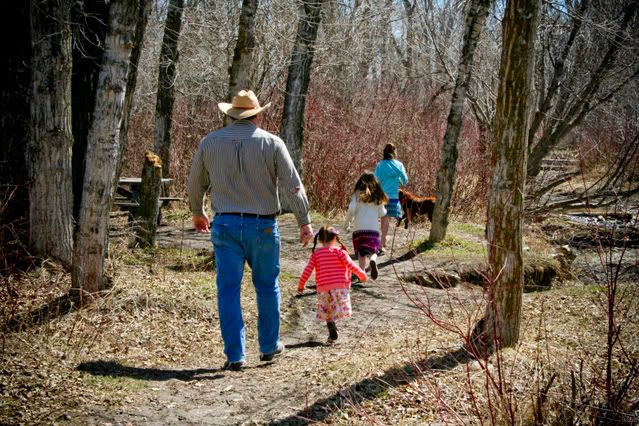 as you can see...spring hasn't hit here yet...nothing blooming at all...still crunchy like fall.
do you have plans for NATIONAL SCRAPBOOK DAY? i do. check here for all the details over at
sisters
. i am going to be teaching two classes that day to kick start the celebrations...the first one is "use-it-up sister". i have put my scrapbook spending on necessary purchases only- ink for photos, photo paper, cardstock & adhesive. it's been a challenge w/ all the new fun stuff coming out after CHA...but i'm sticking to it. also, another inforcer has been creating layouts for my niece aspen. obviously with three girls of my own i have plenty of pink to go around (besides it's my favorite color & i'm just drawn to it)...so i've been using nothing but scraps (all the layouts that i've posted before w/ aspen have been created strictly with scraps). it's been so fun to discover new ways to use up scraps & clean out those drawers that are busting at the seams. so...the girls at raffia gave me a mini-kit to work with & i had to make/create layouts down to the shreddies & find creative & fun ways to use the leftovers so there is nothing left!
here's what we are making...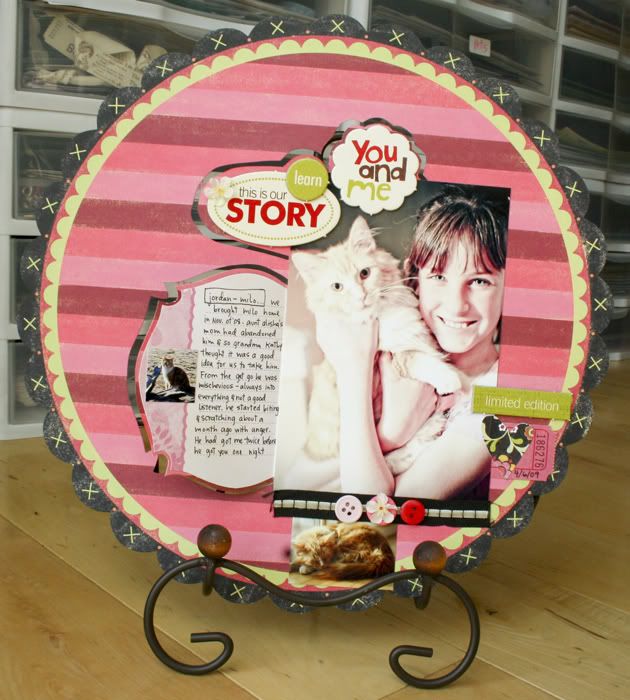 and a side view...
the second class i am teaching is a mini album...A PHOTO A DAY...
i personally am doing a photo a day currently but it's for the whole year. i thought it would be a great idea to incorporate this into a class to get ya'll (no i'm not texan, LOL) familiar with the concept & introduce you to the fun of looking at how things can change so drastically in one month as well as documenting just the ordinary. i am having so mjch fun with mine....here's my
2009 POTD
just to compare. here are a few teaser photos...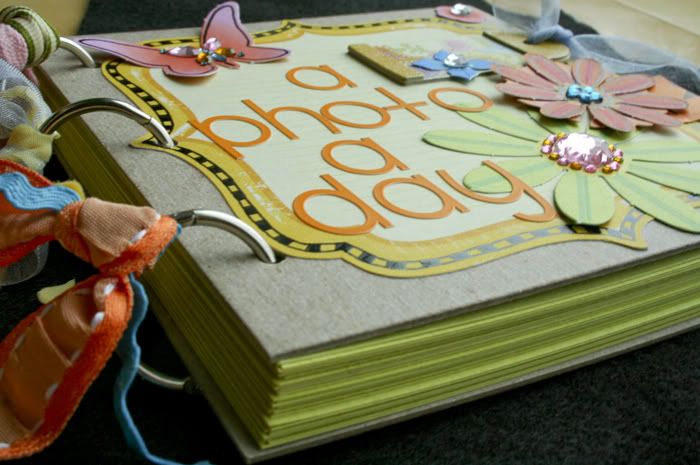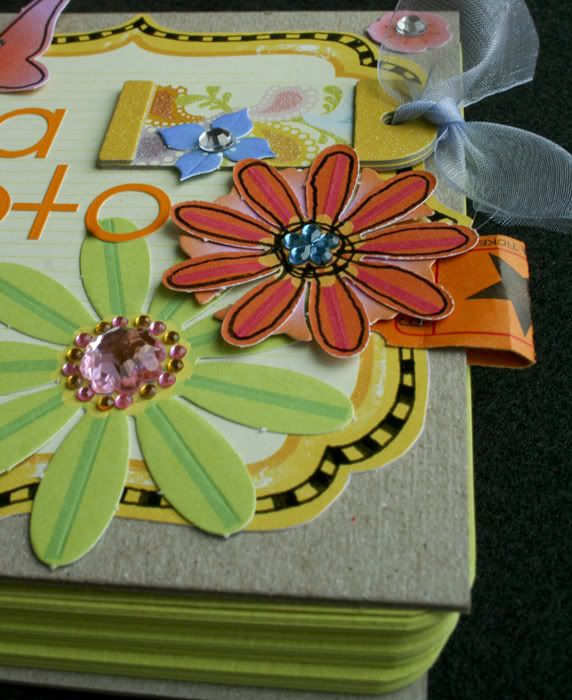 ***************************************************************************
some fun links:
i found
photofunia
yesterday via
tara whitney's blog
(which alone in itself is an amazing find). i created this last night after looking on the home page...looks like milo on top of the girls computer screen to a T.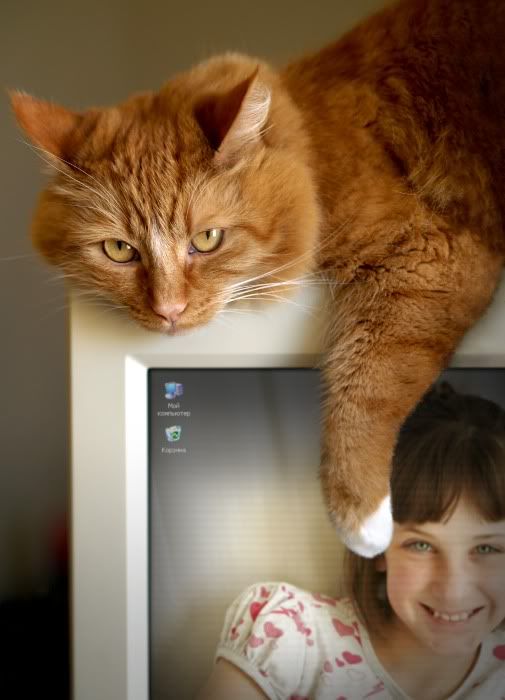 the second one i want to share is
pandora
...it's an online radio but you build your own stations by listening to songs that relate to the type of music you put into your initial "like"...you then give songs thumbs up or thumbs down & it builds your station. i have a station, the girls have one, so does buck that he uses at work. i swear it's one of the best things ever. i never used to like listening to anything but SILENCE or white noise while i scrapped...but this little ditty has replaced that feeling totally. i love listening to my station (i actually have 2 w/ different tastes) while i scrap & some
jack johnson
,
jason mraz
,
lady gaga
(now she really gets my ideas out on paper...but she's a bit strange to watch) and tons of others totally put me in a great mood.
a third one is
google reader
. i have 172 blogs that i read daily. i know your eyes are totally bugging right now! mine would be too. i never had that many before until google reader. you subscribe to blogs feeds & copy/paste the blog addresses into the subscribe bar. then every time a blog you've subscribed to posts a new post it automatically shows up. you just click on the "all items" & you can read all the new posts w/o having to go to each blog individually. you don't get to see all the cool blog designs & what not but it saves so much time. i get a dose of daily inspiration each day in the morning & through out. what gets me in trouble is that w/in everyone's posts they have links to other places & i check those out too. if i like them i add them to my reader. it's a very vicious cycle. but so worth it!
okay...off to scrap...i'm at home for the rest of the week.