a few tomorrows past since my last entry, but seems i'm always late on here :)!
recently i've been OBSESSED with spray paint! it is such a quick fix all & so user friendly without all the hassle & steps of "regular" painting! the ONLY downfall of using spray paint is that the colors are limited. another new obsession is thrifting. it's a great way to add things to your home & give them a new life/makeover.
up first- a desk for chloe. she's been really into playing school & loves to sit & write out letters/numbers. i bought this little desk (for which i'm on a mission to find a chair) at a thrift store, stumbled upon 1/2 off saturdays...so i got it for a whopping $1.50!!!! can't beat that!
BEFORE: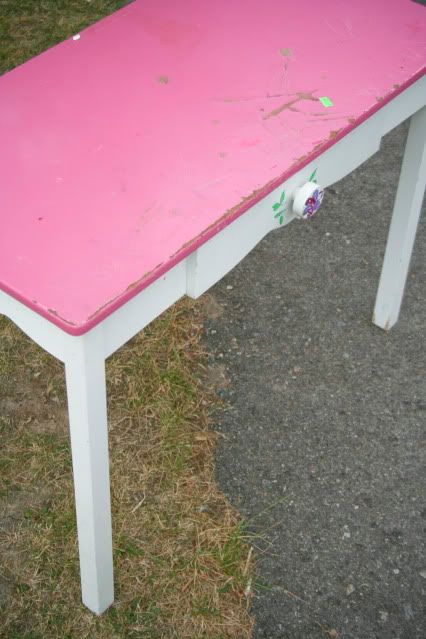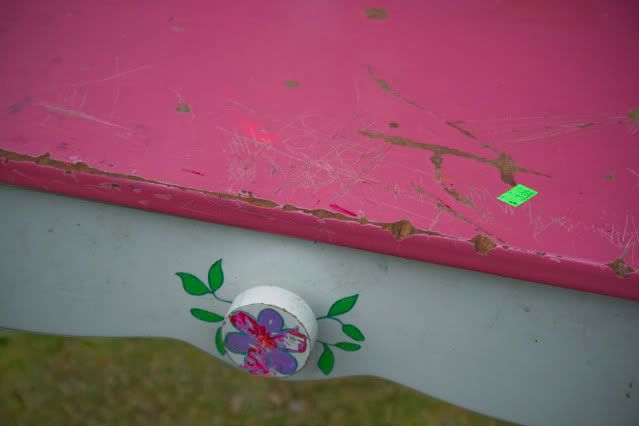 AFTER:
*using rusoleum spray paints in white, black & pink
*i sanded the desk down w/ a banded sander w/ fine grit paper
*i sprayed 2 coats of primer before painting
*i painted entirely in white first
*then taped off for my middle section using sb lace paper
my garage is my painting station when it's even a bit breezy out.
giving me this result-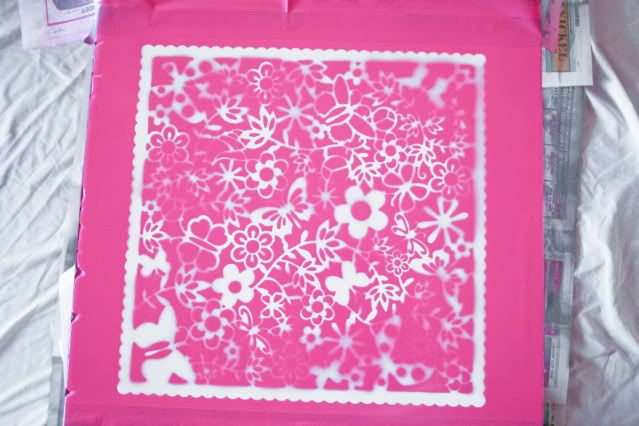 *i then spray painted the drawer. i used a rock from the yard to hold it up & off the old sheet to get even edging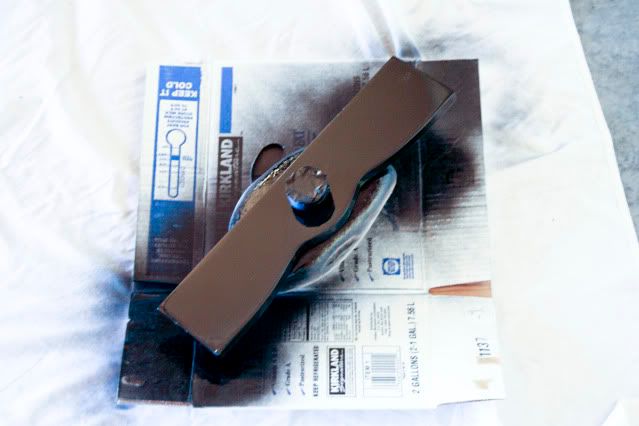 *there are still a few cosmetic damages that i couldn't sand away...but it serves as a reminder to me that it was a happy makeover & a success! and everyone/thing has imperfections :)
*i then added some making memories & heidi swapp chipboard letters (but just the negatives) to spell out her name. i taped the entire front off except for where her name was...
and the final look:
i haven't taken any photos of her sitting at her new desk because she was so super sick when i was doing this in stages...she's better now though...so i need to put that on my to-do list! :)
**and find that perfect little chair!
PROJECT #2- frames for the girls' bathroom
*i have had all these frames for a while now.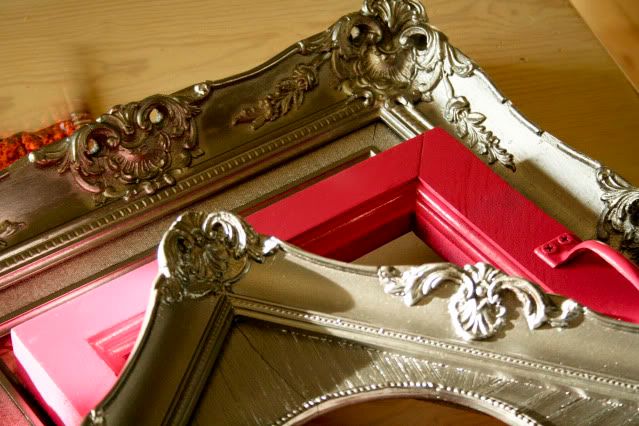 the two silver ones were found at a house in the garbage (eeekkkk) & the pink one- i bought on our honeymoon in texas. it had a photo of 2 bears in it...which i used to collect...and it was a dark red. i also had this white one, which was in chloe's nursery and with a photo of a pink lady bug. took the lady bug out & replaced it with this...
this is a play on those shadow box butterflies that you've all seen around the internet. i just finally had time to tackle it. i didn't want to mess with all the lining up (even after i had drew lines in pencil to do just that...but it was just too time consuming for me). so i just lined them up & stitched them all down (martha stewart butterfly punch & tons of paper scraps). i then used diamond glaze glue & added the bling. i went thru my quote collection & used this one. love it!
frame #2 & #3:
for the pink one i just added the photo (and this is the honeymoon frame that was red). this photo is the closest i could come with bright colors to match & "water" themed that i wanted since this is for the girls' bathroom. it was from this summer in CO.
the silver frame is the same stencil/lace paper i used for chloe's desk...matched perfectly & it was still on my desk to put away...so i chopped it up & sized it down to fit :) then i covered 3 chipboard butterflies with old book paper, silver UTEE (going a bit old school there, love diggin out old product) and pink martha stewart glitter. i sprayed some fixitif (sp?) stuff that i've had FOREVER so that the glitter would glitterfy the girls' bathroom.
frame #4:
this was another silver spray paint job. and some awesome "already sewn" paper that i picked up at
sisters
. also added a strip of word paper at the top because it's about 15 or 16" tall for the opening.
the brown strip is part of the packaging from the paper, i just flipped it to the other side so there were no words & trimmed to size. i used some quote stickers for the saying. outlined in my favorite gel pen to add some dimension & black!
this is the inspiration...
the girls' butterfly shower curtain:
i also had tons of butterflies left over that i didn't use in the shadobox frame so i just sewed them all together in a string & hung them swooping down over their mirror.
*up next, i have a cute little side table & a desk for brinley...which were both FREE!
*i have one project that i also completed out of an old wire bed frame- wires & coils- that i spray painted black & i have photos/etc. hanging w/ clips & clothes pins. it's in the basement in my sb area & i forgot to take a photo of it.