a couple weeks ago i went to billings for a retreat & to teach classes at
sisters
and due to my hectic crazy busier than normal schedule i didn't have any time to pre-plan layouts to work on like i normally do (i normally plan around 100- and get all or most of them done). can you believe i waited till the last minute to pack!!! i had projects here & there so i just decided that this was the perfect time to wrap them up & it really didn't take much to grab my stuff & place it all in my totes. one of my projects i am so glad to have finished & usually put off when i'm scrapping at home is the album i'm making for myself of the girls at the same ages- my comparison album (i made these for my mom & MIL a couple years ago & had a set of prints made for myself). i had only 5 pages completed...now i'm caught up :) i love having these photos grouped together to compare how they all looked at the same ages!
this is the opening page...
the birth page with all their stats...
yup, all my girls have 2 middle names...love that! born on saturday (J), sunday (B), and monday (C). 2 c-sections & one nautural- and i mean ALL natural- that was brin & she was the biggest! all were early too- LOVE that! :)
now we go onto all the month pages. this is one photo i always made sure i took of each of the girls...their monthly birthday...on the 24th for jordan, the 19th for brin & the 3rd for chloe.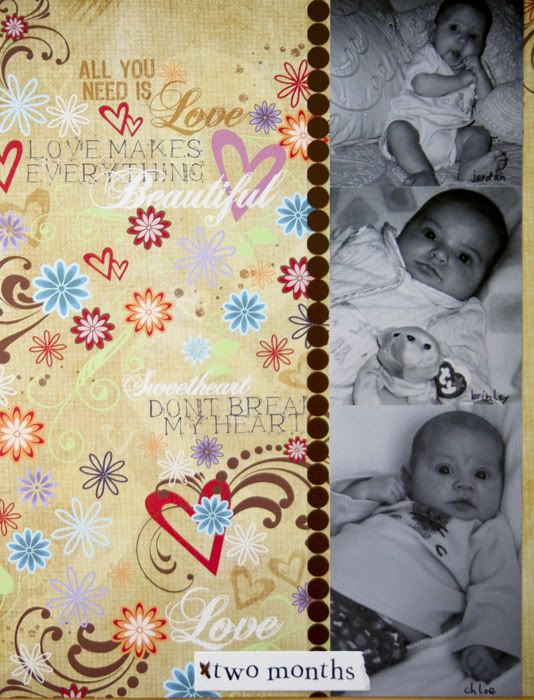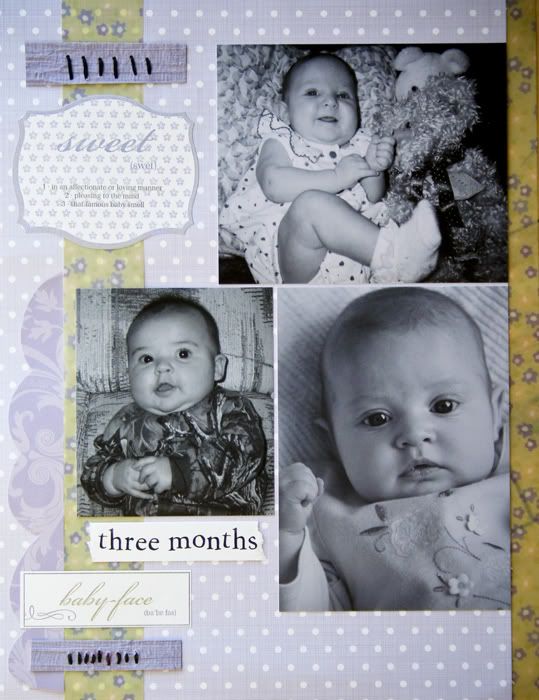 the order of photos is jordan, brin, chloe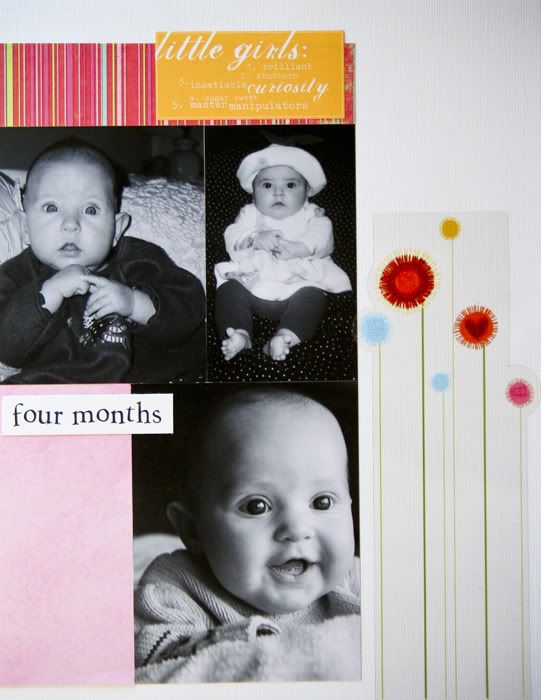 the order of photos is jordan, brin, chloe. this photo of brin...love how she has her little toesies stretched out...so cute!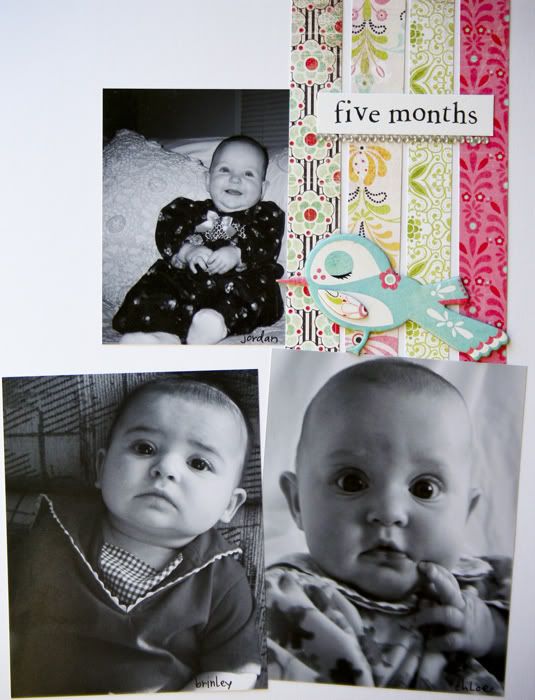 brin's picture looks so sad...this is the day we took her to the ER for having RSV. poor thing!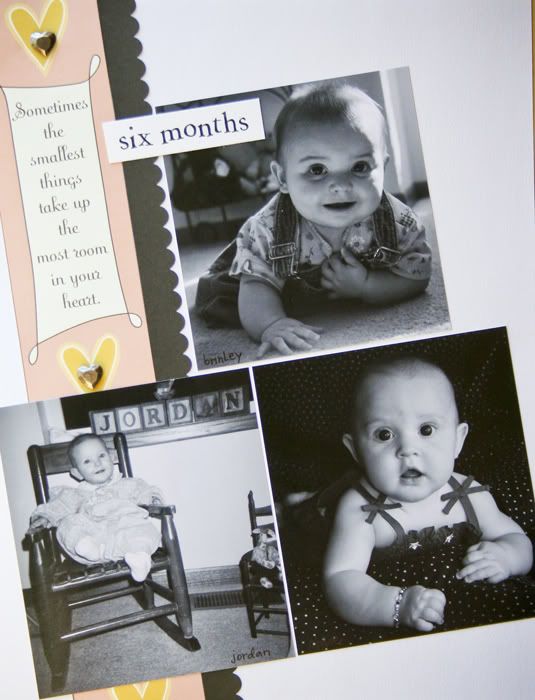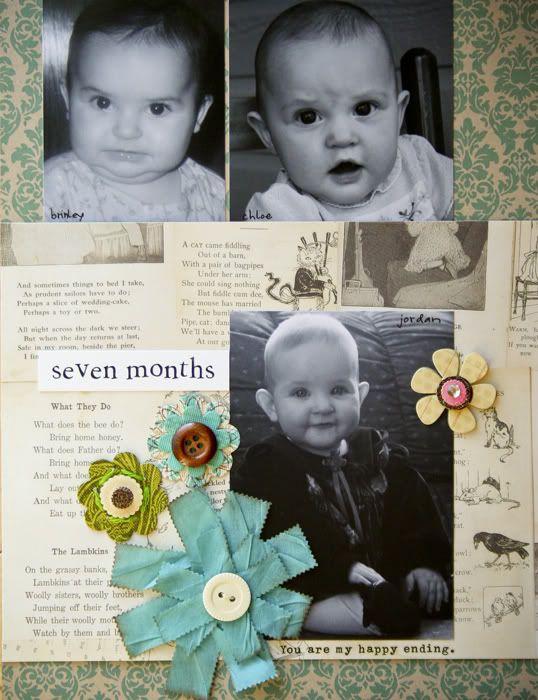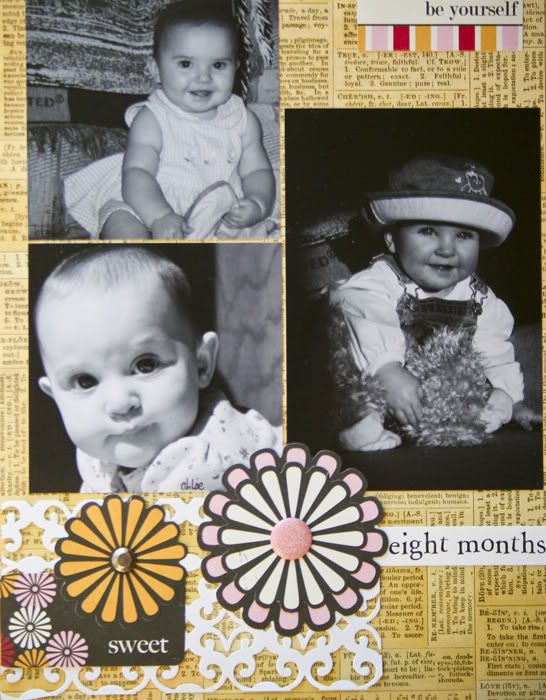 the order of photos is brin, chloe, jordan. the photo of jordan is one of my absolute favorites of her EVER.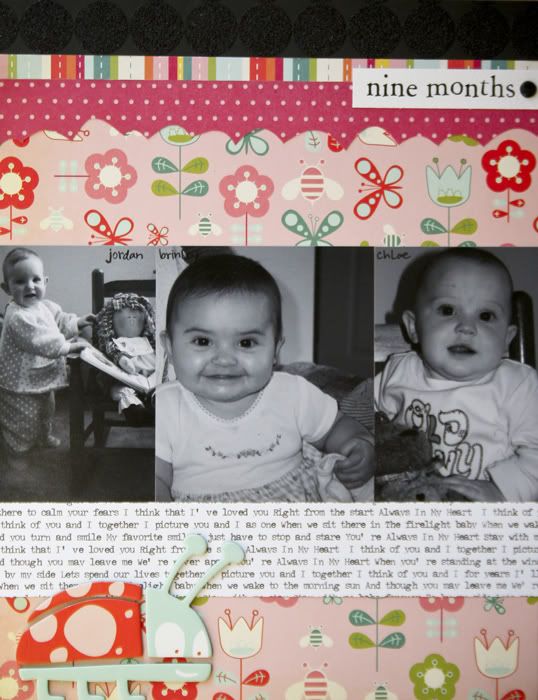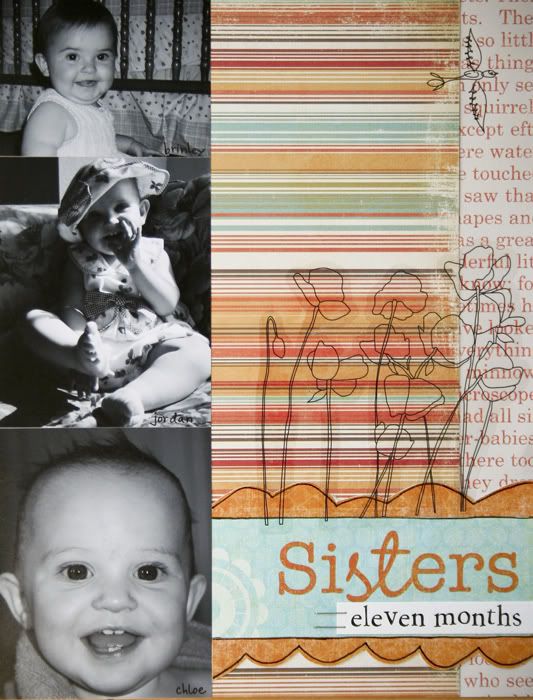 don't chloe & jordan look exactly the same here! if i weren't their mother...it would be hard for me to tell them apart!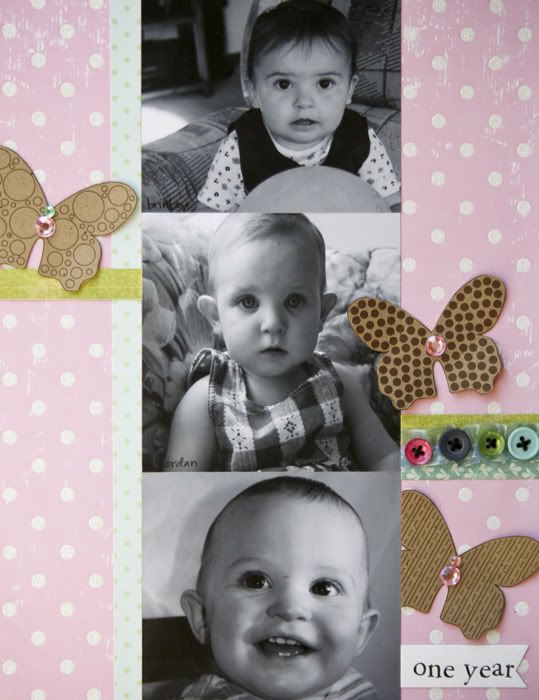 the order of photos is brin, jordan, chloe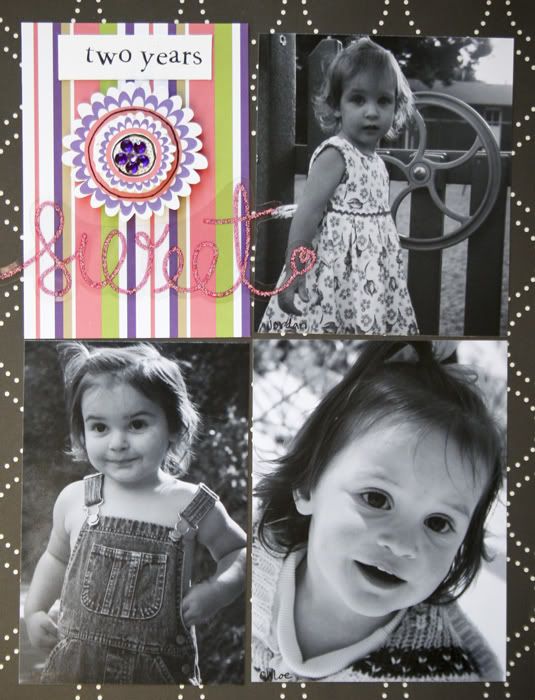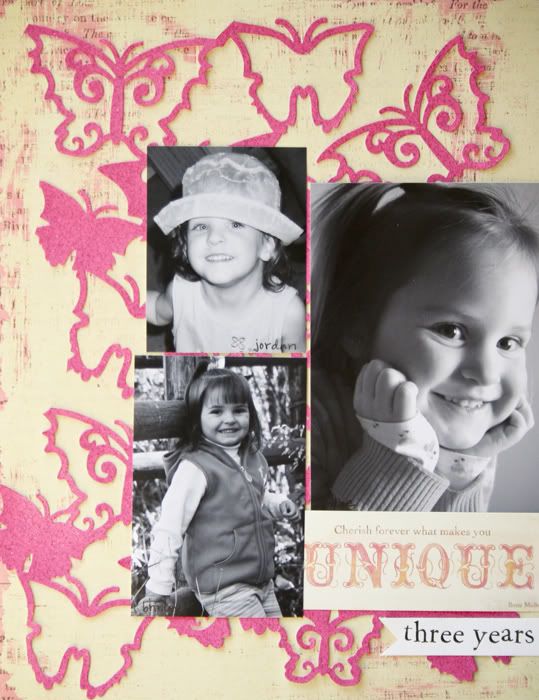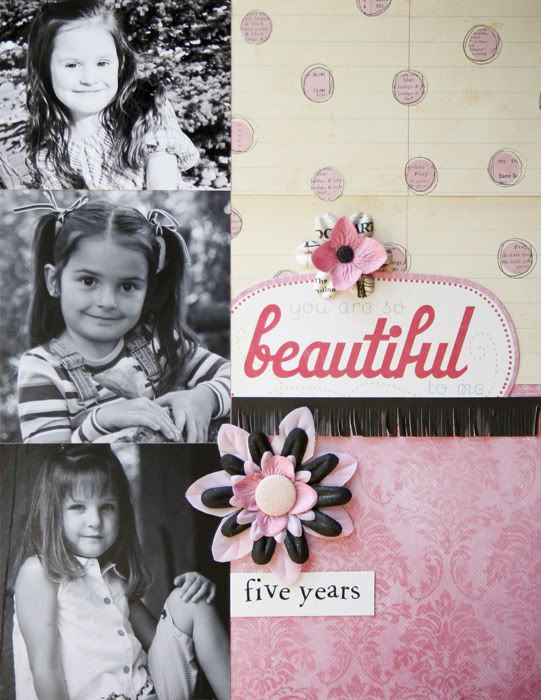 i plan on going up to age 10...but by that time i might change my mind & just continually add to it after that. and while doing this...i realized how much my photo skills have improved. love that too!
the other project i completed over the weekend & i must say...i'm glad it's OVER! my photo of the day (POTD) album. everyone loves it though...the girls loved being my POTD & were constantly asking if they could be my subject. and i must admit...some days i forgot so i had to fill in with photos from days where i took tons. i didn't quite complete this album at retreat (i only had 3 months to place into the album & journal) because i forgot to bring the last two weeks of photos (sara...i did have them printed, i found them on my desk when i got home, LOL) & my journaling pen ran out! my pen ran out! crazy...i tried to find a black pen at hobby lobby & the sb store but no luck for the one i love so much- a sakura. so i couldn't finish the journaling either.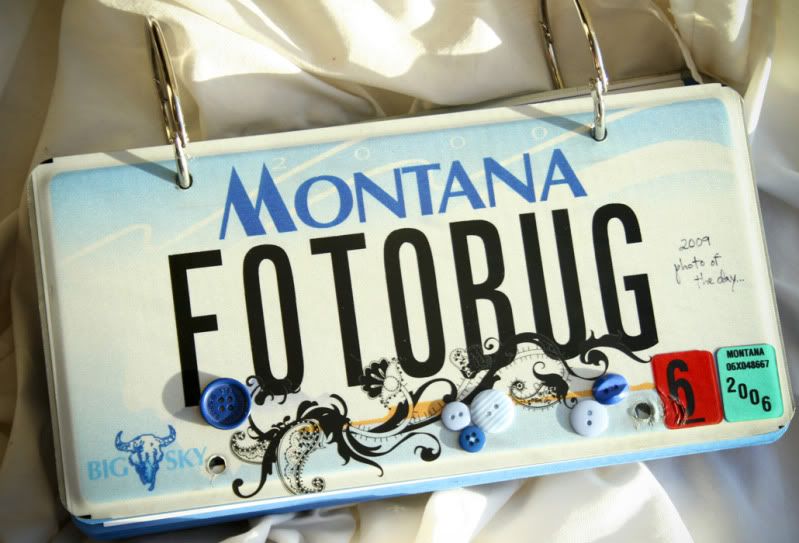 can you believe this is all i got done- it was the best retreat EVER! i will be the first to admit it put me in major panic mode to not have a plan...i've NEVER gone without a plan. um, yeah, type A all the way :). but after working straight for 2 months & all the other kids commitments...i so needed a break. i visited most of the time- met some fab new gals, laughed my bootie off, devoured some INCREDIBLE food & taught my classes. can't wait to go back in may for NSD, august for karen russell's class & october for fall retreat!