i think mother nature really has her seasons mixed up! & for the record i feel utterly jipped! dupped! this past week we had an extremely canadian front come in through our neck of the woods & drop some seriously COLD temps on us along w/ some of that fluffy white stuff. this is the front moving in...
our temps dipped down in the single digits. it's too early for that! & you all know how much i love my cold weather. but, like i said, i feel jipped & the reason is because this isn't what happened all over town...
it turned so darn cold it & frosted so hard that it just fried everything & it's all burnt to a crisp & NOT CHANGING into its beautiful fall colors. thank goodness i took this pic! this was taken out my bedroom window one night...
on sunday morning jordan was hit by a brick wall with the swine flu. we went to urgent care...$64.00 for the visit & $113 for the tamaflu! egads! but she's on her way too feeling better...now we just have strep to get over. i guess after swine flu some kids get ear infections & strep...lucky us :)!
i decided to get out the halloween decorations...
put the ol scrappy supplies to work...frame those papers & doll them up a bit...perfect for frames & having photos to match :)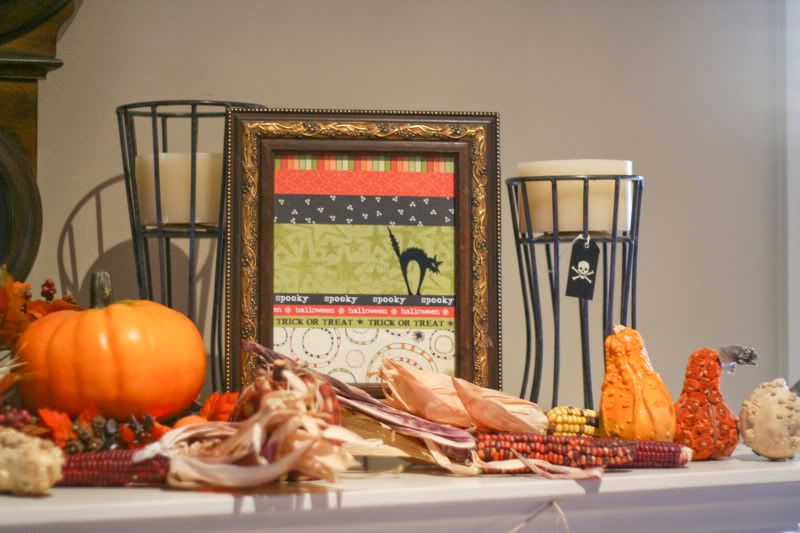 put the girls costume/photo in a frame as well from last year. got the halloween banner at hobby lobby when i was in billings (for retreat) for 1/2 off...so it cost me a whole $1.50. it comes naked & brown just like it appears on my mantle.
more scrappy supplies at work...this is a top my movie shelf...
so what is everyone's kiddos dressing up as for halloween. i need ideas for a 12 year old, um, yeah, jordan, who wants to be a zombie, and her mommmy isn't fond of that idea much. chloe is going to be a butterfly & i already have her costume. brinley wants to be an artist...imagine that & how easy!