crystal had arranged for us to go riding at her trainer/friend's house early saturday morning. cory is amazing....the way he works with his horses is like the movie, "Horse Whisperer". it's just amazing to watch in person.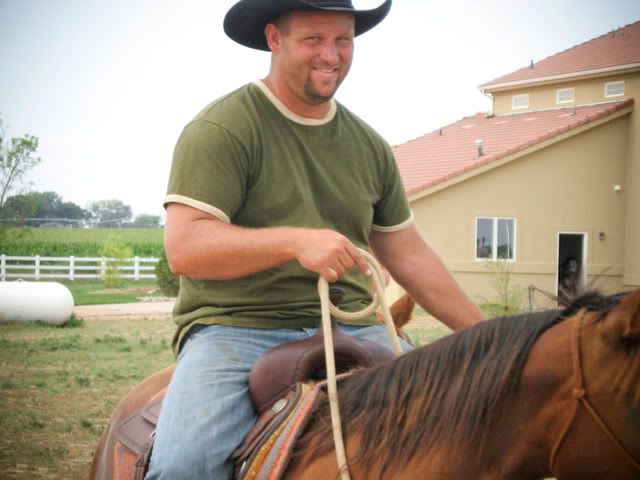 he's amazing w/ the people too...talked me into getting on a horse. i haven't been on one since i was a little girl. i was drug by a horse & haven't been on one since then. that's chloe & i on the middle horse...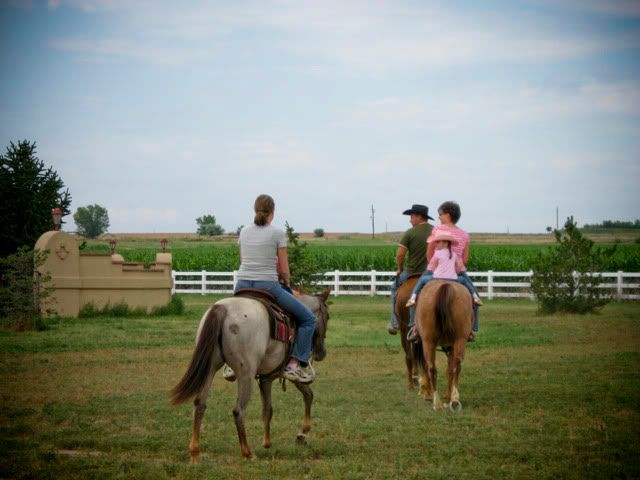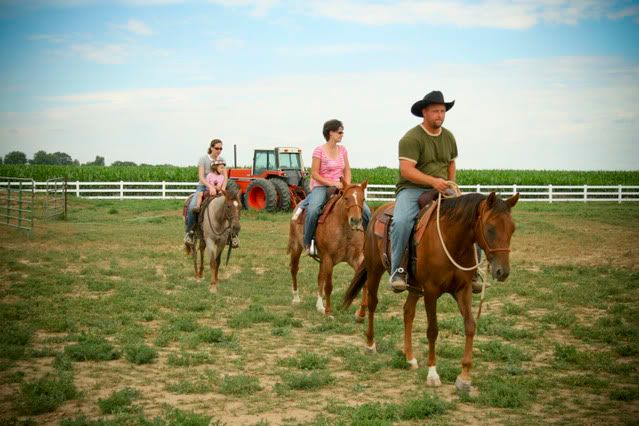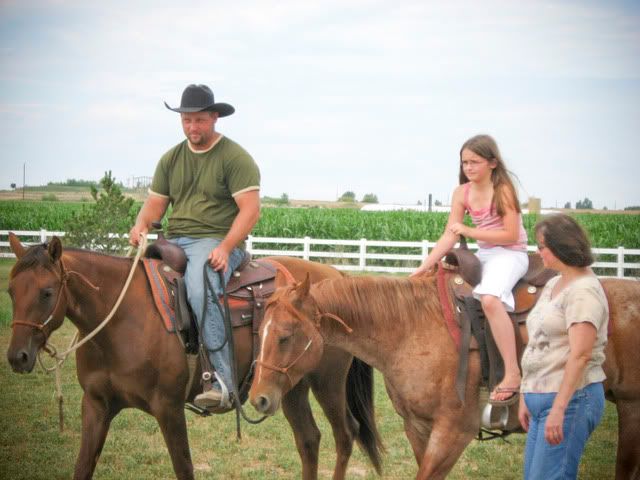 can you believe that brinley of all people was afraid to get on the horse? that poor girl gives herself way too much grief & is so panic stricken at going for anything outside of her comfort zone. it literally shuts her down. she just watches from the sidelines. it breaks my heart that she's so frightened.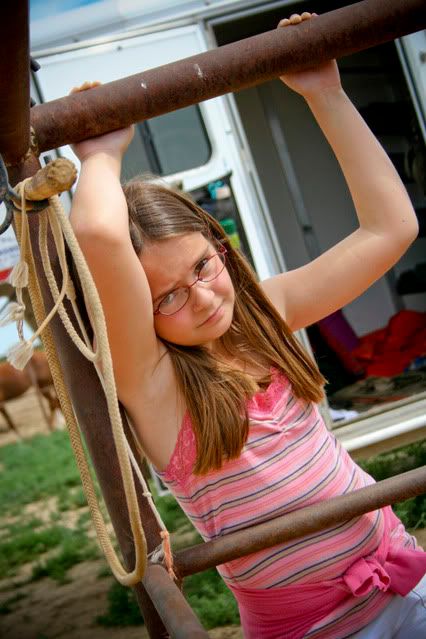 finally, by after about 30 minutes of my mom working with her she agreed to get on. you can see the absolute fear in her expression. cory did amazing working with her to make her feel comfortable & steady. he had her stroking the horses neck to get her mind off things...telling her that the horse loves it (which it did) & too keep stroking her neck. we finally get to this point...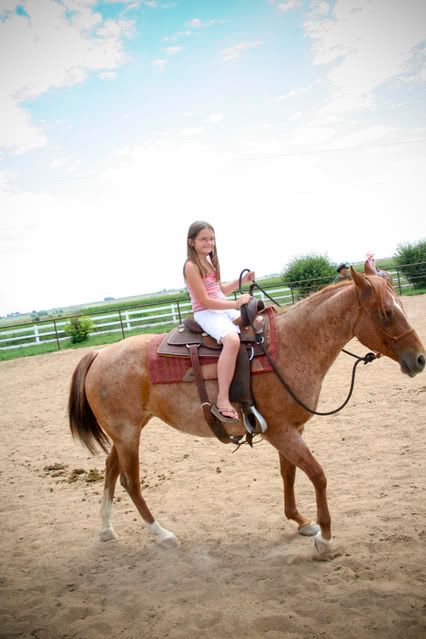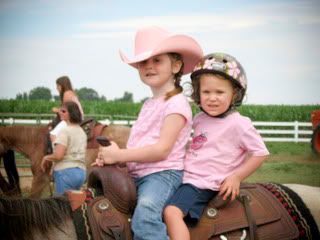 aren't those bull mastif's just adorable...i think there were 4 or 5 of them. then a weimereiner too.
chloe with liz (cory's wife). horses are cookie (the mom) & moonpie (the baby)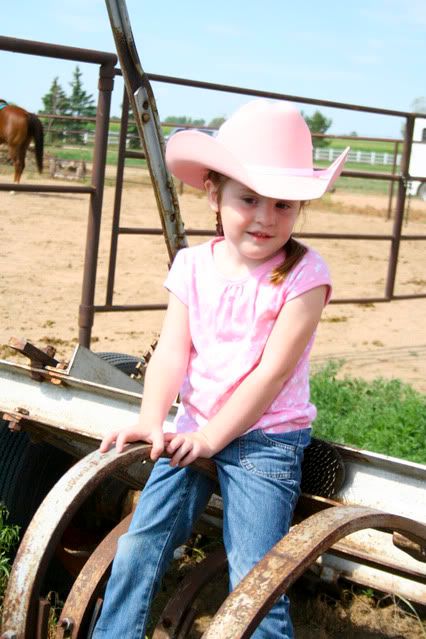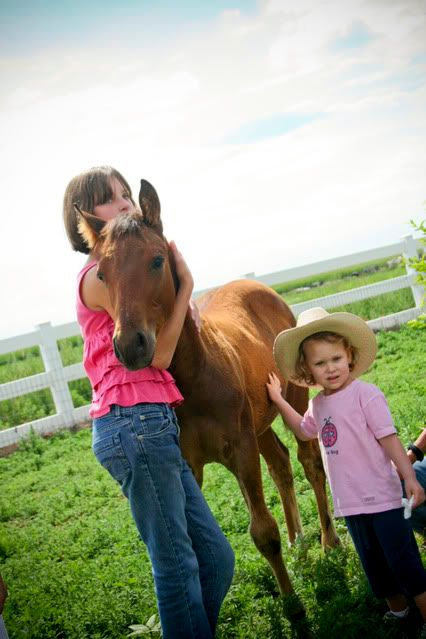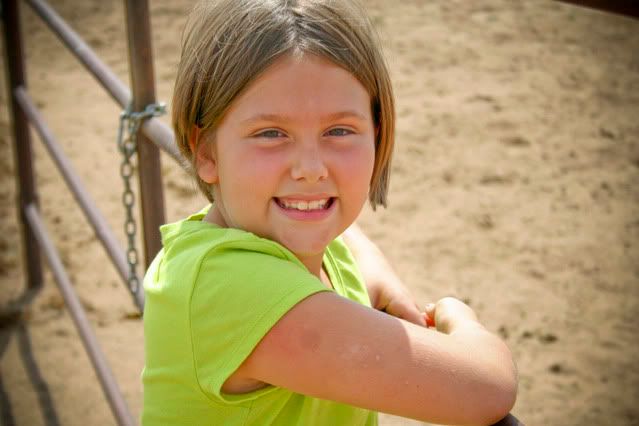 kaitlyn
aspen "holding onto" chloe (crystal's horse)...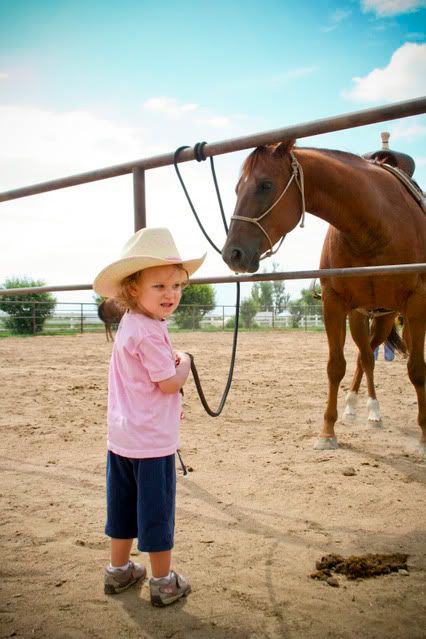 this is what happens when you take one little cowgirl, named chloe, and you take her horse away & let someone else ride it.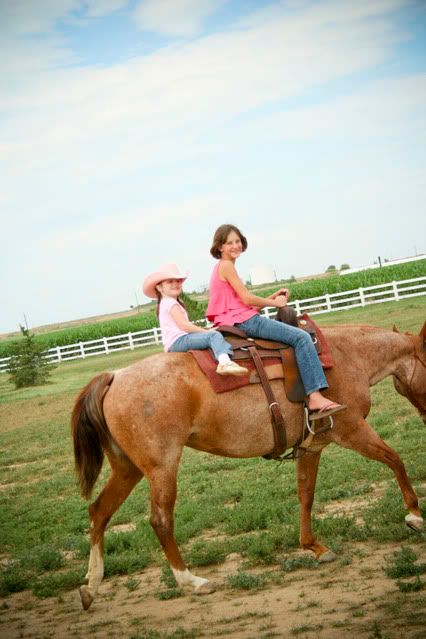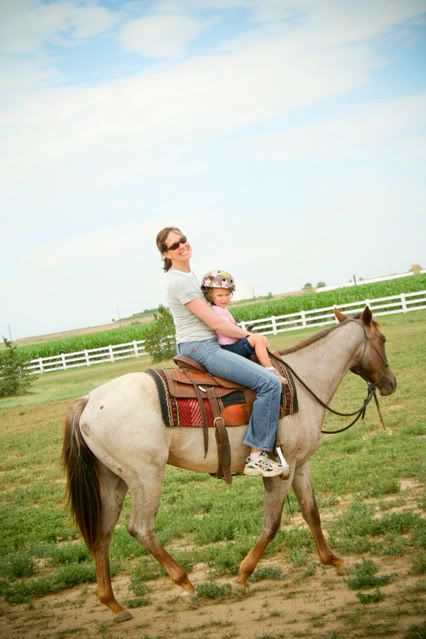 sister, crystal, riding her horse cloey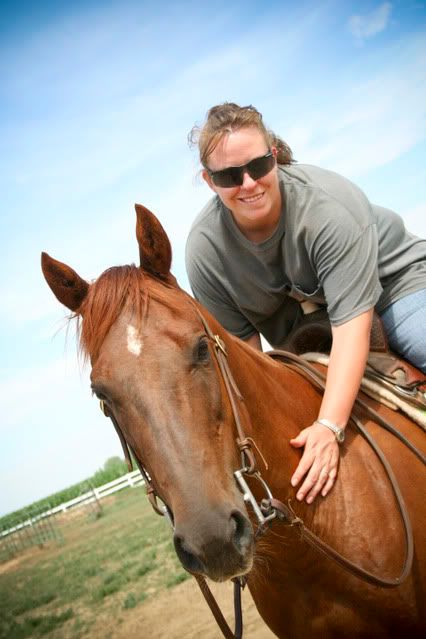 sister, misty, pulling along aspen & chloe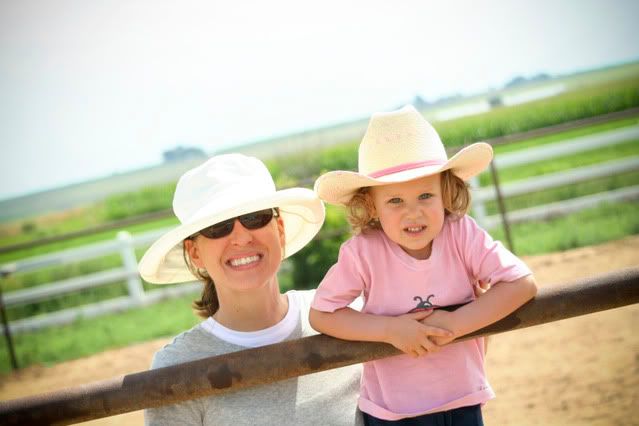 my mom, dad & aspen...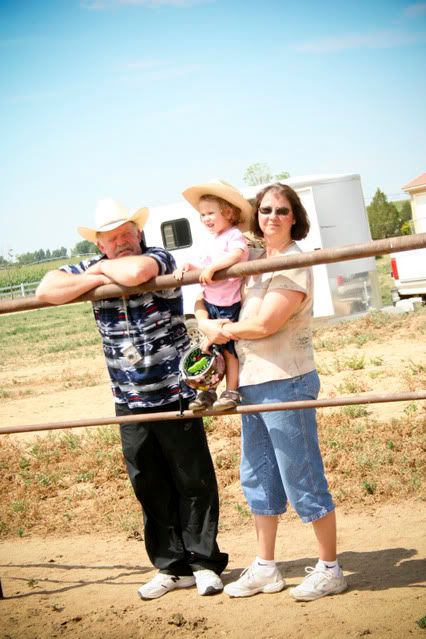 bryan & kaitlyn...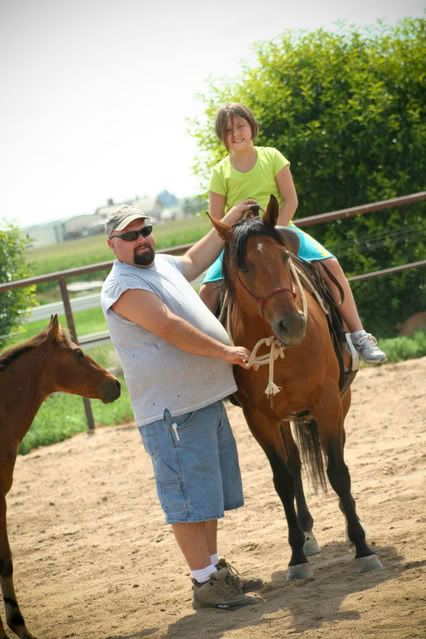 aspen & brinley...
i love how i caught aspen tipping her hat...it makes me think she's saying, "g'day ma'am."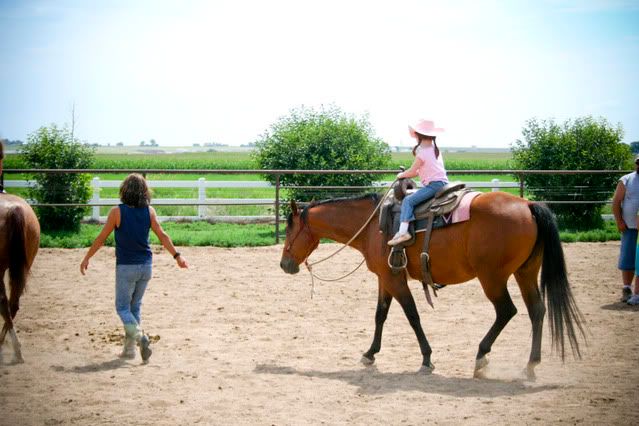 liz worked with chloe in the arena & let her ride by herself.
cory lined up with my 3 girls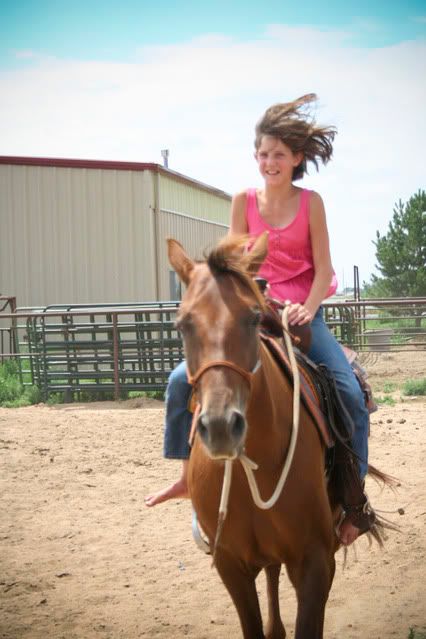 while brinley was working on not being so frightened of the horses, jordan was inside the arena riding & galloping up a storm. she was a natural & took right to it. liz worked with her first before letting her go on her own- making sure she knew what to do with the reins for each command.
leave it up to this girl, aspen, to find sand somewhere. remember: life's a beach! (she told me that when i visited in may & brought her clothes that were beach clothes- tank tops & shorts). she would cover herself up & then stand up & say "shaky, shaky, shaky!" & just giggle. so cute!
another favorite photo of the day...it says to me..."i'm dreaming of horses".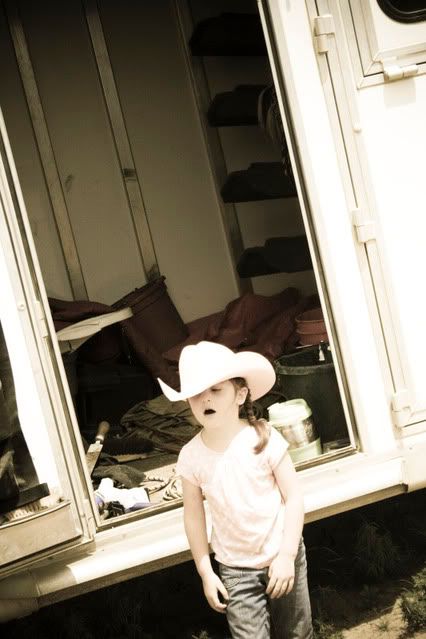 ah, a hard days work.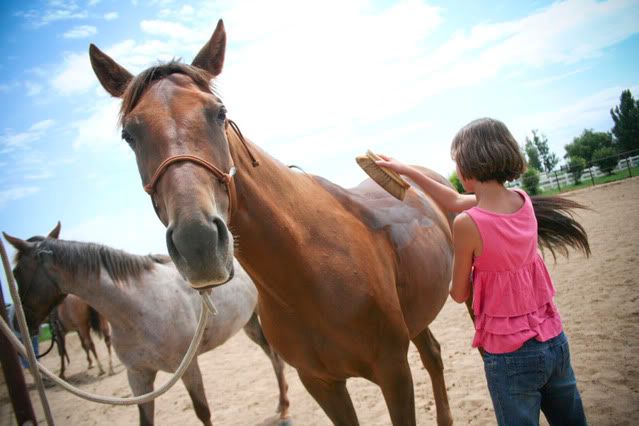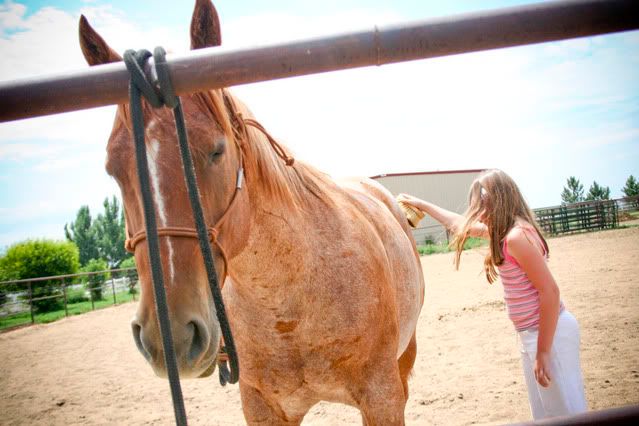 and with jordan's words...we tell the horses thank you by brushing them & letting them relax.