so many ask me how i get so many pages done? i have no secret i do promise you that much. but, the one aspect in my scrapbooking that does help me create a heap of pages is the fact that when i have a pile of photos that belong in each of the girls albums i *DUPLICATE*! i just trade out the photos to match whose album i'm working on. here is a layout i worked on over the weekend (photos from last summer) to explain my concept of *DUPLICATION* a bit more...
this is chloe's version...
brinley's version...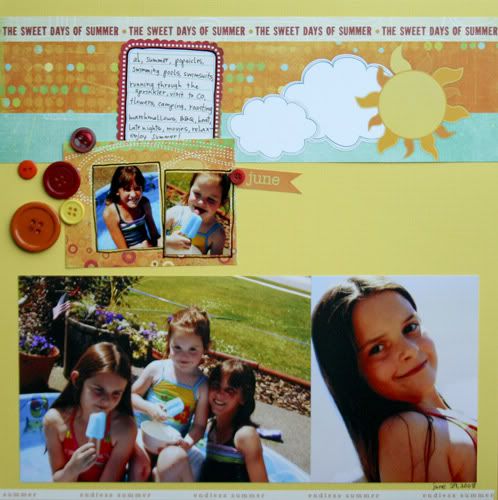 chloe's version...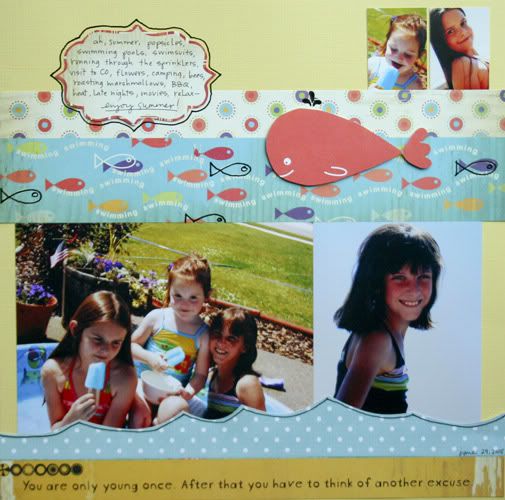 i used all the same product line, just used different accents to pull out each girls colors individually. i chose the fish/whale for jordan because of her love of whales. i chose the popsicle's for chloe because that girl loves a good popsicle. and for brinley i chose the sun/clouds...just because of the way the sun is shining on her face in her individual shot. i also put individual shots of the "other sisters" on there in smaller sizes. once i get the first page done...the others go so much quicker & enables me to create quickly without feeling buckled down to create separate "looks" for all three girls. they all have their own albums...it won't matter if some of their pages look similar or exactly the same.