i have been so busy crafting all sorts of goodies these past couple weeks...having so much fun! thanks to those teacher's gifts i have made over 20 of those frames...need to take pic's of the ones i still have in my possession & show you! i LOVE them & they've got raving comments...& so fun to make! i'm contemplating on opening an etsy shop to sell them. i've also thought about taking them to local boutiques (baby stores especially & local home furnishing types) to see if they would be interested in them. i'm almost all done with them & totally caught up...i only have chloe's left. i'll edit this later w/ photos :)
from going to nothing bought to everything bought & wrapped in a couple days time makes me feel so much more complete & ready to take on all this holiday hustle & bustle. there is such a christmas spirit running rampant through this house right now. brinley had "kid town" at school today...all the 2nd graders made crafts & the kids have earned play money to purchase other classes crafts for gifts. she came home & wrapped them all up herself & now they are under the tree too. chloe is reminding everyone that you can't "touch or pick-up" any presents...it's a huge rule around this house! she's rule patrolling for me! :) so cute!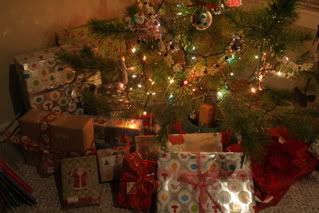 it was hard to take this photo...
- we have colored blinking lights...kept getting different sections w/o lights on- we usually do colored non-blinking but i had to change out a bunch of the lights & some of the replacements were blinkers...fun for chloe- she loves it.
-another addition to the tree this year & something that we did every year as i was growing up was string popcorn & cranberries to hang as garland...i did two skeens of cross-stitch thread worth...took 5 hours to complete. but i'm so excited for my mom to see when she comes up next week..it's my surprise to her & a secret until her visit!
jordan finished up her basketball season on sunday...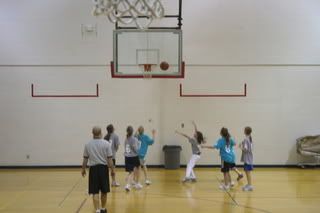 she never scored a point but man can this girl give the offensive team some serious defense! she forced all kinds of travels & turnovers without fouling! she starts another team in january & then has games in feb/march. love this one of chloe playing w/ brinley on the bleachers...in this photo you can almost hear her laughter!
jordan had her choir concert on monday night...so cute! and of course sang our family christmas song...silent night!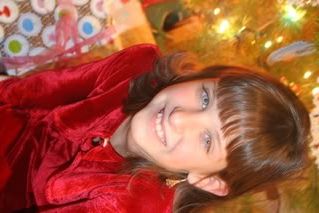 jordan is in the middle row & third from right
on sunday did a family christmas card shoot for one of my friends...also happy 21st birthday to liz...LOL!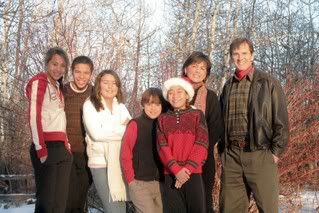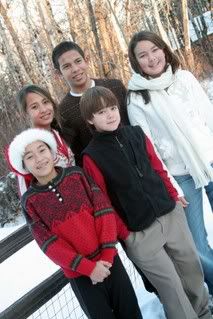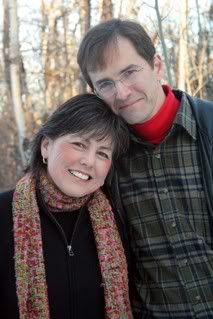 afterwards stayed for hot chocolate & chit-chat...so fun this family...love them!
also on sunday we went for the "santa visit"...chloe was a "convinced trooper" & had to be given a candy cane to sit on JORDAN's lap! she adores him from afar!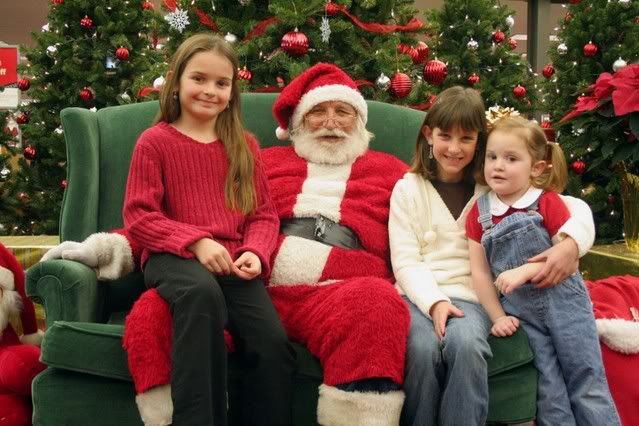 the previous sunday after jordan's basketball game we went up by the ski resort & cut down a christmas tree! so fun...an absolute blast even though it was only 11 degrees & so cold & windy up on top of the mountain! & bare with me on the amount of photos..i couldn't pick just a few!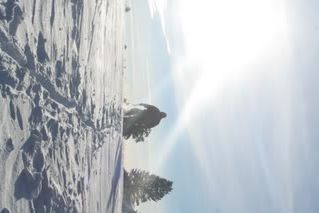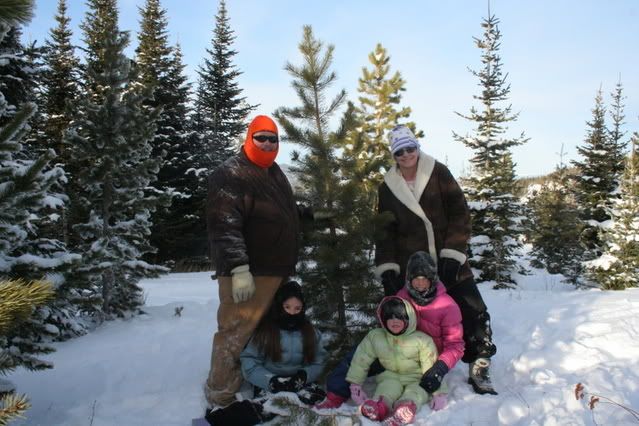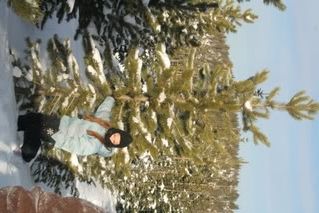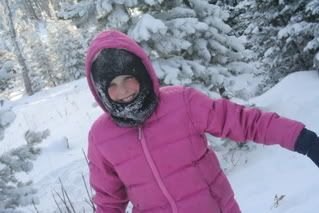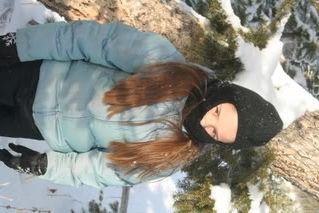 we also had our annual gingerbread house making day with the center family! as always fun...but for the second year in a row we had the roughest time getting the frosting to "take & stick" the pieces together...they just slide off one another...but fun despite this flaw.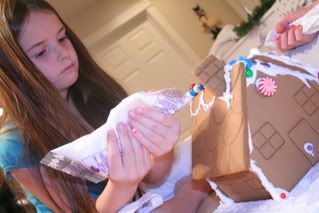 been busy working on projects for
scrapaddict
...
my december kit layouts...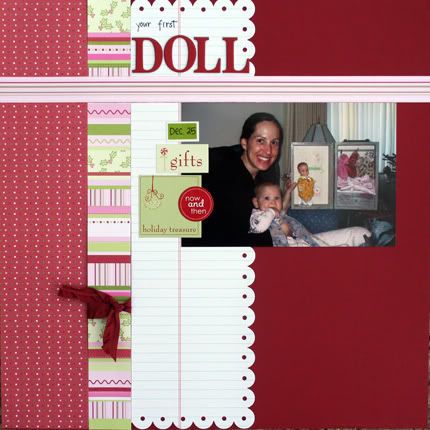 these are both layouts for aspen's album...using the
sleigh bells SDJ kit
january kit layouts for
scrapaddict
alpine village kit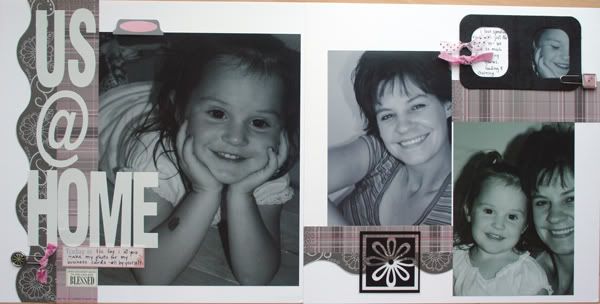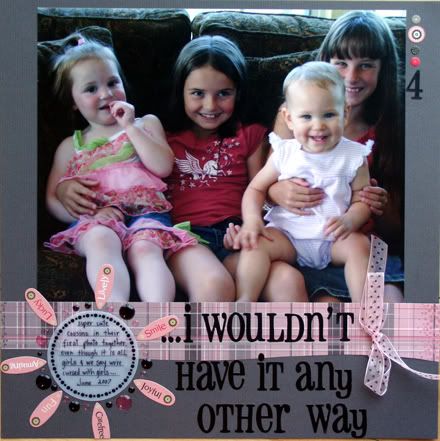 layouts using the
yellowstone kit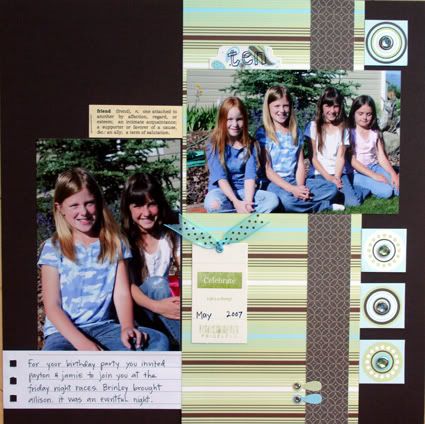 and a layout of aspen & todd...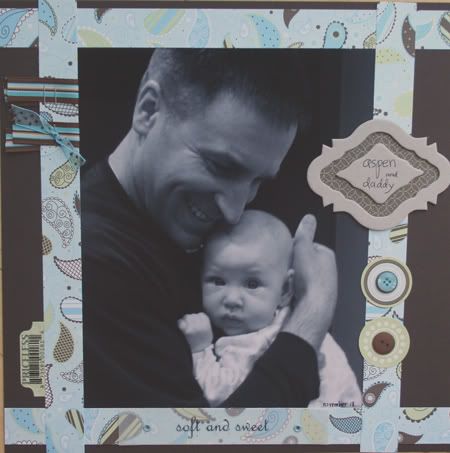 jordan & her boyfriend- johnathan...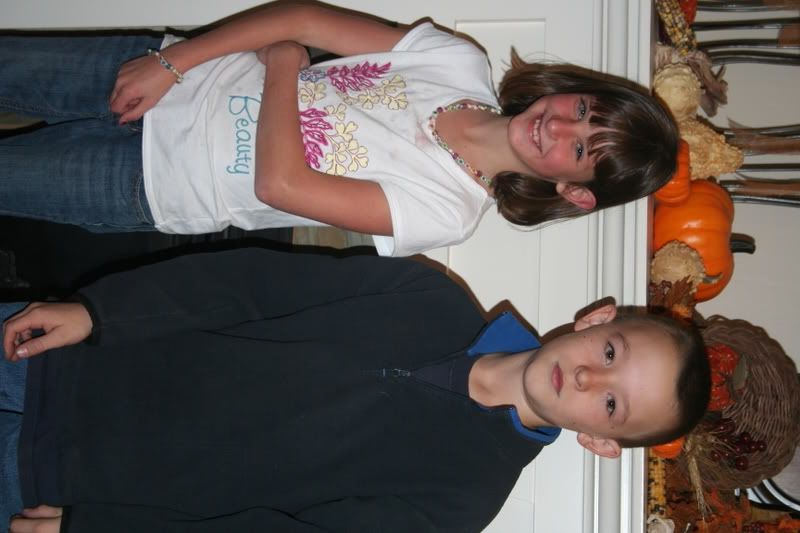 so cute...he bought her a rose, a book & a photo of himself for christmas...adorable!
i think that's all for now...sorry for such a lengthy post but i actually have had this on my to do list for a week now & finally got around to posting & uploading all these pic's/resizing everything...
buck is actually on his way home right now from las vegas...he left last night @ 5 pm & drove straight through...delivered a cadillac escalade truck to a guy there this morning (he is friends w/ one of the managers @ the store & buck is the salesman)...and is now driving back straight through. he's so tired...i keep telling him that he needs to stop & sleep...he ate at red lobster for supper & that helped a bunch- what a treat for him...we don't have RL here! plus i hate seafood! yuck! & he just wishes that he could see idaho during the daytime...we've only been as far as henry's lake which is just on the bottom corner...sounds like a road trip &
catherine
...i bet our husbands would get along fabulously!!!!
k...good night!