last night i talked to misty & said that when aspen watches their local news there is a gal on channel 9 that she thinks is me....NELL. too funny! so i decided to whip this up for her so that she always has a photo of NELL w/ her. this book is from
it's a general blank board book that is 6x6...it was perfect.
this is the cover of the book...which i cut a hole in it so the photo of them could peek through...i used MM stamps for the title-
this is the first page...i used MM definitions & urban lily flower punchouts along with AC rub-on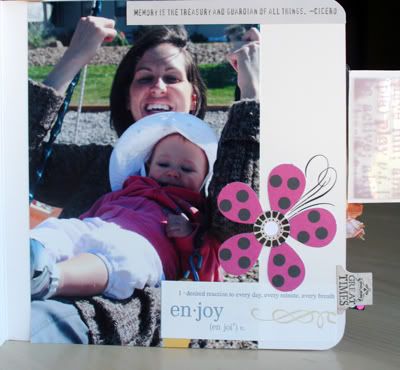 playing outside- i used a rub-on from MME and then a snip-it of paper from urban lily
more playing outside- i used only MM stickers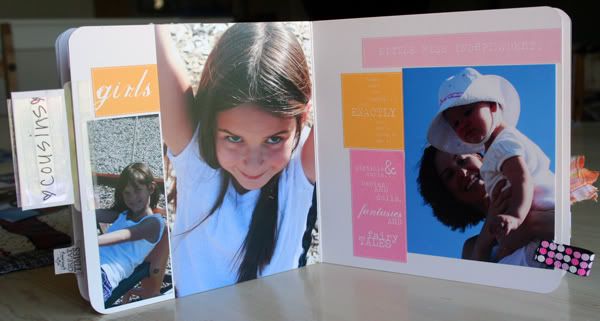 chloe & aspen in the bath together- i used MM definitons, AC rub-ons (flowers), AC for their initials. i must say that i distinctly remember a photo of misty in the tub & man does aspen look just like her!
you are my sunshine- i took these of aspen when she was just playing in my kitchen...i love them so much...look at those baby blues! it's so funny to misty & i that both of our first girls have blue eyes! she is a doll & truely my sunshine!
aunt NELL & jake- she couldn't get enough of me- always wanting me to pick her up & calling for my name to make sure i was watching her. this is a self-portrait of her & i. jake was her first kitty she was able to touch & watch super up close...if misty & todd had a cat...don't think it would get much rest! aspen would always be on the prowl!
for some reason my pic's are not showing fully so here is a link to show them full page:
http://www.scrapaddict.com/phpBB2/viewtopic.php?p=460562#460562
after talking w/ misty last night we also realized that we should of taken more pictures! i was just enjoying her so much i forgot most of the time! i wish we would of done a "photo shoot" for her 1 year pic's so much. & more w/ the girls. next time!