on scrapaddict.com there is a photo a day challenge going on right now & today's challenge was to take a photo that had the meaning "in living color"...this was the shot i got yesterday-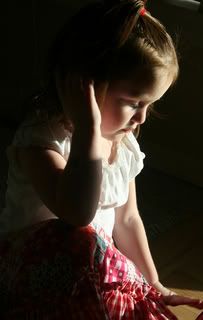 she was playing w/ jordan's barbie car & was right by the window in the dining room...i don't believe that i had any special settings- it just turned out this way. love when that happens.
i think we finally have a break through w/ brinley & her "attitude". a while ago i was online looking @ the med's she takes & one of the side effects for her nebulizer steroid was extreme mood swings & upset easily. she was doing 2 treatments/ day but since she was able to keep her numbers up in the 200's we took the morning treatment away & just do one before bed. what a whirl wind of difference. no abrupt outbreaks of attitude & she doesn't get upset @ the drop of a hat anymore. so glad to have made this discovery.
my dad gave his notice @ his job...there was a pretty heated discussion & my dad quit...then thought about it for 5 hours & then returned. everyone had cooled down & my dad told his boss that he would give him his 2 weeks notice. he mentioned that he wanted to be in MT by this time next year anyways....BIG STEP! so his boss said...well why don't you just stay until then & apologized to my dad. dad is suppose to call me today so we can work on a second version of his resume. buck got GOOD word yesterday from a "client/customer" that does the same line of work & said they are mad for help up here...so we're going to revise the resume & i'm going to take it in for him. i can't believe this is happening!! i can't even begin to express how excited i am to have my parents live CLOSE to us now. they miss out on so much of these girls' lives & now in less than a year...they'll be attending jordan's soccer games. it may even happen sooner if the timing is right. now....how can i convince these sisters of mine? i know for a fact that Misty, Todd & Aspen will stay put- mostly i believe for the weather & his job. Brandy....maybe someday eventually. Crystal & Bryan....hopefully soon after my parents. Crystal is lots like me...can't live w/o parents! :) she & i are becoming more the same as we grow older. & one thing is certain...can't wait for her to move up here so i have a scrappin sister w/ me. :) we have so much fun together scrappin! endless laughing!
speaking of scrapbooking....it is a month away that i will be in big sky with my best friends....just the 4 of us...maybe 5 if aimee can make it. i will be in heaven...all my best friends....together....no drama....hands at work & no kids! i'd better get to pre-planning those pages!