the main reason we went to CO this summer was for andi & kaleo's wedding. andi is my "step" sister-in-law. chloe was the "petal girl" & i was the photographer.
wedding photography=pressure!!!!!
i can't imagine being this stressed out on a normal every weekend kind of deal. OMG! makes my heart race & my chest hurt! and my brain turn to mush- not that i don't feel like that everyday! :) and by no means is this even a fraction of the photos i have. i took 1200 & ended up with almost 900! *disclaimer...these pic's look so much better in person & on my monitor than they do on this rinky dink blog of mine! :)* just sayin'. & i picked out the photos that highlighted my children most...because after all this is my blog :)
chloe has been practicing her "petal girl" duties for quite a while & has been extremely excited about andi asking her. and with zach being her wing man as ring bearer...all is good in her world!
so we start with the rehearsal.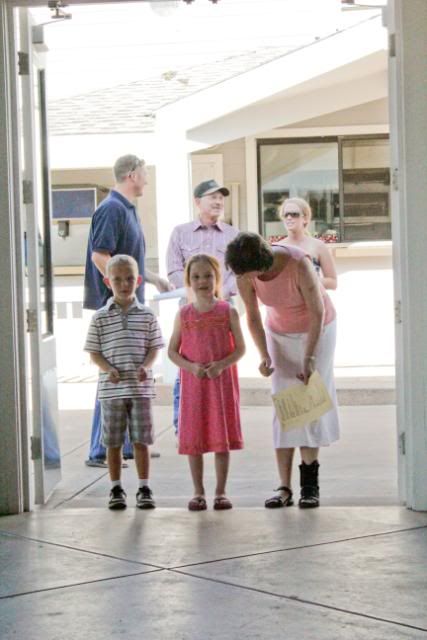 i ran circles around the gazebo trying all sorts of settings for my new camera (which also freaked me out & added to the heart flutter) to try & get them right for the weird & crazy lighting during this time of day. this made me EXTREMEMLY nervous & at some points i wanted to cry. what would i do if the photos didn't cut it. ON THE DAY! OMG...i think i might just faint again! i realized in this moment- that i DO NOT like being held accountable for such important events. ones that you can't do over. birthdays, soccer games, fishing-----> i CAN handle. & those events...totally do-over "able". finally i collected myself & my little pen/paper (that i had written different settings that were working) and figured it out.
then we headed to the rehearsal dinner.
it was at a hawaiian restaurant that kaleo's parents (they are all from hawaii) had just for the night. it was some of the most amazing food i've ever ate. i want to go to hawaii! we had roasted pig, salad w/ this most amazing poppyseed/mango dressing (i went for 2nds on this), rice, and lots of other things..."some-timers" here. the dessert was this divine cheesecake with your choice of mango or passionfruit glaze drizzled on top.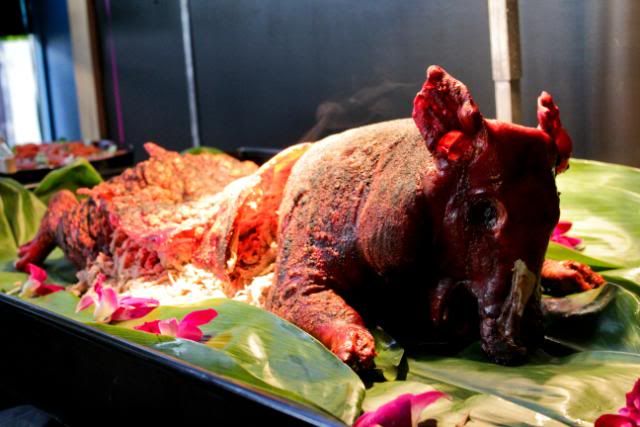 you should of seen the kids faces when they brought this pig by our table to get set up! hilarious! chloe ate it up! zach...he wasn't touchin' it!
brinley making andi & kaleo's initials with the heart confetti from our table.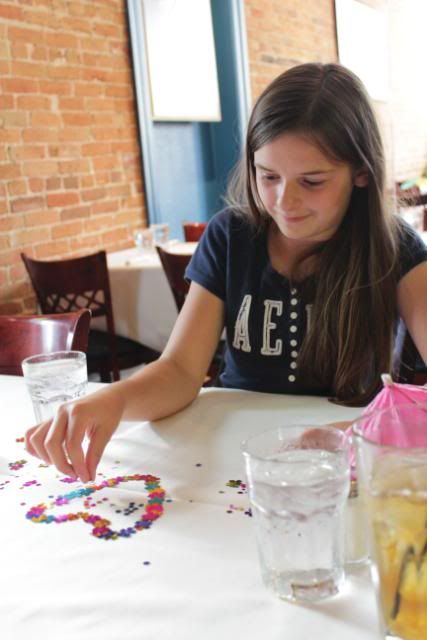 isn't she just so cute! we had major problems with this outfit she had on. she thinks she looks absolutely dorky & everyone else thought she looked great, including mwah!
buck's sister, becky, also zach's mom...
i actually let someone else touch my
NEW
camera & take this shot of me. can't remember if it was jordan or becky right now. yup, i occasionally have some-timers! not the greatest pic...but it proves i was actually there! and i LOVE the color of my shirt...i think that color is my new fav!
after rehearsal dinner was over i took the girls to buck's moms house. they were going to spend the night & then get ready in the morning. i also had to put chloe's hair up into foam rollers so she could sleep her curls in. once they were in bed i went back to my parents (luckily only 25 minutes away). i unloaded all my rehearsal pics & backed them up on my hard drive. i went to bed at 1am. and then i had to be at the country club early to start my photo venturing day. it's going to be a long day!
the wedding day.
andi getting ready...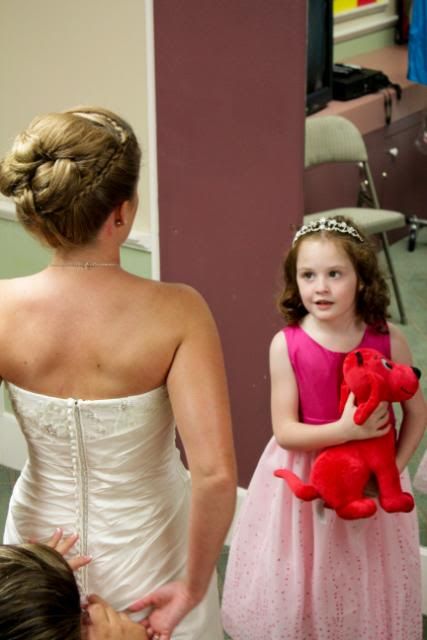 buck's mom with jordan & brinley in the "dressing room".
and presenting-
the
"petal girl"...
the z-man ring-bearer & petal girl...
and my 3 girls all dolled up (yes, even brinley)! OMG...love this! i have it all big & glorious on my photo wall!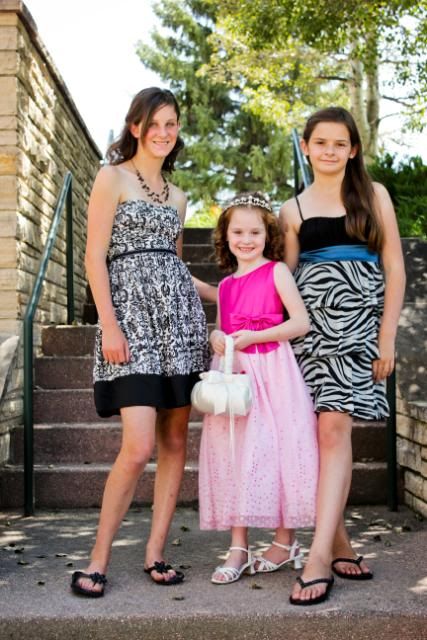 the bridal party...
andi's 2 cousins are on the lower steps, to the left of andi is kaleo's sister, and then to the right of her is my other sister-in-law, alisha. then of course the z-man & chloe.
andi...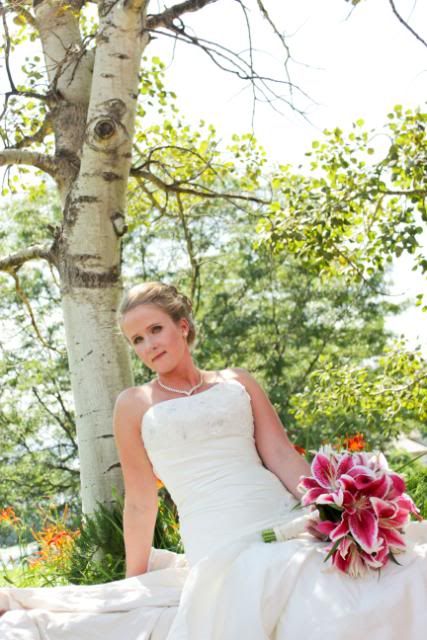 buck's mom, her fiance (andi's dad), alan & andi...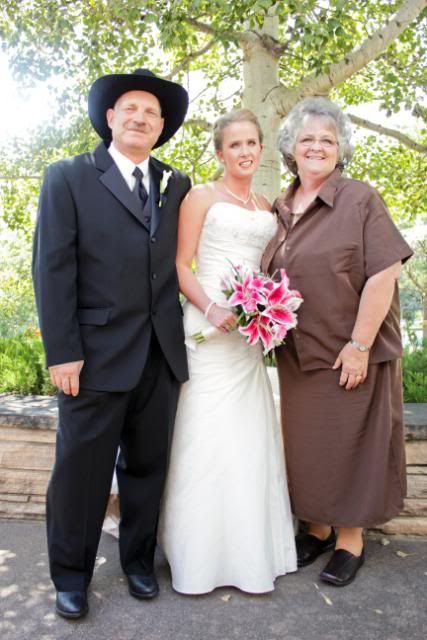 kaleo & his family (mom, dad, sisters & brother)
now onto the ceremony...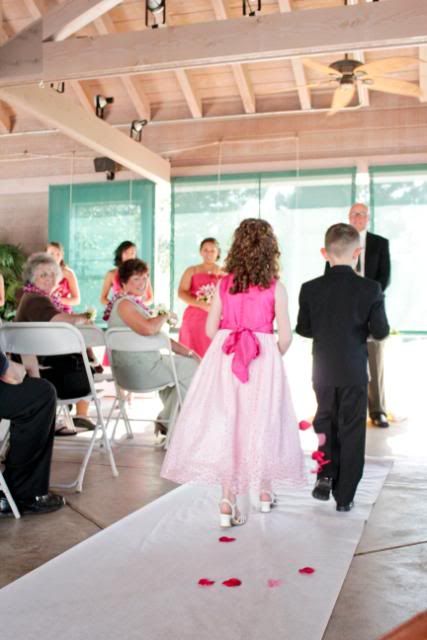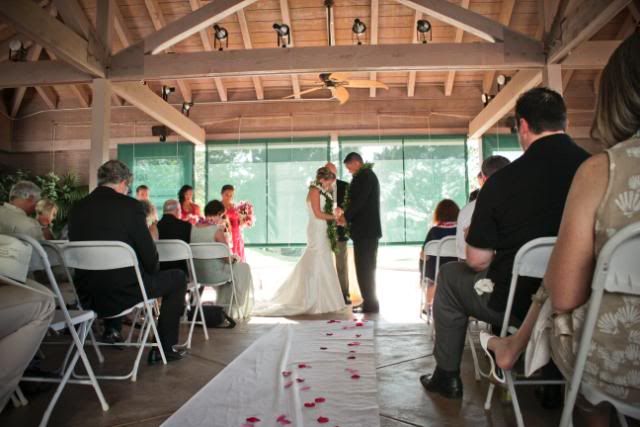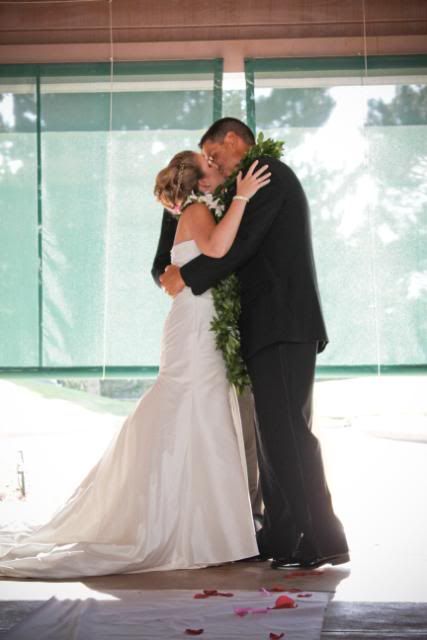 & i just love andi's smile...big & happy...
the wedding party all together...
we then escaped...andi-kaleo, a groomsman & i...each had a golf cart to drive around & take photos of the couple.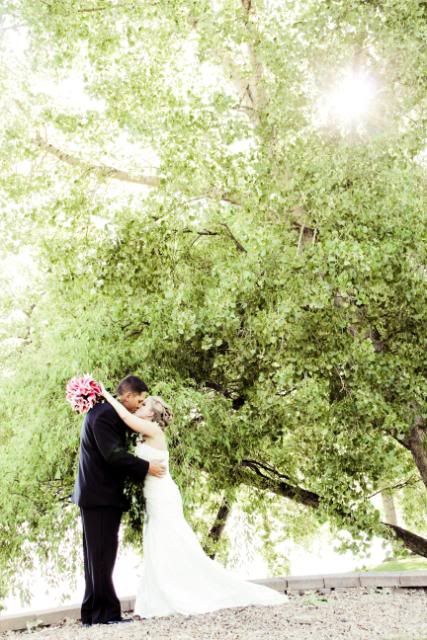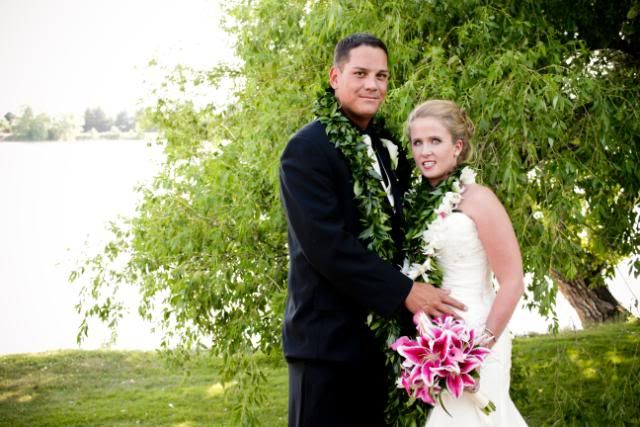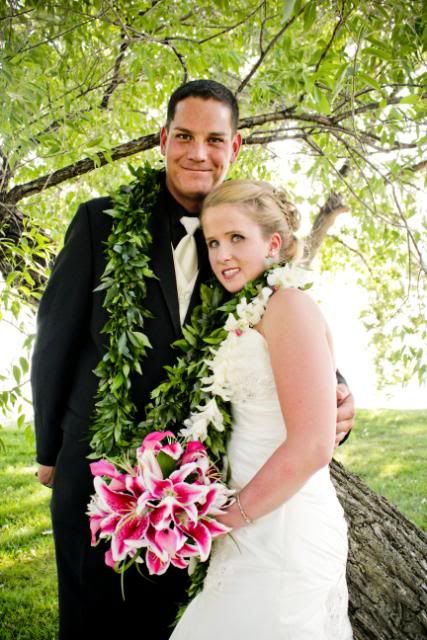 we then went back for the reception to start...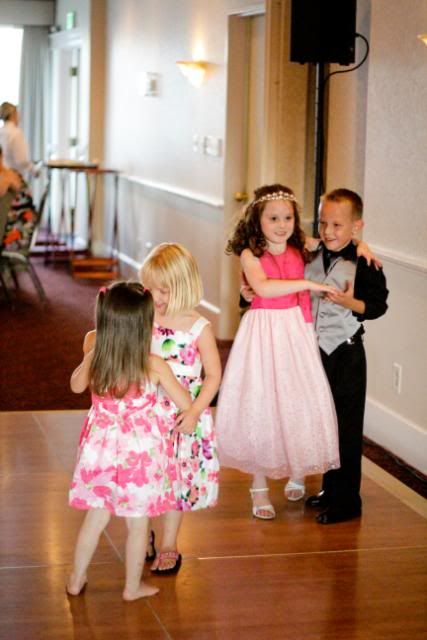 this is jordan & uncle bo (buck's brother/alisha the bridesmaid's husband)...
i don't have photos of brinley "to share"...cause i do have photos of her...but i'm keeping them to myself. she had a migraine during the reception & was absolutely miserable. it was so hard for me to play photographer & mommy all at the same time. she wanted me & i couldn't help her. she ended up in the dressing room downstairs w/ a cold washcloth over her head & took an advil. didn't help. she just was crying so much. which didn't help matters any. she came back upstairs & continued the whining. she eventually closed her eyes & fell asleep sitting up at the dinner table. poor girl. she took about 30 minutes rest & then felt better. poor girl. i think it was a combo of not enough sleep, the HEAT (bleh) & not eating a snack.
beach themed shells & decor...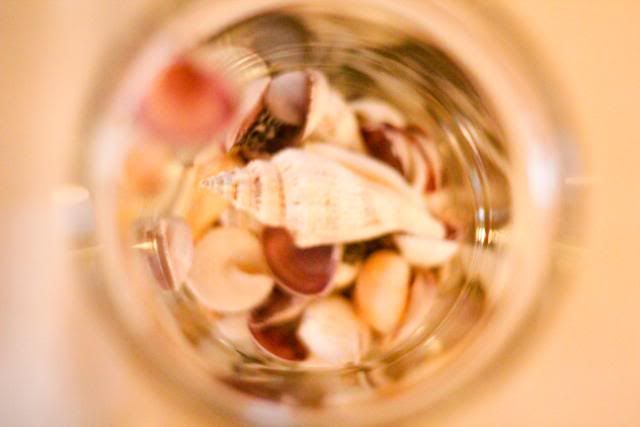 i made the little place cards for everyone...andi attached a starfish to each one.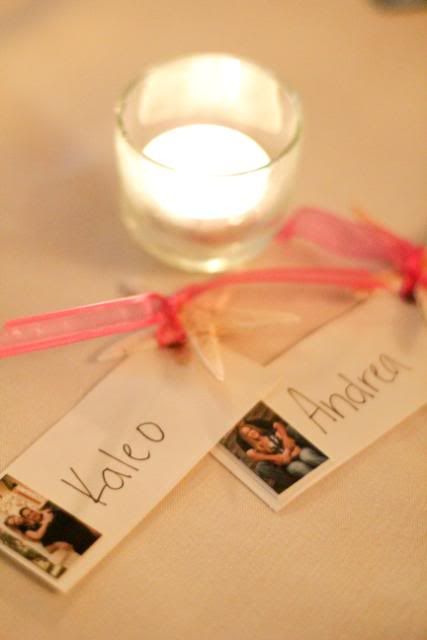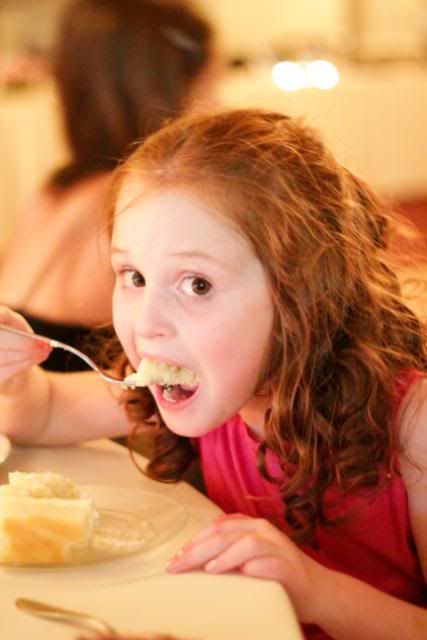 i think one of the highlights of the reception (for me) was definitely the dancing. especially the father-daughter dance! they had been working on this for MONTHS. they started out slow & dancing all soft & tender. then they broke out into the 2-step, jitterbug, YMCA- there were about 9 different dances they did. it was so hilarious & VERY memorable!
chloe & zach had the best time entertaining us with their dancing. i swear i have no idea where chloe gets her groove & soul from. 'cause that girl can seriously dance! she's got rhythem & soul! brinley says she taught her everything she knows! LOL i actually believe a part of that...brinley is an amazing dancer as well...but no one knows it except for our family of 5. she WILL NOT dance in front of anyone! half the time i have to sneek peeks of her from the crack of the bedroom door. zach loves to break dance! so funny that boy!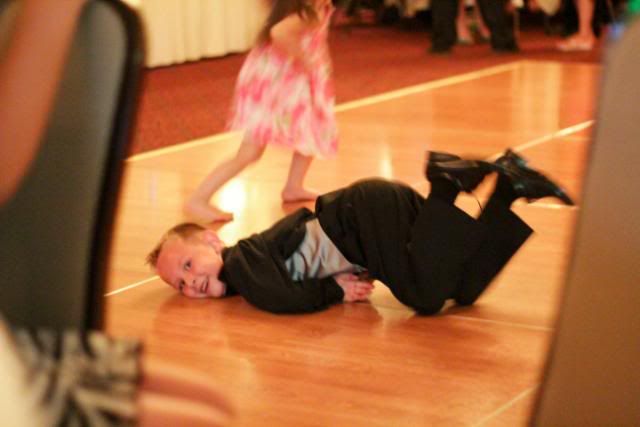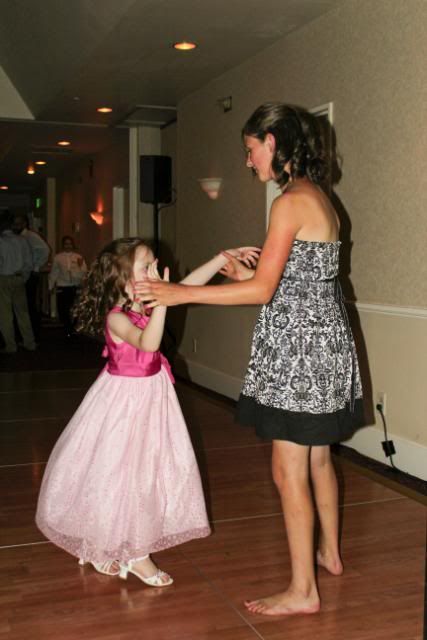 alan even got jordan to break out her dancing shoes :)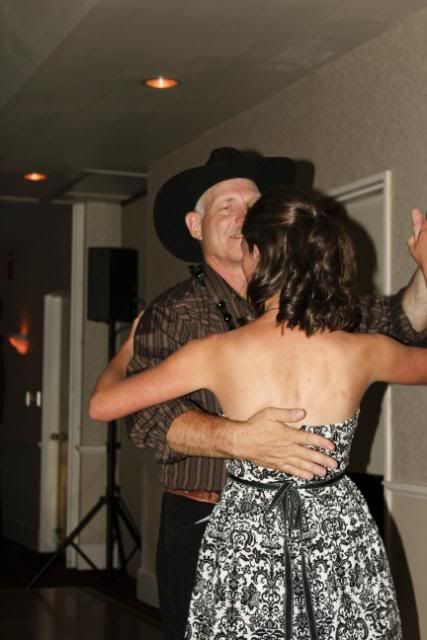 i think my stint is over as wedding photographer! i enjoy it very much but it's just way too much pressure! so andi & kaleo...you are my last! enjoy your pics! i absolutely love them! i think i enjoy being on the wedding fun part much more!