i was cleaning chloe's room yesterday...dusting & putting a few toys away. she's good about keeping her room in order herself- wish jordan would take down a few notes from her!! she has a 11x14 frame on one of her small walls that has needed changed out for a few
years
now. the pic's in it were from when she was 3(and she's 6 now, LOL)...a collage print from costco. i wanted to do something a little different...make something :) something with a quote. i have quite the collection of them. this is what i came up with.
step by step:
1. print out the quote from here...just copy & past in your browser...sorry for the goofed up linkage- there isn't the proper linkage i need for the blogger format listed. and this is the first time i've uploaded a doc to print share online & hoping i did it right. if it doesn't work...email me & i will just send it to you :) OR if you'd like to tackle the print yourself...it's super easy. i just opened up a new document in MS Word & chose the font (that i downloaded off the net...just google search it...it's a free font)...it's called Rosewood Std Regular. make the font 115 in size & type down the left margin. that's it.
https://docs.google.com/leaf?id=0B0hQL0RA-01PYTY4MmQxOWUtOTQ2Yi00NDE0LTkyNDYtZDg4YmJlZTI1NjY4&hl=en&authkey=CNKTgYEM
2. grab 4 different pattern papers that match the room where this will be...or your *favorite* papers. punch 8 circles, 2 of each design. cut those in half.
3. assemble your banner & using a bit of adhesive...adhere the half circles down. just enough to keep them in their spot- so you don't gum up your sewing machine needle.
4. sew along the top edge of the circles....all the way across the page.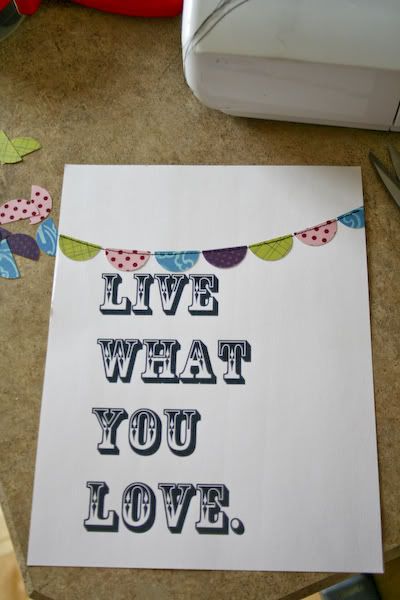 5. put in a frame to enjoy :)
here it is hanging in chloe's room: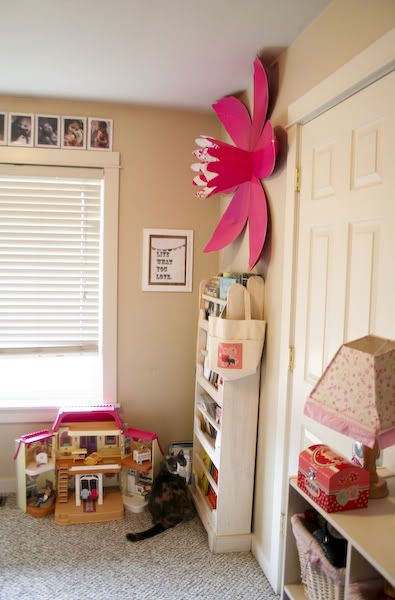 excuse the cat...juliet, she loves to be on camera :)
and just for showing...here is the rest of her room-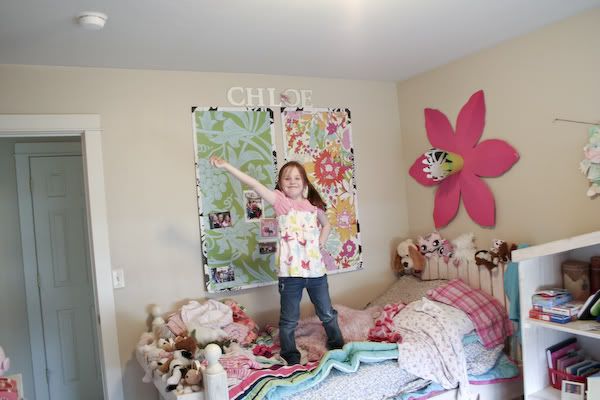 we have switched back and forth between the girls sharing rooms. we have 2 rooms & 2 of them have to share in the room with the bunkbed. well, chloe & brinley were sharing up until this fall (it's changed many times) when jordan & brinley approached me & asked if they could share the bunk room & chloe would get her own room (which was originally hers when she was born). so we swapped. i never have themes really because they are always switching!
the big dimensional flowers & the large photo boards that are on the large wall by her bed are from target! they were
free
! free? yup! last spring the girls & i took extra note of the target easter/spring decor. we loved it. all of us. so after many trips to target, we wondered what they do with the decor after the holiday is up. so i asked. they let customers have it & take names down. when they take it down the day after the holiday- they call you & you come get whatever you want. so that's how i decorated this room. with free target stuff. :)
i also updated my crib matress/photo hanger. not really sure what to call this thing. but i absolutely LOVE it to pieces!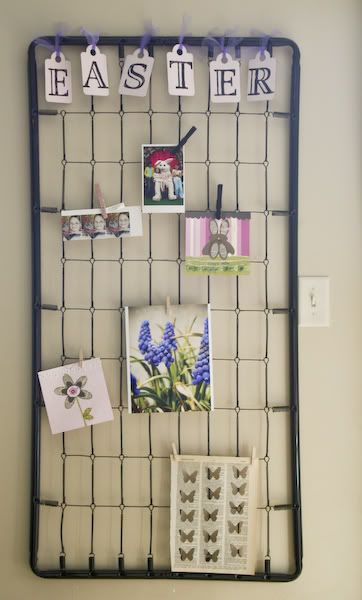 i'm sure we'll be adding stuff to it thru the month.
i also decorated my mantle with lots of sewn butterfly banners.
i've also been working & plugging away on 2009's photos. here are a few of the recent layouts: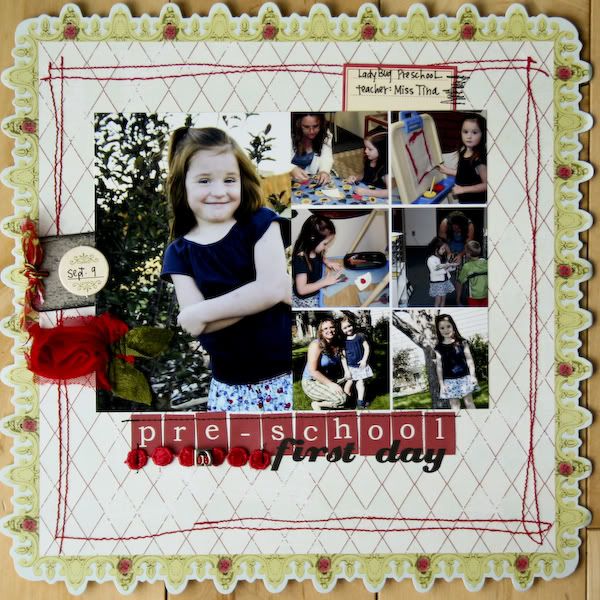 hope everyone has an amazing day! xoxo