guess what time it is once again? WOOT!
working on class stuff as soon as i finish typing this up :)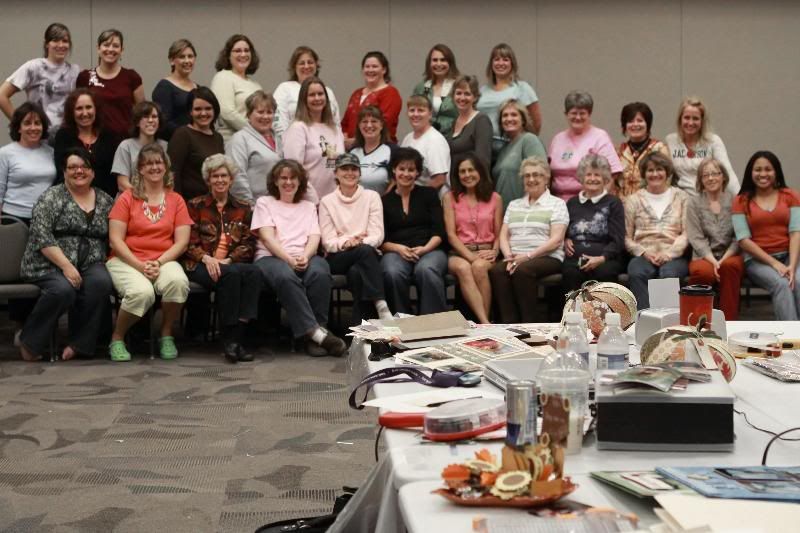 deadline to sign up is February 15
Let Scrap Camp be your weekend scrapping
"home away from home"!!!
- Here's all the details -
Join us Friday, February 26 ~ Sunday, February 28 as we have a weekend of fun, food (some healthy, some not), old friends, new friends, laughter, more fun and food, classes, contests, uninterrupted scrapbooking, make-n-takes, and absolutely no responsibilities. Dedicated to spoiling every scrapper with an atmosphere of creativity, relaxation, and a whole lot of fun, we'll be camping at the Wingate in Billings.
Scrap Camp offers you 3 days and 2 nights of unlimited scrapbooking. That's right, unlimited, we never close the scrapbook room for you to scrap your favorite memories, spend time with your friends, and learn new scrapbooking techniques all according to your schedule. We guarantee you will have fun "Sisters Style".
Your $135 fee includes Friday dinner, Saturday lunch, Saturday dinner, Sunday continental breakfast, and all the snacks beverages you can hold for the weekend. Make-n-takes, access to classes by guest instructor Janelle Shultz, plenty of space, a creative atmosphere and much, much more. The room is available Friday morning at 9:00 thru Sunday at 4:00. Your registration also entitles you to 10% off your shopping at Sisters beginning the Thursday before. Just in time for all the new CHA arrivals. You can't beat that.
Janelle Shultz, who thrilled us with her skills on National Scrapbook Day and Fall Scrap Camp, will be instructing classes on Saturday. Classes will be offered at an additional price and the schedule will be available shortly. Space is limited for these classes so it is a good idea to sign up early. Payment is due at that time. Some classes require additional supplies. All classes are held at the Wingate.
Reserve your table early as space is limited. Half of the $135 fee must be paid at the time of sign up. (Remaining to be paid by Monday, February 15.) Last day to sign up is Monday, February 15. Cancellations must be made by 5:00pm Friday, February 26 or your fee will be forfeited. You may register in person, over the phone with a credit card or by email - raffiasisters@bresnan.net
Located of Zoo Drive at Exit #443, the Wingate is Billings' newest Hotel and Convention Center. They are reserving a block of rooms with a special room rate of $99 plus tax. This is a fabulous facility for our camps providing plenty of space. Please call (406) 839-9300 and mention the Sisters Scrap Camp to get the special rate.
For more information or to secure your space, please call (406) 256-0812 or email us at raffiasisters@bresnan.net
We hope to see you there.
the raffia girls and sisters
visit our blog - raffiasisters.typepad.com for the latest everything
Contact Us
1739 Grand Ave
Billings, Montana 59102