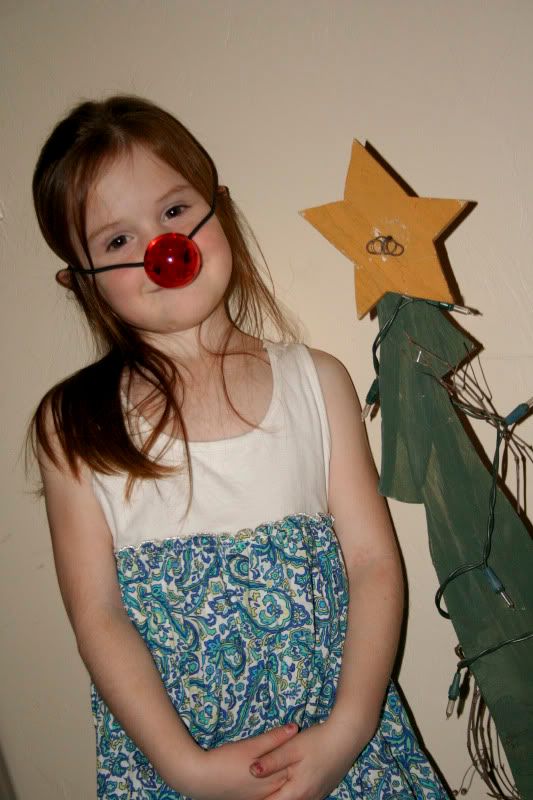 i thought i would post my christmas letter from this year...be proud because i got yelled at by many that i didn't do one last year. & it was quite the process to get it done too! but after tomorrow- they will all be in the mail :)
The Shultz household is over the moon excited for Christmas this year…we are going to Colorado to spend the holiday with our families. The girls have been on heightened countdown alert this year! J I can't remember the last time I've seen Buck in such a joyful "Christmasy" mood! And all there is to do is wait- we have all the shopping done! Now just a few loose ends to tie up…Christmas programs, parties at school, getting these cards out, a bit of baking & a visit to Santa. We are enjoying the cold winter that has settled in…love having a white yard! Christmas just isn't Christmas without the snow!!!! Now onto a little recap of what the family has been up to…
Jordan Lee Elizabeth: is 12.5 years old, in 7th grade, in her first year of middle school, into all the girly stuff- make-up/fashion, etc., had her first school dance, is becoming a lady, playing soccer (fall & spring), will start her first season of school basketball when we get back from Christmas break, constantly on her cell phone texting or talking, still has the same boyfriend (now 3 years strong, LOL), struggles a bit with trying to be a teen & playing with her sisters- barbies, my little pet shop, all drama girl, all the "little girl" things, was on 1st quarter Honor Roll, loves Science & Art, hates English, is growing her hair out again, still has the most amazing blue eyes, is starting babysit, loves music, has a serious sweet tooth, has been sick this year more than ever (swine flu, bronchitis, colds, strep), talks to each of her Grandma's almost every day, lost her cat, Milo, from him biting & being raging mad with her & buck one evening, is turning out to be spitting image of her mom! J
Brinley Grace Marie: is 10 years old, in 4th grade, in her first year of intermediate school (between elem. & middle), loves-loves-loves ART, had 3 of her pieces (1 in 2nd grade & 2 in 3rd grade) of art put permanently on the walls of her elementary school- the most of any kid EVER, wants to write & illustrate children's books when she's an adult, is in 4H (vet science & horse), loves school, has been really healthy- even with her asthma, loves horses & cats, lost her best friend- Romeo (her cat) in May tragically on the interstate by our house (Brin's relationship with Romeo was not just a pet/girl relationship…he was her true best friend…it was so amazing watching them together), stubborn, likes to pick on Chloe but most of the time they are best friends, is looked up
to by her classmates, is extremely shy, can dance like nobody's business (but not in front of anyone), would be hooked up to a Pepsi IV if she could, loves music, hates drama, is an incredible best friend, can bugle like an elk & bark/growl like a dog so much that you believe it's the real thing.
Chloe Madison Faye: is just a couple weeks shy of turning 5!!! Wow! She started pre-school this fall & just adores it & her teacher (Miss Tina- we just adore her), loves pretending- consumes her days…she loves making up her own little worlds up with figurine animals & dolls, is a very strong willed little girl, not shy, loves ART like her mom & Brin- she's always drawing, loves to dance ballet- she breaks out into dance anywhere, loves to read, loves her best friend Cody (who she calls her husband- they've known each other since they were only a few months old & he conveniently lives next door) more than anyone I think, has really good manners, gets complimented on her hair color (reddish auburn) & has the attitude to go with it, loves playing/pretending with her Dad each night when he comes home…it is amazing to watch them play & see what she comes up with, is at such a fun age right now, can quote movies with Buck- their favorite is Monsters vs. Aliens, renamed herself Rose (because there were 2 Chloe's at daycare & she didn't like being called Big Chloe)- imagine trying to get through airport security with a child who says her name is different than what her mom says!!!, asks people, "who laid you", OMG…which means- who's your mom? LOL, isn't sure about Santa but is so in love with Christmas & everything that goes on during the holiday season (any holiday really), is growing up too quick!
Buck: Just wrapped up his first year at his new job as General Manager with Wolf Suzuki, a job that challenges him each day but one that he truly pours his heart into. He has set new records for the dealership from the minute he took over…he amazes me! His knowledge of the car business & his relationship with his customers/employees is one that is highly admirable. Everyone adores him…I can't take him anywhere without him knowing many people…seems he's sold almost everyone in the valley a car/truck. J His first love has become fly fishing…it really calms him & it's where he does his best thinking! It rejuvenates him!
Myself (Janelle): I've been keeping busy with a bunch of random jobs- I am a personal assistant for a family here in Bozeman (whom I truly adore), I help a friend with her construction cleaning business (we are working on a hotel right now), I've dabbled in more photography- weddings, seniors, families a bit this year as well, I have been teaching scrapbooking classes at special occasion events for a scrapbook store in Billings, organizing peoples homes (love this). My most recent is I was given a spot as a Design Team member over at ScrapMuse.com. I continue to scrapbook like a mad woman & have well over 80 albums now. I rode a horse this summer (thanks to Crystal) for the first time since I was a young girl (I was drug by a horse & had became totally frightened of them). I learned to fly fish this summer. While sorting through my photos from this year…I realized that out of all the thousands of photos I take…I don't take enough of the older girls & of them all together & certainly not enough of all of us together. So as a New Year's resolution…I'm going to be working on that! I have a blog for our family & all my creations- thelifeofafotobug.blogspot.com. Make sure you check it out- always updating it.
How did this year come & go so quickly!? Hope this letter finds everyone blessed & in good health. Wishing you all a Merry Christmas & Happy New Year…
The Shultz's