we are at the final countdown of our summer vacation! we've spent the last couple days shopping up a storm (well, as much as you can in this town!). & can you put it past me to take my camera along...NOPE!
first...we got the gym shoes out of the way...
and then we headed over to the mall & to jordan's favorite store...aeropostale...
we got great deals on jeans here...buy one get one free! woot! as well as with shirts! total score!
then we headed over to the ol stand by in this town...old navy...scored on jeans for brin & chloe here! chloe totally got into it...loved trying on the clothes- even though we knew they would fit. had to copy the older two!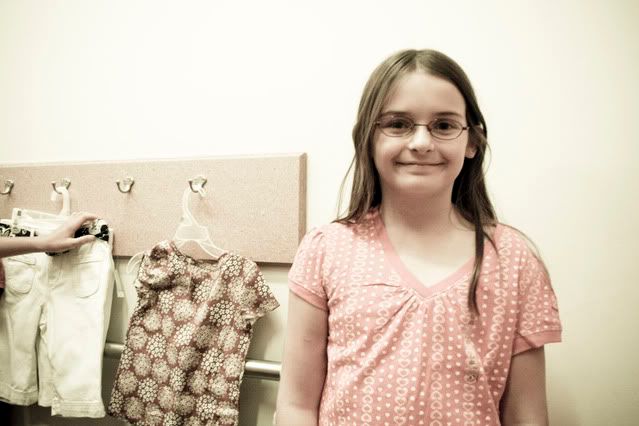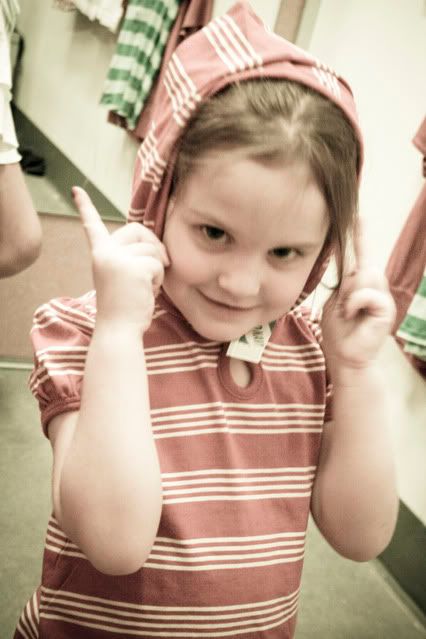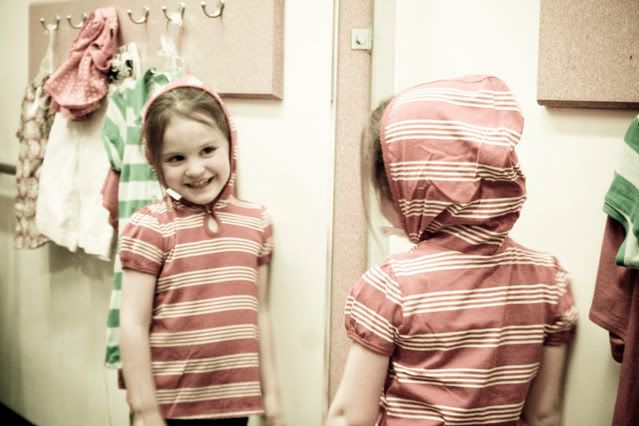 & now that we are at home...they have rehung everything so many times, played store w/ their new clothes, played fashion show...which chloe calls: "harrypostale"...so funny! they have their white boards set up in the hall all decorated w/ their store names & their clothes hung up in their rooms like stores. & jordan said she has her wardrobe planned out outfit by outfit for the first 2 weeks of school. omg...OMG...that is so me. i used to do this so i didn't wear nothing the same over a 2 week period in HS! OMG...she's me! :) too cute! and can you believe that i got all of their stuff for $370.00 i think that's pretty good for everything! that's 3 girls! that's shoes & clothes! i do need to eventually get chloe more pants...but for now...we're good. i can't believe they all start school next thursday! i will be the mom of a 7th grader (who thinks the perk of 7th grade is school dances, egads), a 4th grader & a pre-schooler! i still can't get over the pre-schooler part! wow! buck & i were talking the other night & we both agreed that having little ones, speaking specifically of babies, is so much fun & we'd of loved to have another. but, on the flip side we agreed that we ARE done (not that i have much say in the matter...it was a dr.s choice, not mine) mentally...mentally done. it's finally to the point where we can just go & do. that is HUGE!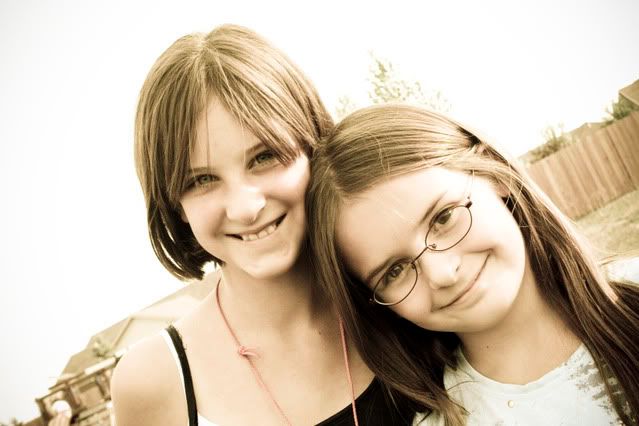 these two...lots of thoughts swirling around right now.
-fight all the time
-play well together
-help me around the house
-help me with chloe
-one is girly & one is not
-one is growing her hair out
-one is obsessed w/ hair & makeup
-the other is obsessed with art & webkinz
-love the outdoors (well, most of the time)
-have had a fun summer
-love music!
and the list goes on...
but this is the first year in a while that they will be together on the bus & both in schools that can crush them! that scares me...especially these days! girls are so mean. we've had a summer filled with friend drama. i just wish they could be with each other at school so i didn't have to worry! jordan floats around between friends...doesn't have a steady one. each one always walks all over her because she's so agreeable & naive. brinley has 2 friends & won't step out of that realm. most times it's just one of them. allison. brinley doesn't like change. i hope their new schools are nice to them & all the drama that goes along with it.
and on the other end of the spectrum is this one...
thinking that she's old enough to go without training wheels...
last weekend...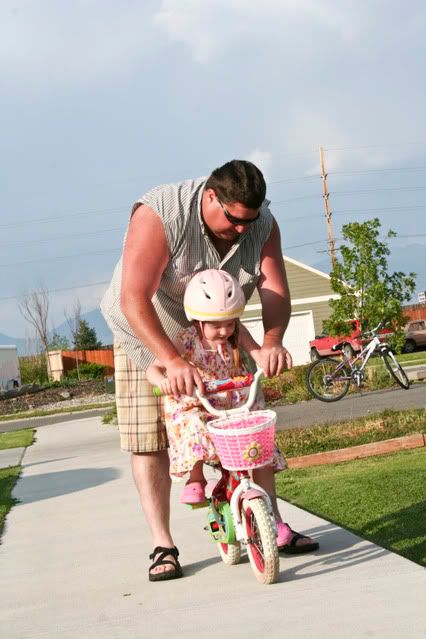 buck took both of them off at the start & she was unsteady so we put one of them back on...that's what we did w/ the other girls...they learned in a couple days.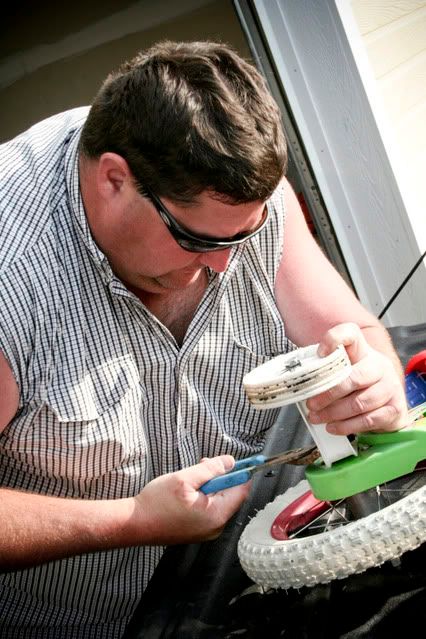 so we get one back on...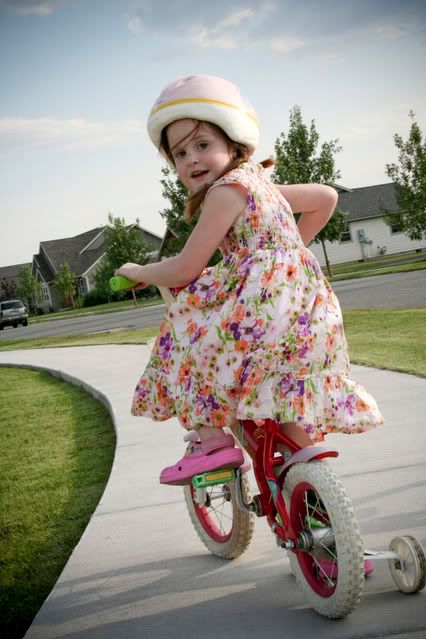 but we need to remember to watch where we go...or we lose our balance...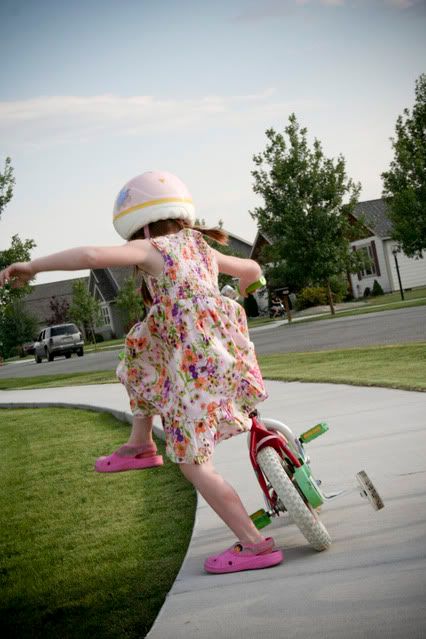 then jordan decides to coach her along...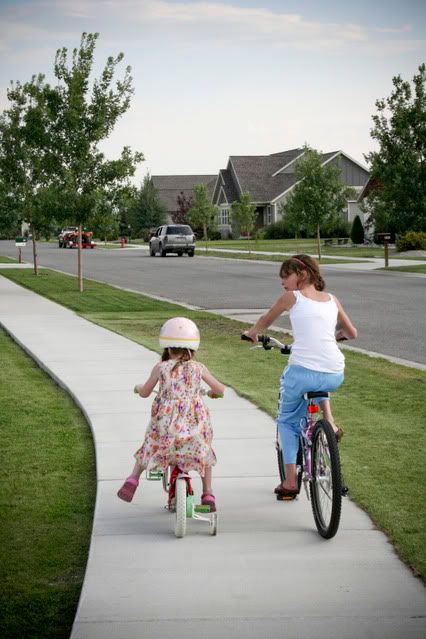 we're still working on it :)
we celebrated buck's birthday with brownies too :) happy 35th!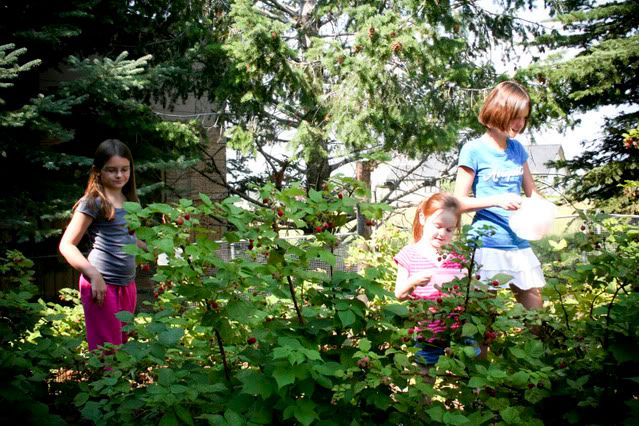 picking raspberries at a friends house :)