because i have so much to update! how does time slip away so quickly? i have taken in excess of 1000 photos this month & flipped back into the 0's in #'s on my photo count. buck says i take way too many photos but you know what...i enjoy it, i enjoy the process & i enjoy what i see afterwards. so pull up a chair & perhaps a cup of hot tea & watch the month of may unfold.
while i already shared with you my scrapbook friends coming for Nat'l SB Day i didn't share with you buck's journey while that was taking place. he enjoyed a trip to canada (british columbia...vancouver island) as a treat from his new employer. buck is setting quite a few records since taking over this dealership & they couldn't be more pleased with him.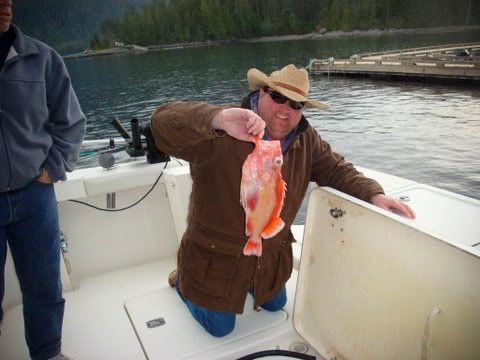 not sure of the story behind this one...but it totally makes me laugh.
this is their boat...
______________________________________________________________________
so now we move onto mother's day. many of you know that have been here to our area...there really isn't much to do other than something outdoorsy. so what do we do for mother's day...take a drive & end up at the river! it was so relaxing & watching buck fly fish is so awesome. i love watching him & sharpie together.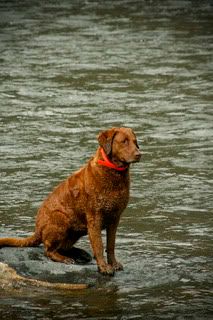 chloe & brinley enjoyed the day puddle jumping...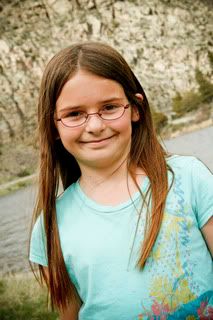 there was a caddis bug hatch going on at the time & it was as if it was snowing black bugs. it was so gross girls. chloe, brinley & i stayed in the car quite a bit...if there is one thing i can't stand while in the outdoors it is bugs swarming around your head...it truely puts me over the edge! they were swarming all over these beautiful bushes...
so the 3 of us stayed in the car & played "driver"...
the only reason i fled the car in a rush was to capture a photo of these two magnificent eagles flying over the river looking for fish i presume.
___________________________________________________________________
we've started the summer yard work...everything is coming up & so green...just wish we could get some rain. it's been pretty hot here already. today it was in the low 80's. yuck! i hate the heat! this year we have a riding lawnmower...which makes it so much easier for buck to get the yard mowed in a reasonable time intead of 5 hours! chloe loves to ride along...
and this cracks me up...chloe has started giving a thumbs up when she likes something...so cute!
____________________________________________________________________
chloe totally loves dancing...as i have posted on here before. there is always time to dance- it doesn't matter where you are! here she is at jordan's soccer game...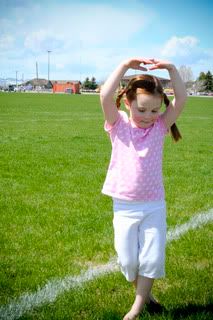 ____________________________________________________________________
finally figured out why chloe wants a new name...
for the past month or so she always corrects you when you call her chloe. it all started at daycare because the gal that watches her has a daughter named chloe as well. she was tired of being called big chloe (and the other little chloe). so there you have it! LOL she finally named her stuffed giraffe (that she's had since she was a baby...it's name is rosalie. original! LOL ____________________________________________________________________
jordan has started wearing a bit of make-up. she wears a super light blush (that you can't really see), mascara, lip gloss & sometimes eye shadows. she is growing up so fast. this is her & her friend stephanie getting ready to go to the movies (um, as a family).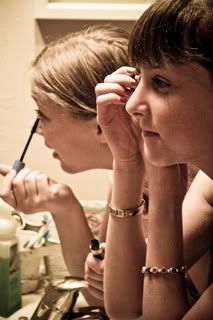 she keeps asking me when she can shave her legs! ugh! soon i'm sure. she has her tour of the middle school today...she's going to be in 7th grade next year. she came home so excited a few weeks. she says..."mom, guess what happens in 7th grade?" i was thinking a lot more than you probably realize (thinking to myself- periods, hormones and lots more- i'm sure i'm not ready for). she exclaimes w/ the utmost excitement..."school dances"! yup, i'd forgot that perk! LOL she is getting a bit more mouthy & snappy than i prefer. always on the phone (usually with family though & stephanie) & thinks she's got everything figured out!
____________________________________________________________________
my sister, misty, bought chloe & i tickets to fly out to help her settle into their new house. chloe hasn't been on a plane since she was just 4 months old so this was a real treat for her. trying to get to the airport alone that afternoon was a nightmare & so chloe & i didn't get to swing into burger king for supper before our flight. i had never seen traffic so backed up before here in my life. chloe about gave me a heart attack at the airport...we got to security & i gave the security attendant our tickets & driver's license. she looked down at chloe, somewhat bent to her level, and said..."you must be chloe"...she said..."NO, I'M ROSE!". i about died. a million scenarios, mostly w/ security involved, flashed through my head. are you kidding me kid...you can't be rose right now! you ARE chloe! she bent back up & looked at me...i had to give her the full blown out version of why her name is rose & not chloe like the ticket says...because i have no proof that she's my child, NONE! she believed me thank goodness! chloe, um, i mean rose had the best time on the plane. this whole airport/plane ride was entertainment for her. she normally can't sit still but she was really antsy & excited. lots of questions...CONSTANTLY! and after about 5 minutes of air time she asks, "are we there yet?" LOL...um, even though it's quicker it does take a bit longer than that. we watched rataouille on my laptop...for about 35 minutes & she was done.
these are about 30 minutes into our flight. i knew if i wanted any aerial shots i would have to take them this time because on our way home it would be so late & completely dark.
i just love that photo of her & her piggy tails looking out into the sky! so cute!
then it was more questions. we finally land. there was a woman in front of us & then one too the side & they both sat there & told me how cute & entertaining she was for them during the flight. the denver airport is so much fun & SOOO big! we stopped at schlotsky's deli for me (so yummy) & MC D's for chloe. the escalators, "moving floor" & trains were all hits. she was a bit dissapointed we didn't ride the alligator (aka the elevator). we met aunt misty at baggage claim. we tried to get chloe to eat but she was just so excited. got on the road...it's about an hour to misty's house. chloe gets really car sick once we get going. i think the combo of not eating, misty's race car driver driving & once we get to her house (that's in the mtns.) & have curvy roads it makes her just nauseous. she did fall asleep though. she was wide awake once we got there & couldn't settle down at all. i think it was after midnight once we got into bed.
we got a slow start to the day...the girls playing & visiting a bit. we went to the grocery store to get some munchies & food for chloe & i. misty & aspen have a very strict diet they follow because of their severe allergies so we needed "normal" food. chloe got extremely car sick on the way to the store (and on the way back). that girl was whiter than her normal white self. it was like pasty white...even her lips were white. i carried her into the store...she was that out of it. she pinked up after about 5 minutes. this is the first time i knew she was actually CAR SICK. i thought the night before was just because she didn't eat dinner & was tired. nope! we ate lunch & got the girls down to nap. we then started cleaning. i seriously couldn't believe the filth that they left. if i were them i would be extremely embarrassed! 10 years of not cleaning i swear. it took misty & i one full day just to clean oh...10 cabinets, the counter top & backsplash...a combined total! we're talking absolute FILTH! and as aspen says...the annapurna people are pigs! she overheard her mom/dad saying that & she's a mockingbird so she started in on it too. todd was trying to get her to not say that...but then we started discovering more grossness (is that a word?) & so he said...yup, she can say it! it's appauling!
aspen & chloe do ballet in the kitchen. so funny! chloe brought along some ballerina clothes & her pink piano. they had planned this before we came...bringing the ballerina ensamble.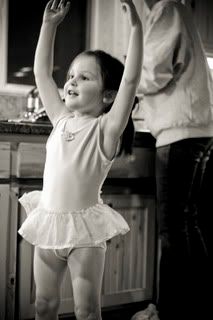 too bad they didn't play this well the whole time!!!!!!!!!!!!!! more on that later! on the 2nd day my sister crystal & BIL bryan came to visit & help clean.
crystal was on the same bandwagon...always saying how filty it is. it's the initial reaction & it totally grosses you out. you get over it for a while & then start in again w/ the frustrating comments about the annapurna people being pigs. todd, bryan, aspen & chloe hang out outside & mow the grass & do a bit of yard duty.
misty also made some yummy dinner that night...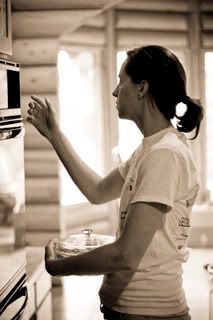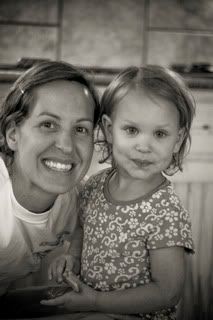 my mom & little sister, brandy, come late...after supper. so good to see them. all i'm missing is my dad! we were up until 2am cleaning the dining room so that todd could bring in the dining room table. bryan helped him carry it in...he'd been waiting for this since the moment i got there to help. :)
misty was up until 4am cleaning more in the kitchen...i went to bed. however, the bedroom that i slept in is open at the top...this is a log cabin & this room...the walls didn't reach the ceiling. so every little noise that was made...i heard it. i couldn't stay asleep for the life of me. it was very frustrating. (and i'm happy to report that just the other day misty & aspen took a nap in there & they realized how NOISY that rooom is...it's now an office...she now understands my pain of sleep deprivation while i was there) my mom got to see the rose monster...
they watched bolt together in the morning...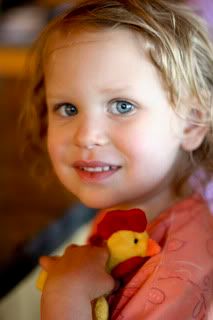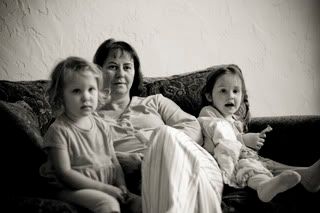 the little a & c wished for ballerina hair...chloe's favorite- ballerina buns & aspen wanted ballerina braids.
chloe & her beloved uncle bryan...i don't think she hardly ever left his side!
now don't get me wrong...aunt crystal is COOOOOL too!
we cleaned the entry way/entry closet, the kitchen windows & misty's bathroom! misty about puked cleaning the toilet & it took her 4 hours to clean the shower!
disgusting! crystal & bryan left...but not to chloe's liking. she is just so in love with her uncle bryan. she didn't want him to go as you can tell.
we took a group photo as well...we tried to do just aspen & chloe...but she wanted todd too...
this is aspen wearing her dad's hat...todd yelled (well not yelling) at me to come take her photo...she was being such a goof. *i was the sole photo taker the whole weekend. oh, snap, i forgot...misty did bring her's along to tinytown & the zoo.
so, my dad had a bit of difficulty leaving from their house thanks to my little sister brandy's car. it was parked behind his truck but outside of the garage. i must say i was furious. my parents don't have a spare key to her car @ the house...the spare key was inside my sister's car & her normal set of keys was in her purse...with her @ my sisters! ugh! so, my dad is very ingenious! i still am amazed he got it out. my dad put a jack under the rear end of the truck (it's a full size dodge truck), put the truck in neutral & swung the rear end of the truck out the other side where my mom's 4-runner is usually parked. & then took the jack off & reversed out of the 2nd door! GENIOUS! love you dad! so, he got to my sisters an hour later & ROSE was so excited to see her papa!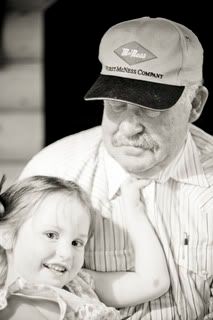 my parents spent the night & stayed until lunch time...they had a wedding to go to (on a sunday?- strange). my dad did help todd clean those windows in the dining room...
the view from these is amazing! each evening & a couple times during the day their yard/meadow was filled with these...
and the little girls played in the sand...but not without a fight...over the pail!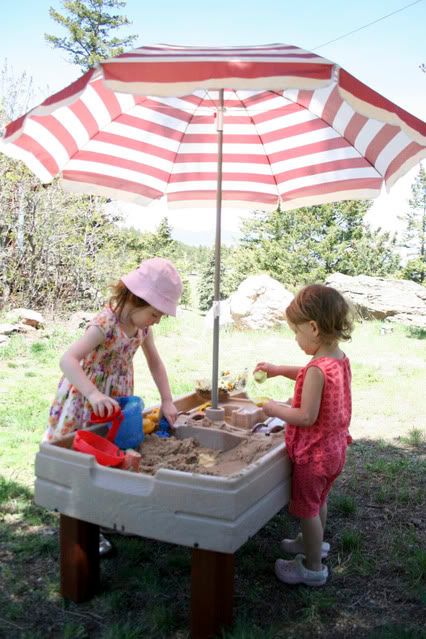 there is something about seeing these animals in their natural habitat that is just amazing! this is the same meadow where they congregate to lay around & drink from the spring running through their yard.
after my parents left we decided to go to a place just right by misty's house...called
tinytown
.
and these two crack me up...the pictures of these two...i totally didn't intend for them to look like they belong in tiny town but it does...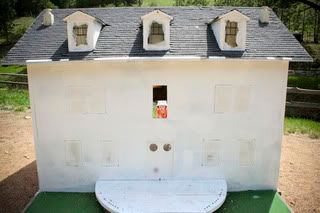 after the train ride we headed down to look through houses & play on the playground...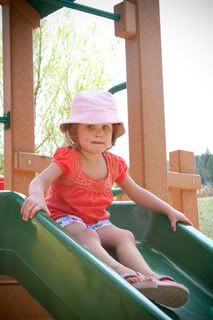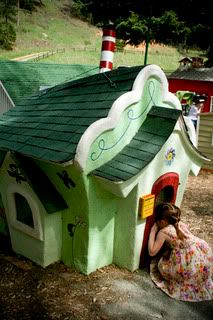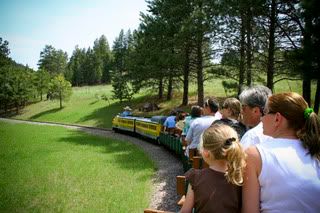 on our way into town (denver) they fell asleep...ah, finally some peace & quiet. can you tell their fighting was beginning to wear on us (both misty & i). they fight like sisters (except for misty & i...we rarely fought as kids...SERIOUSLY).
one of the major issues of confrontation between these two was when it came down to sit & eat.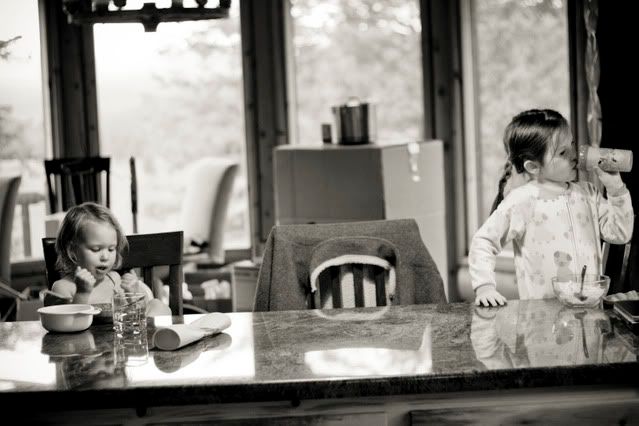 it wasn't the eating that was the problem. man could aspen put away anyone in an eating contest. that girl...i don't know where she puts it all. SERIOUSLY! she horks it down like no one's business! unlike rose! she hardly ate a thing. but, back to the eating...it's an aquired skill to not chew your food with your mouth open. chloe still does it occasionally. i have to remind her because she get those jaws a slappin. she was constantly on aspen telling her to chew with her mouth closed & that it was hurting her ears. so this is how you see them...a chair between so she doesn't have to listen to gum smakin' goodness from aspen. LOL
one of her favorites...o's & coconut milk!
we decided to take a walk that night...all of us...misty, todd, aspen, chloe & i. beautiful sunset over mt. evans.
and then this one is taken off misty's deck off the dining room...
i could seriously sit here every night & watch the sunset, read a book, browse online, watch the girls play or just sit & listen to the frogs sing in the pond below. i could never get over that "music"- it was so relaxing.
monday morning we had quite the issue w/ this vet kit & actually pretty much every toy in the house. no one wanted to share. no one wanted to give in. no one wanted to play nicely! not even the timer of 4 minutes would work. ugh!
we decided to take the girls to the zoo that day. so much fun & chloe's first zoo visit (again, she went when she was 6 months but obviously doesn't remember). it was so fun to have her to myself & just walk through everything.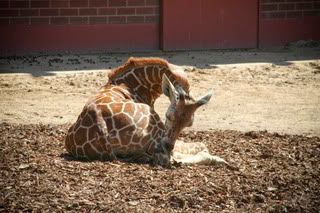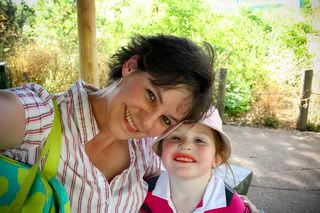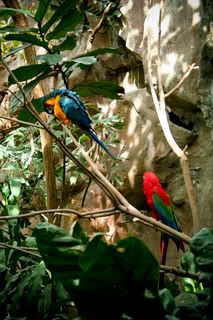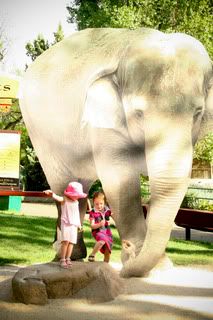 after the zoo, we had another melt down in the car over toys that were bought at the gift shop. egads! off to supper @
panera bread co.
...so yummy! then off to the airport! i encountered the same problem as i did in bozeman. chloe told them her name was rose. this gal looked at me even more "she's up to something" look than the security woman back home. ugh! the flight was good but i didn't get home until 11:30pm!
misty still has tons of cleaning too do. the whole living room, the downstairs bathroom & all of upstairs. she's making her way but a slow pace. it will get there. if only the people had cleaned or didn't live like pigs then it wouldn't take so long.
_____________________________________________________________________
last thursday we had a tragic accident in our household. our beloved, or should i say brinley's beloved, cat, ROMEO was ran over on the interstate. just that day he started crossing over to the neighbors yards north of us. their backyard's back up to the interstate but there is a wooden fence along our subdivision as a sound barrier. he just got a bit too brave. that night he didn't come home. i set my phone alarm every hour to go check the sliding glass door to see if he was there & nothing.i just had the weirdest feeling thursday morning. so after the girls left for school i got ready & chloe & i went to look for him. i looked around the neighboorhood a bit but no luck. so i then decided to go to the interstate. it's a long ways around & no short cut directly over even though it's directly behind us. as soon as i got back over to where our subdivision starts along the interstate i saw him on the other side. i completely lost it & was hysterical! i stopped & was shaking so hard. called buck & he said he would meet me there to get him. proceeded to go to the next town that is 7 miles away because there is no other exits around. then got over on the other side & stopped when i was by him. i should of pulled up ahead of him- i wasn't thinking straight- i had to watch him get ran over more times. that...was gut wrenching!!!!!!!!!!!!!!!!!!!!!!!! and that's what i can't get out of my head. buck finally got there & traffic was heavy due to the holiday weekend. he finally made a quick nab & that poor cat!!!!!!! we had him cremated. brinley slept with his ashes last night. then she took them to school today for show & tell. she keeps asking me about the details of the accident...if he was bloody & that sort of thing. she would break more if i told her...those sorts of things just are not appropriate for her & i beat around the bush & still try to satisfy her questions.
i think the hardest time for her is bedtime. he always slept either in her dollhouse (where he had his own room) or wrapped up by her head. she's now dedicated a room in the dollhouse to him...it's got all sorts of photos of him, his name tag from the shelter, his collar & his blanket. i on the other hand can't get it out of my mind. i've caught myself several times going to check on him at night...let him in the door. it's so weird not having my little daytime buddy around.
buck worked monday but got off work early because of the holiday. he came home & asked if brinley was inside? i said yup...he was going to take her to the shelter to pick out a new cat. she's been asking since the day romeo died & has been on the shelter's website looking. she picked out a grey male, he's 2 years old & so cute. he WILL NOT be going outside! (and for that matter....neither will juliet). hoping this will help her heal! introducing JOEY...
joey was turned in because the previous owners moved & couldn't have cats.the first night he did sleep w/ her & was licking her she said. i received a call from andrea (my PA lady) this morning & she said that when her & her DS went to volunteer @ the shelter they sat w/ joey in a room & played with him. how fun is that...she gave a great review of him! now...juliet isn't too fond of this new arrival...she's starting to warm up to him & there isn't such combative hissing/growling. he did bite jordan on the left hand tuesday morning. i think with all the changes w/in the household & both cats being on pins/needles around each other that she approached him at the wrong time. so, he bit her hand. it was SOOOO swollen. so while picking up chloe from daycare on wednesday i get a call from jordan- frantic that her hand is more swollen, hurts & is hot. the nurse at school had been taking care of her at school during the day...soaked it in epsom salts & peroxide. so, i called the dr.s office & it's 4:30 already. they had the dr. call me back & say that it's good to go they would wait for me. i had to leave bozeman (which is about 10 miles from my house) & pick her up & then go back into bozeman to the dr's which is at the hospital. ugh! turns out she has a very serious infection in her hand. the dr. drew a black sharpie circle around the perimeter & if the infection crossed over that line by morning we were suppose to go in. they would get more aggressive w/ treatment. the dr. prescribed both jordan & i (i got bit this morning just walking by him) augmentin. $160 worth of antibiotics. i hate not having insurance! so then we were faced with having to take him back to the shelter...which is what the dr. suggested. we've only had him for 2 days & he's bit 2 members of our family already & has cost me well over $300! hoping that the med's kick in for jordan & that she is on the mend by morning. now what to do with the cat? i am so over this cat drama! i swear...cats are going to be the death of me! we decided to take him back thursday after school but then during the day something miraculous happened...the two cats stopped fighting & they can walk past each other w/o all the hissing/growling...so their attitudes towards us are much improved. i told brinley if he bites again...he's back to the shelter...no questions asked!!
____________________________________________________________________
so last saturday morning, at 6am, the doorbell was ringing. after i woke up i thought maybe someone had found romeo & that really wasn't him on the interstate. not so. it was my parents!!!!!!!!!!!!!!! OMG...what a wonderful surprise. they just decided to drive up after my dad got off work & head up here for the long weekend & for jordan's bday! buck & i gave jordan money...it was easy & it's what she wanted...so she could go get some clothes that were "in-style". she's told me that old navy just doesn't cut it anymore. WELL THEN! LOL so we went shopping ALL day. my dad tagged along for most of it...what a trooper. however, he did find himself at the cologne counter picking out some new smelly juice! my dad ALWAYS smells so good! heavenly actually! he's a cologne hoarder! jordan spent every last dime. she treated herself to
aeropostale
, which included 2 outfits, flip-flops, backpack & a hoodie. she also bought a straightening iron for her hair. a new swimsuit. a whale tag for her backpack...so cute. and 2 other outfits.
sunday we were driving up to hebgen lake by yellowstone & got rained out. we ended up looking at a map (can you believe that?) to locate some other lakes in the area that might not be ensued w/ rain. we ended up at wade lake...it is gorgeous there. but it was only 51 degrees & SOOO windy & cold. thank goodness my mom had 2 sleeping bags in the back of her 4runner because they saved us girls. we zipped them together-
brinley captured buck's hat blowing away...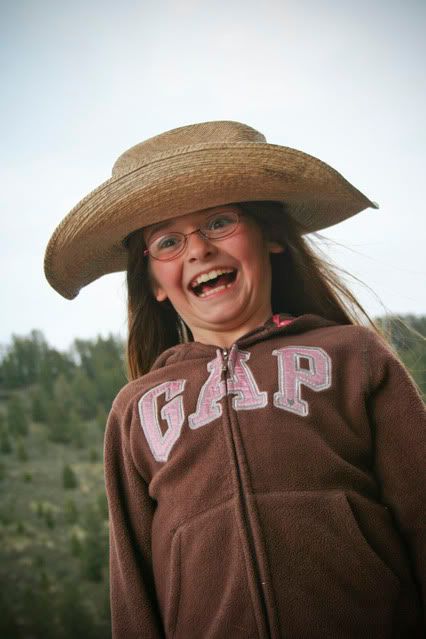 then we were chilled to the bone & started the trek home...exactly 100 miles to our home. on the way home we stopped at the madison- it wasn't cold or windy...it was perfect. which i swear that every time we go to the madison it's windy!
it was jordan's birthday, 12th. not exactly what she wanted to do today. but having her birthday on memorial day weekend isn't the best time to have a party w/ friends. everyone always leaves to go camping or on mini-vacations. we are going to go to the big timber waterslides in june for a belated party. so she got stuck w/ family for birthday...we came home & had brownies & bbq'd steaks! i still have to take her 12 year portraits. another thing to add to the to-do list! but here is one we took at the river...
*************
so now, that is the major things of may. lets hope i can keep up better in june!