on sunday morning we went to the airport to pick up my MIL (kathy)...i bought her a ticket about a month ago & we've been counting down the days since. finally...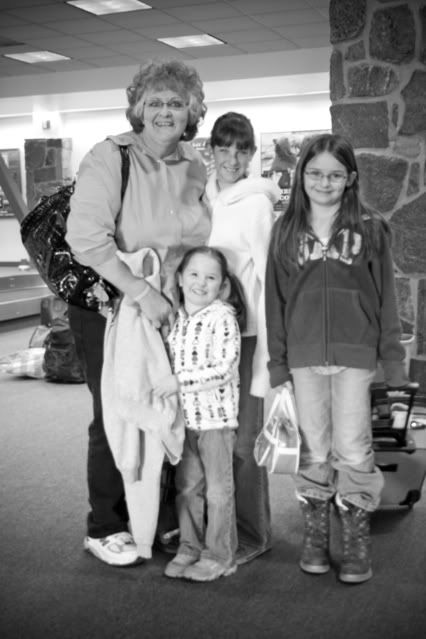 poor buck spent the day on the couch for the next 2 days being sick...bronchitis! (thanks chloe). we spent the days playing games, looking at scrapbooks, errands in town & a bit of shopping. the girls talked grandma into a webkin.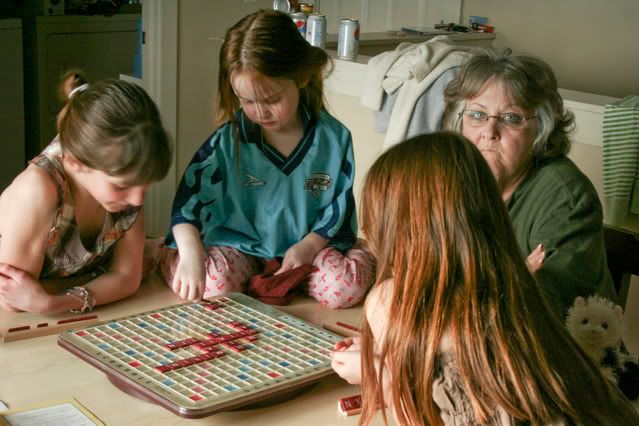 we also had an "unbirthday party"...she's never here for the girls bdays so she wanted to have a mini-party for them.
all received new spring dresses...which they just absolutely loved. they wore them the next day despite our 30 degree temps...we just stayed home so it was okay.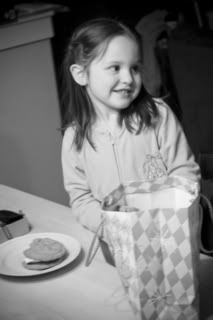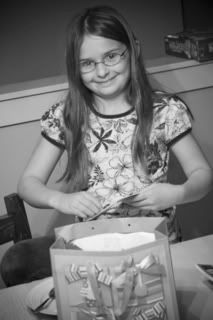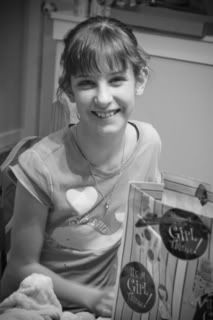 then i started to get sick...i haven't been this miserable in a long time. i had a throat that was so raw, fever, chills, my nose being blown so many times my nose is peeling & raw, my lungs felt like they were on fire, headache, stuffy head...ugh! i'm still dr'ing the sore throat...it's just a bit bothersome @ night time. still have to lather myself in vick's. & i tell ya...it's so hard to find cough drops in mint these days. the only kind i like & that would numb my throat enough. and who gave vick's the authority to get rid of their shower steamers. either they were discontinued or no one around here carries them any more. they would of saved me so much!!! going to have to look into this one more! then after a couple days of me being sick the MIL got sick too! we spent so much of our spring break on the couch coughing in unison! i certainly feel bad for getting her sick & she's just going to have to return & have a normal visit!
chloe & grandma have become very attached to each other.
chloe played around us being sick...bringing all her toys to the living room coffee table. she's been playing with the car seat & bassinet that my friend returned to us (she borrowed them & the baby has outgrew them). she's still lugging the bassinet around with all her baby things in tow. i can't keep her in clothes either. she's always in either dress-up or PJ's. i put her in clothes & she just changes. ugh!
yesterday we took her to the airport to fly home. but before we did that...i took photos of her & chloe playing.
chloe loves this little saying that grandma does with her (MIL's grandma made it up & passed it on through the years)...
eye blinker
eye winker
nose dropper
mouth eater
chin chopper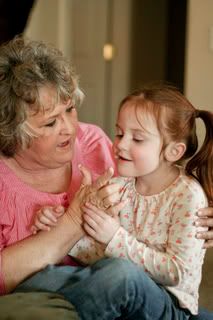 goochie goochie goo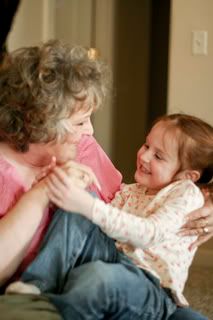 *you point to each face part as you are saying this & then tickle under the chin for the goochie goochie goo line...sends them a giggling every time!
chloe is going to miss her so much...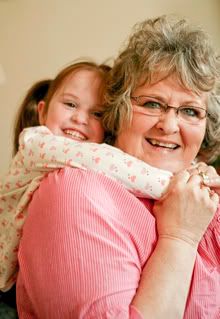 brinley brough home a cabbage plant today. there is a nationwide contest to see who can grow the biggest cabbage plant. for now though it's going to have to do it's growing indoors in our kitchen window because this little guy would freeze to death outside...it's been snowing off & on all day. we can't safely plant anything until after the first of june or so. however, last year i followed this plan & we had snow & freezing temps up until june 11th! grrr!