well here is milo, the newest member of the family. we brought him home on monday...from CO. he was my SIL's mom's cat that she ABANDONED! yup...our hearts were heavy so we decided to give romeo a buddy. he was so good in the car the entire ride back to MT. bo & alisha (buck's brother & wife) took the girls to pet smart to get them a leash, collar, harness & crate. he's quite the little player & loves the attention. we need to have him fixed & declawed in the front because he won't leave my couches alone. & on the same topic...he keeps getting in my plants to potty & also just to hang out. grrr! definitely need to figure that one out! chloe just laid down for a nap & i found the two of them together. :) so cute!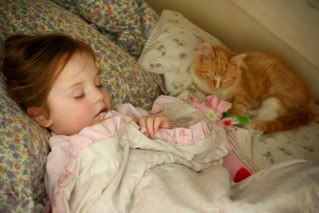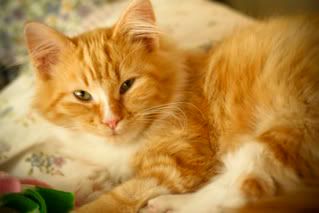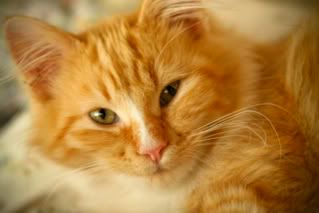 my mom's surprise party went off without a hitch! the girls & i left on thursday around noon. we hit a huge blizzard right outside of casper, wy. the type that the snow is coming at you straight on & it makes it so hard to see the road, i couldn't hardly see any of the actual road, i was only driving 25 mph, & i followed the snow plow for a good hour. then these trucks, cars & semi's, who since they have 4 wheel drive & are "unstoppable", came screaming by me at about 50mph...scared the crap out of me & threw up so much snow in the air & made things really SCARY! then about 30 minutes later...2 of the semi's were in the bar ditch w/ one of them jack-knifed & the other was a tanker & it was all crumpled in! idiots! the weather driving back though was perfect & sunny!
so more about my mom's party...
*JJ & Zack...w/ my 3 girls
buck's mom took the girls while i helped my sister, crystal, & my dad get the barn cleaned out on friday. we knew that she was going to leave work early on friday but not sure what time. we left my parents house to go into town to pick up some last minute things. on our way back to eaton to drop my dad off & take me to my car my mom was in eaton at the same time & we were within blocks of eachother! eeekkk! i even talked to my mom on the phone when we were driving around...my dad, crystal & i...& she didn't even know! too funny! i've been giving my mom these sob stories for over a month now about how busy i am & how we won't be seeing them any time soon because of buck's new job (and he can't leave). she believed every word! sorry mom!on saturday buck's mom took the girls to the swim center (where we went this summer) while i went & picked up my grandma (my mom's mom)...grandma hazel nuts...she had no idea we were having a party (we didn't send her an invite because we just knew she would slip) and that i was in town. so i showed up @ her complex & she was just in awe...so fun! we went to walmart to pick up stuff for my mexican bean dip & went for coffee. we had to wait for my dad to call us to give us the go ahead to come out there. my sister, misty, was taking her out to have an all day spa day! and as usual...running late, so grandma & i drove around the country roads for a good 20-30 minutes before my dad FINALLY called. we got stuff decorated & set up right away. everything was set. we had the dinner catered so we didn't even have to mess with the food. my sister & i decided to take a trip to the LSS Treasure Box...love that place & hadn't been in almost 2 years! so many treasures found there! so everyone starts arriving...we get them all gathered in the corner & my dad calls my mom & says to come out to the barn to get aspen because there was a blown fuse (which is conveniently why there were no lights on & todd had a flash light) in the barn & he was fixing it & aspen was into everything.
as you can see....totally not the case...my dad w/ aspen & chloe right before my mom came in...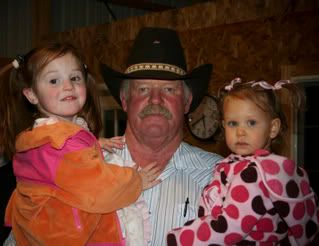 so then my sister comes in first & then my mom walks in, the lights go on & SURPRISE!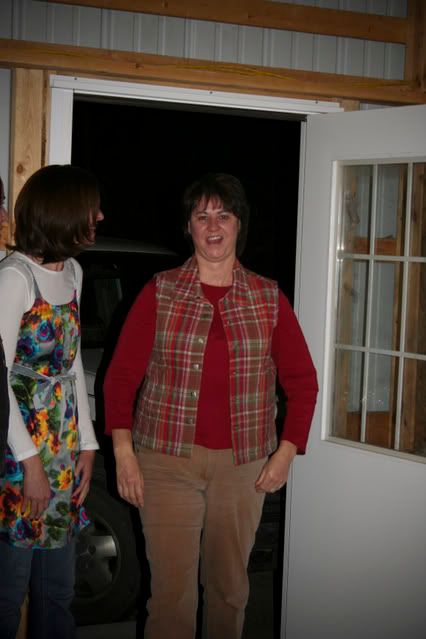 she couldn't believe it! the party was fantastic & worth all the hustle & bustle, lying to my mom, sweating & nerves! now my poor dad can breathe again!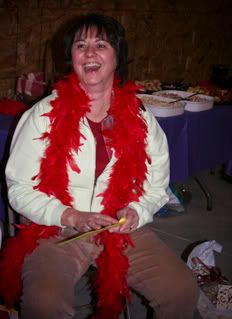 and finally this photo...after serving cake, chloe couldn't keep her hands out of the bear one...we kept telling her to leave grandmas cake alone...she didn't like being told no, obviously :)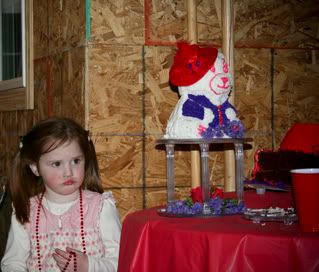 on sunday we just stayed home @ my mom's to visit & hang out. my mom gave me quite the guilt trip about not being able to see me & that i was there for 2 days before she could even see me & the girls. but i reminded her that it was all in fun & now she just needs to come up for christmas!