it's been a week since i've written anything...must catch up...but not too exciting up here in MT...
- we started basketball w/ jordan....still have first "official" practice this week sat/sun...coaches name is sunny...how fun is that!
- i went out to dinner w/ Sara & Lisa for Sara's birthday...we visited & ate for 3 hours! then we went to barnes & noble...love that place! yummy paper! so i browsed through the "bargain" books & didn't find anything that sparked me...so i went to the parenting section and bought this book...
Siblings without Rivalry
i'm looking for this to shed some light on the non-stop rivalry between jordan & brinley...the ongoing fighting & down right nastiness sometimes. i'm over it...i want & so desire a peaceful house! i've only read a few chapters but i like it thus far & has already helped me calm down when something does "happen". this excerpt out of the book is what i'm in the midst of every day...
"Mine was not the only day punctuated by namecalling, tattling, punches, pinches, shrieks and bitter tears. I wasn't the only one walking around with a heavy heart, jangled nerves, and feelings of inadequacy."
when i read this...shazaam (that's for you sara)...it struck me...i'm not the only one who has kids like this...it's not only me fighting this battle...obviously not if there is a book about it & it's a new york best seller!!!! so my new outlook on this journey of peace is this...
"Instead of worrying about the boys (but in my case girls) becoming friends...I began to think about how to equip them with the attitudes and skills they'd need for all their caring relationships. There was so much for them to know. I didn't want them hung up all their lives on who was right and who was wrong. I wanted them to be able to move past that kind of thinking and learn how to really listen to each other, how to respect the differences between them, how to find the ways to resolve those differences. Even if their personalities were such that they never could be friends, at least they would have the power to make a friend and be a friend."
so i continue on my mission!
-the girls received their report cards yesterday...looking good...a few areas of improvement, but first quarter is always rough i think because it's all new & settling in...at least w/ these two girls.
- i've started to make lists again...i keep forgetting things...crazy how i never thought i would forget...i've never been that way...so i've stepped out of denial!
- i can't wait for christmas...i'm so in the mood & want to get everything out already...& hoping that my parents come for christmas & that the weather cooperates for them!
- i've been hoarding all my pictures for dt layouts at
SCRAPADDICT
so i haven't been doing much in terms of scrapbooking. i'm patiently waiting goodies in the mail.
- i, however, am working on a gratitude journal/mini album right now & this is the cover for it...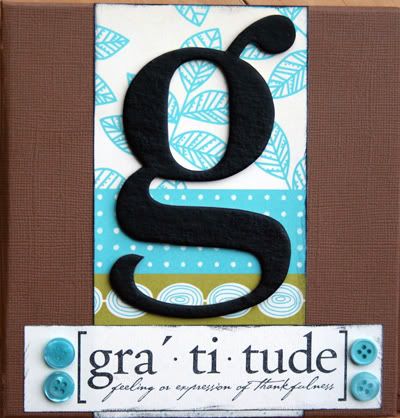 and then the dedication page of the album...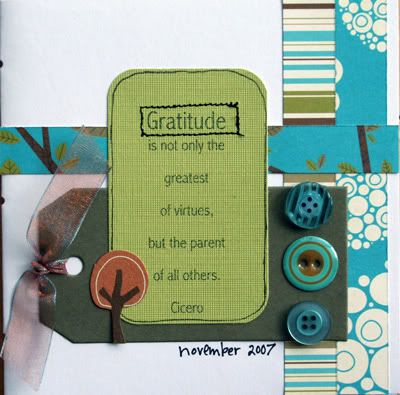 it's a challenge on the boards at
SCRAPADDICT
...love the challenges- they keep me on my toes to try new things & create out of my "box"...