so brinley's birthday totally snuck up on us! it wasn't until sunday last that i realized that i hadn't sent out any invites for any type of party. i've never operated on such a short notice for bday parties. i usually have tons of thought & planning going into them- but this was a first for me. so i conjured up a list after brinley got home from school on monday & we called the moms to invite them. they all laughed at me because finally i had not been so on top of things. :) oh well...it was to be a no fuss birthday party- no games, no crafts, no decorations...just FUN! so the party came & went last night- and you know what- no fuss birthdays are more FUN i think now. even i don't need all the backbreaking activities & hustle & bustle to prepare- it was fun to just sit & watch them all play in our cooperative weather. it was 70 degrees & we BBQ's hot dogs & hamburgers. did albertsons M&M cookies w/ ice cream. no fuss is definitely the way to go. we had 2 little girls stay w/ us over night- i limited that # too...last year i had 12 girls & that was way too much to handle for me. so i'm rewriting my rule book- no fuss birthdays are more fun for EVERYONE involved! lesson learned!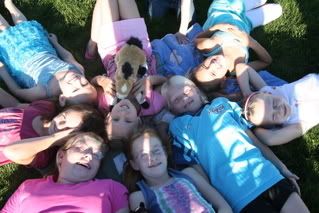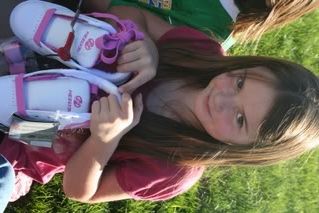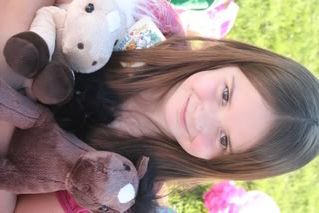 the weather is so cool today...only 50 degrees! it has been drizzling all day & tomorrow more cool weather...the only thing that stinks is jordan has a soccer game @ 2 & then team pic's! hoping the skies are clear for this couple of hours. fingers crossed.
buck's sister, husband, 2 boys (zack & JJ) and buck's mom are coming up to MT for next weekend. they will leave thursday after JJ is out of school & will be here super early in the middle of the night on friday morning. they are staying until monday morning. they are buying a durango from buck...decided to come all the way up instead of meeting in the middle. so glad to have them- they were suppose to come in august but due to john's motorcycle accident they weren't obviously able to make it. he's almost cleared to go back to work & he's practically a walking miracle! amazing! they will be able to watch jordan play soccer on sunday...special treat! can't wait!
i ordered business cards for my "business" this week. excited to get some new customers so i can hopefully stay busy. i've been able to get pretty caught up on my own sb'n so i'm looking for some extra business. once chloe is in school i will pursue this more full time...3 more years. right now though i believe she belongs home w/ me. at least w/ this type of work i can stay home & do most of it...unless it's organizing. but we'll work around that if the opportunity arrises. :)
this weekend i've been putting together an application for a design team position w/ scrapaddict.com...my 2nd home. i absolutely love this place. the gals there are the sweetest- so carefree! so i had to create one layout w/ using one of their kits & then one i created "new" never been seen layout w/ that killer of a pic i took of chloe w/ the sunshine- still don't know how i managed to get an amazing shot! i do- but it all came together like i imagined! love that! then i had to submit a project that i had completed & an explanation of why i think i would make a good addition to their design team. can i just say that i'm more nervous than i have ever been. every time i have been on a dt or taught at a store...i didn't have to apply- i was asked by them- so this is a nerve wracking experience for me. it is the ultimate form of acceptance & i hope to be given that chance. my fingers are crossed :).