i am asked how i am so productive on a regular basis. first i must preface this by saying...i'm a type A personality...i don't know any other way to operate than to be organized! believe me- sometimes, it gets in the way of things & just letting things happen without control!
whether you have a table in a corner of a room or an entire room designated to scrapbooking…organization is the key to successful scrapbooking! keeping my supplies organized helps me create more pages and in a quicker fashion because I'm not dealing with disorganization that comes from a messy workspace. I stand by this 100%…organization is KEY!
in the winter months, yup, the majority of the year, i move my scrapbook area upstairs and into my entry way. someday the basement will get finished.
it's mostly out of the way & the temperature is controlled. the basement is absolutely frigid! my hands get so cold i can't scrapbook!!!
one one wall...
jordan let me have her desk this year instead of using a banquet table. she begged for a desk, this one was given to her & then she didn't use it but to pile her stuff on! works perfect for me!
i bring up my drawers of full sheets paper, drawers of scraps, categorized drawers, printers, laptop, punches,
12x12 photo storage boxes
(I have one for each daughter), jar of flowers, basket of abc letters, embellishment boxes, buttons (that i store in
these
),
ribbon bag
, paint, adhesive, pens, inks, trimmers, stapler, mists, scissors, hammer, small abc stamps, photo paper. if I need something else I bring it up for the use & then take it back down. all these things are placed on my hutch & in the 3 drawers it has….well except for the 12x12 drawer units…those are stacked beside the desk.
Storage
Paper-
Whole sheets (patterned & solid): Divided out by color in rainbow order (red, orange, yellow, green, blue, purple, pink, brown, black, white)
Scraps (patterned & solid): same as whole sheets
*Janelle World Rule #1, you must always look in the scrap bin for possible paper before cutting a new sheet of paper!
Themed drawers
-
This is where I save TONS of time! I have each of these themes in 12x12 stackable drawers.
I put EVERYTHING related to the category in the drawer- ribbon, paper, buttons, tags, frames, any & all!! That way I never have to dig in various areas for all of one theme.
Categories:
Sports
School
Travel
Summer
Fall
Winter
Spring
Love/Wedding/Valentines
Halloween
Christmas
Dated (calendars, tags for dating layouts, etc)
Words…I have 2 drawers- one for small pieces & one for large sheet types
Journaling…I have 2 drawers- one for small pieces & one for large sheet types
Tags
Rub-ons
Gems
Frames/Photo Corners
Borders
Pets
Swirls
Camping
Flowers…I have 2 drawers- one for small pieces & one for larger pieces (however, I do not put floral paper in here- I categorize that within my colored drawers)
Birthday
Girls
Boys
Family/Friends
Baby
Numbers (chipboard accents)
4th of July
Sewing/Mesh
Tools
Tiny Accents/Embellishments
Again, anything themed, goes in the categorized drawers. What is considered general embellishments: brads, buttons, clips, etc are in little bins, and cross-stitch thread boxes.
You can also purchase some great circle tins of different sizes here:
Leevalleytools.com
(they are called watchmaker cases)
I've used these in the past, but they don't travel well without a rubber band around them…trust me on this one *wink*!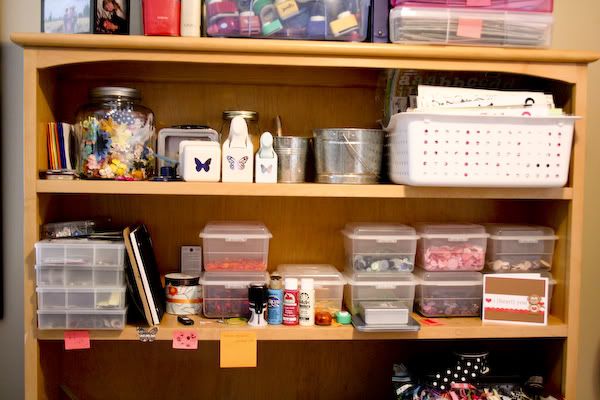 on the other wall, i have my shelf with the majority of my albums. i have some that won't fit...so i have those in my closet. and all my mini albums are on another shelf in my living room. also, you can see my stack of 12x12 drawers that house my cardstock/pattern paper. on top...my sewing machine.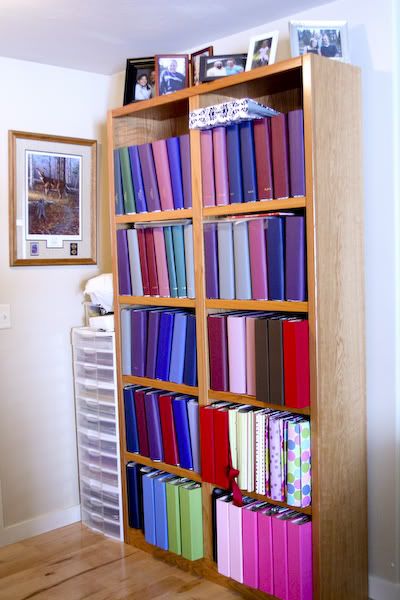 Please feel free to adapt these ideas into your current methods & change them up to fit your needs. This outlines my current system & what works for me.