sorry, been gone a few days...my parents made a quick trip up to MT scouting jobs. it's all in the works & just have to be patient!
so back to photos from our CO trip. on july 22 we went to estes park with my mom, grandma, my sister crystal, crystal's MIL and her granddaughters kaitlyn & riley. kaitlyn is also crystal's step-daughter.
i haven't been to estes since i was pregnant with brinley!! long time ago!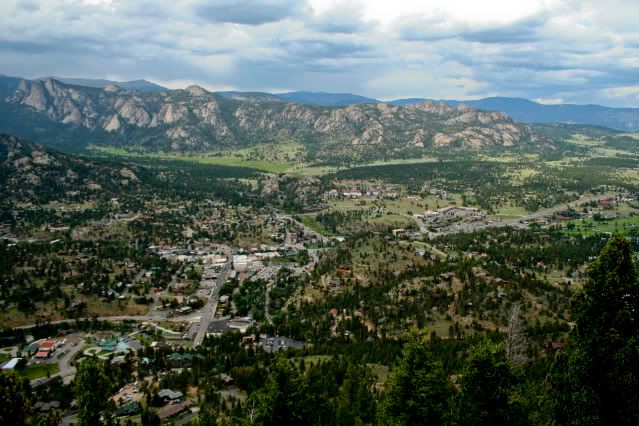 we shopped a bit on the main strip. had lunch at a pizza shop. had those old fashioned photos taken. & rode the aerial tram.
chloe & riley were the bestest of buddies.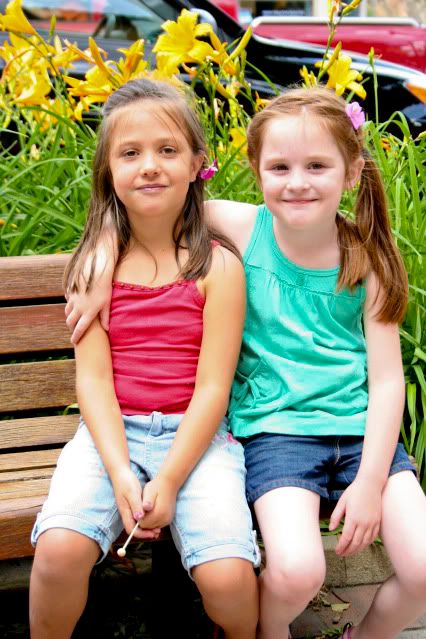 while waiting on brinley to use the restroom, chloe found this mountain lion statue & ASKED me to take her photo by it :)
the last fun-filled part of our day was the tram. it was the first time for everyone doing this...so fun! it started to rain as we arrived...but we still decided to go.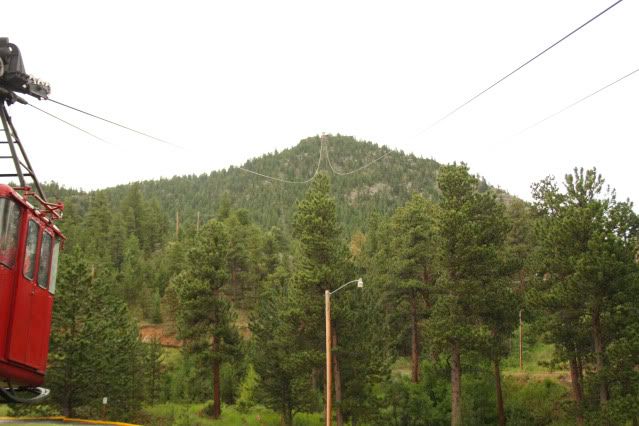 closer & closer to our turn...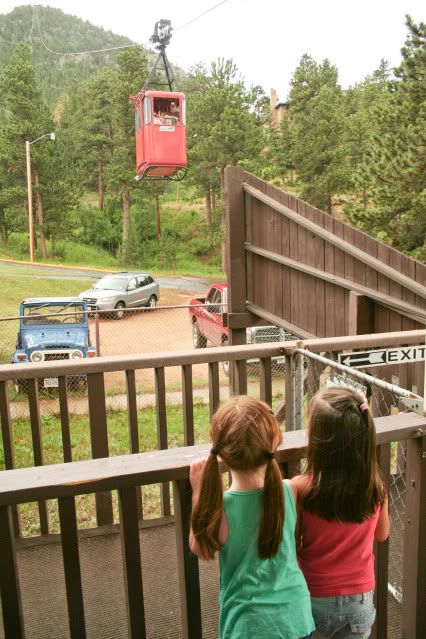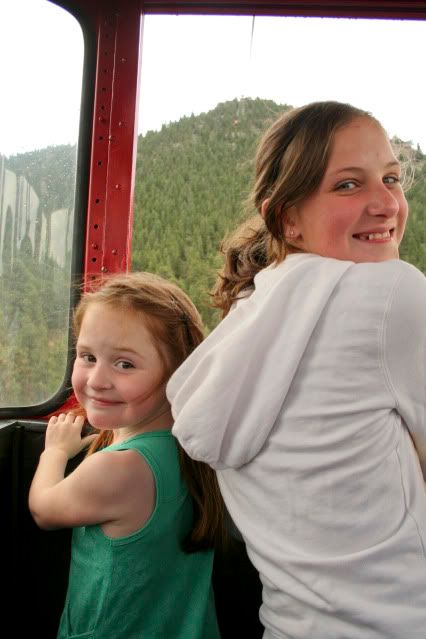 once up to the top, and it was still raining, we went into the gift shop. we bought all the kiddos peanuts to feed the chipmunks. surely can't beat spending 50 cents/bag for each kid- sure to bring laughter & smiles all the way around.
and i'm so EXCITED that i caught this shot...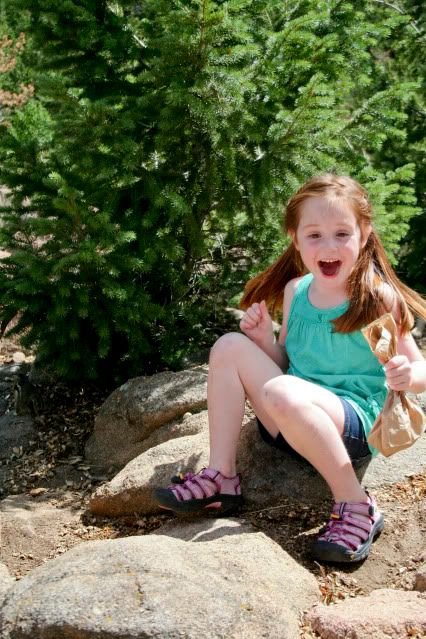 chloe was being a bit of a "debbie downer" because all the chipmunks were taking the other girls peanuts instead of hers. mostly due to the fact that chloe would rush up to them instead of sitting patiently for the chipmunks to approach her. once she figured that out...or wait, scratch that, um, once she decided to listen to us telling her to be patient, she had success! :)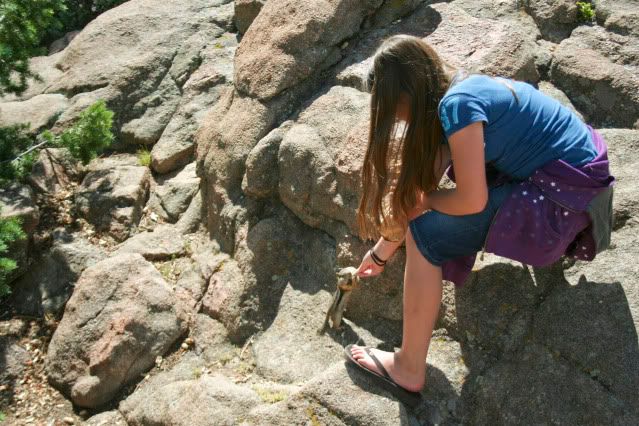 we all couldn't get over how many peanuts these little chipmunks could actually fit into their cheeks! there are skittish chipmunks...ones that are new to the game & then there are these kind...
the ones that look like they have tumors for cheeks! excuse the blur...that is chloe's shirt running by as i tried to get a shot of these fast little critters. i seriously can't imagine how it feels to have that many peanuts in ones cheeks!
we also took some fun family shots...
my sister crystal & brin-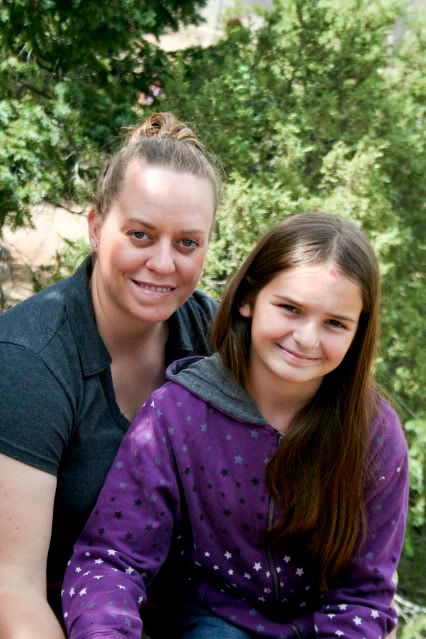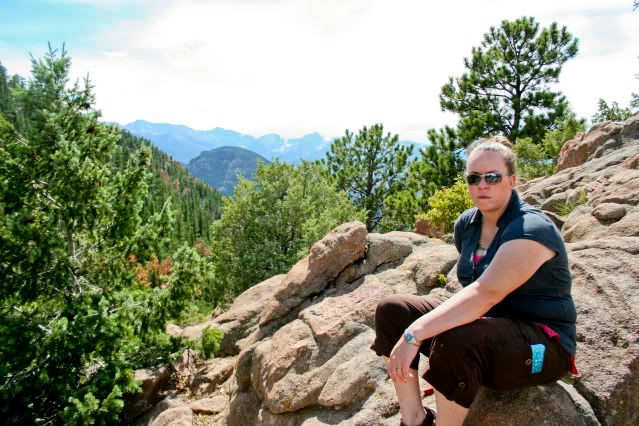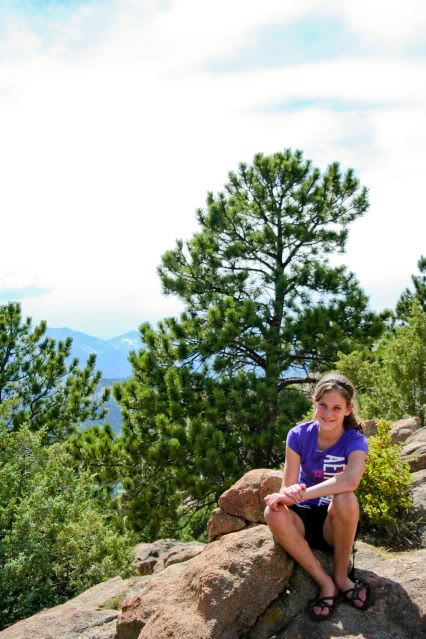 i about died when i found this spot in the shade big enough to fit all of us in a group shot. i stacked a few rocks under my lens & put my camera on a rock & self-timed this shot...LOL. i'm sure i looked like a complete idiot setting this one up because i had to lay on the ground on my side to see if everyone fit the shot.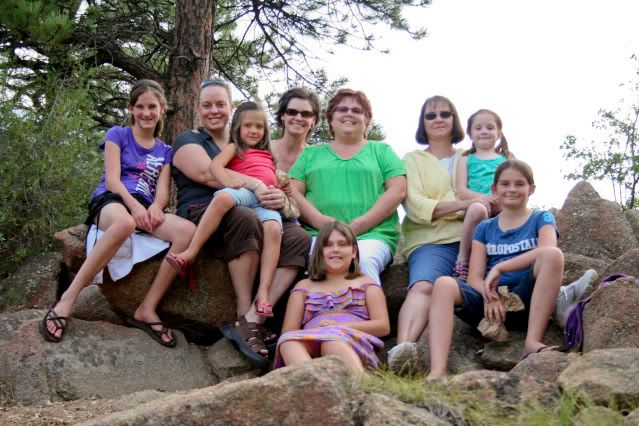 then i took one of my mom with my girls...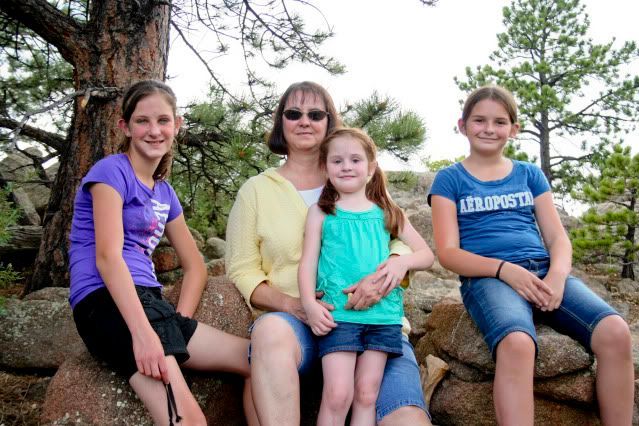 then one with me added...
just me & the girls...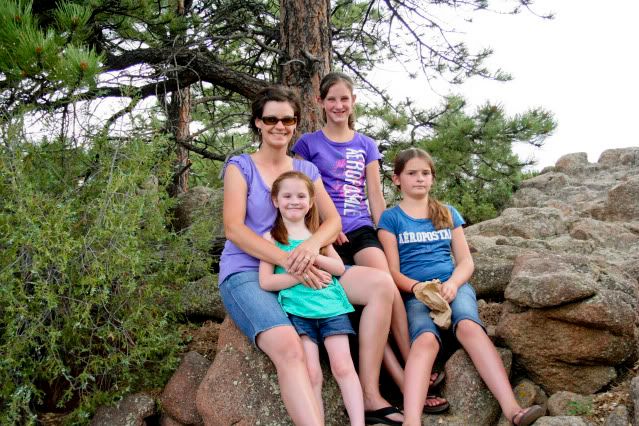 and then i had an idea for this shot...it's now hanging on my photo wall :)
okay so now, brace yourselves!
i had told my sister, crystal, when we first arrived just in conversation that i was thinking about getting my nose pierced! well, she told me that there was no backing out of it & that she would LOVE it if we went together...she wanted to get a second hole in her upper ear. soooo, on our way home from estes park she piped up & said..."we should go & get your nose done today"! i had really been pondering the thought of it all since i had first mentioned it to her days prior. believe me, i didn't take this "doings" lightly. i have always been a girl that has not ventured far from the line that centers me. i am a rule follower, calm & totally type A. my parents will tell you i was the perfect child- no joke! i decided to go ahead, and try something a bit wild just for once in my life. it's not a permanent marking...i can take it out & will just have a small dot. i actually will get a much smaller diamond to replace the one i have currently in 3 months (well, now it's 2 months). so without further a do...
and my sister says....
thanks for stepping off the line & walking on the dark side with me just once :)!
& just so you know...i did get teary eyed! my nose wouldn't stop bleeding & i so hate the taste of blood. i love the way it looks & can't wait to get that smaller diamond. one thing i'm super upset about...and if you know me really well...you'll know that i am very dedicated to blood donation! don't ever miss my 8 week appt! but now, i can't donate for a year! that is the ONLY thing i will ever regret about this crazy venture!