over labor day weekend, which is our 6th year anniversary of living in MT, we went to Yellowstone. i tried so hard to take the non-typical yellowstone photos...or maybe that's not the right wording...i tried to take photos in a different light & of a different style. bo & alisha joined us for the weekend- they flew up saturday morning to surprise the girls...however, grandma kathy let the cat out of the bag on accident. during their stay this go around they stayed in a hotel...so we went & swam- they even had a water slide! the girls were not sure of it at first. once brinley tried it...she loved it. the scary part of the slide was that the water level was over their heads when they came down. jordan was absolutely hysterical when buck tried to get her to go down & just try it once. chloe...she's the dare devil of the girls. she loved going down the slide w/ uncle bo & daddy! she even tried going down by herself! it only was one time!
late august brought a visit from my sisters crystal, misty & my niece aspen. on one of the days we went to a local waterfall called palisade falls. it's a little less than a mile hike & the last little bit is quite the uphill battle. but so beautiful & refreshing once you reach the top. we dilly dallied around for about an hour. we ate wild raspberries, splashed in the water, climbed all over the rocks, ran away from bees (poor brinley). aspen absolutely loved all the sap on the trees & kept picking it off w/ her fingers...her shirt was so filthy by the end of the hike it looked like misty never washed her. & of course everyone knows that's NOT true in the slightest! LOL
on one of our other exploration days we went to the museum of the rockies here in bozeman...they had a special free day the weekend they were here & so i knew it would be fun for all the girls! they had lunch, jumpers, face painting, free museum admission where the exhibit was movie costumes & rock wall climbing. after our hot & busy day we went to coldstone for some ice cream! i had this apple pie goodness! i could eat that every day!
summer wouldn't be complete w/o trips to the friday night races at our local dirt track. buck never missed a single race. many nights he would take the girls & i would have time to myself to hang out & breathe from a hard work week. we often had friends join us...here is one of BFF's sara & her little man, finley.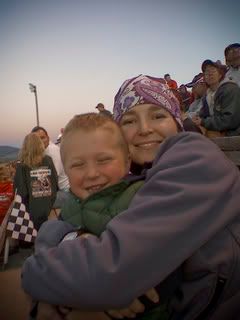 school also finally started. jordan is in 6th grade & brinley is in 3rd! wow! i am so excited that during school clothes shopping i was able to find brinley some jeans that she'll actually wear! last year she wore "sweat pants" ALL YEAR LONG! looks so slouchy for everyday! she was so excited about the jeans & loves them all- such a relief! we took daddy w/ us for shoe shopping...that was quite the ordeal. men just don't get the whole style issue. he wanted them to have something practical & not for the simple fashion. i do admit though when we go to the mountains on drives he demands them in jeans/foot covering shoes in case of an emergency! but...but...but! brinley finally settled on some really cute vans that have girly cross bone skulls on them in pink/black. jordan was the difficult one! we went to many stores...4! we just don't have the selection that we did in CO! we finally ordered her a pair of plaid rocket dog's. getting back into the homework craze has been hard...especially for brinley. she despises homework of any sort except the craft type! i keep telling her she'd better get used to it because there is only more w/ each passing grade.
jordan has also started her fall soccer season. she's finally a new color...PURPLE! very exciting around here because we've only been green, red, blue & yellow. i'll have to update w/ video & photos later. we've got a scrimmage tonight for practice! i think a lot of the girls on her team either have never played, are 5th graders (a mixed 5th & 6th team) or they just don't care. poor jordan...she does shine though!
well, i finally have a break from work as well. which is a very welcomed by me! i've been working my tail off all summer. we finished the school right at the time the first bell rang it seems. what a project that was! we also completed a church...w/ a project manager from ****! so right now all the new projects are going on but are not where we can get in there yet so i'm just working doing my personal assistant job right now. i'm really enjoying my time at home getting everything caught up the way i like it & spending time w/ chloe.
for the next couple weeks i'm pre-planning pages for retreat in billings during the weekend of oct 9-12! i'm so excited! i need about 100 pages or so. i have 2! :) LOL i can't wait to feast at the olive garden & go to a girly movie & scrap the whole weekend away