there are clear blue skies somewhere...just not here...we've been getting rain every day for 3 weeks now. everything is absolutely stunning right now...so green & vibrant. we even have a winter storm warning for over 7000+ feet! WHAT? i think my garden is safe...chloe & i planted it today (pumpkins, green beans & pickles for pickling). that's all i have room for...should of made more room when we first did the yard! 2 rain storms have passed through already tonight. looks like more is in store! took these photos last week while driving home from jordan's soccer game...we've had so many rainbows & i was by myself driving so it was the perfect time to take photos on a drive & go basis...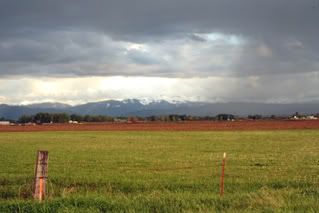 jordan is having such a great soccer season. her coach is absolutely amazing. during her game yesterday a few of the opposing teams soccer parents were saying really crude things...
*why don't they put their bad players in so we have a chance?
*why don't they put a girl for a goalie?
seriously? they are 5/6 grade kids & at this point, obviously, it is about winning & having fun. jordan's team has played before on many different teams & they know how to play to each other's benefits/skills. they have it down pat. they are undefeated! jordan has never been on a winning team, never. it feels so good for her to feel the winning side of it...to see her smile & want to excel in her skills & to improve & realize there is always room for improvement. to have a coach that uses each & every kid to the teams benefit. a coach that pulls each kid away separately after each game to tell them good/bad about their performance. he rocks. the team rocks. i'm so happy for her & it's so exciting to watch their team meld together so well. i took team & individual photos last week...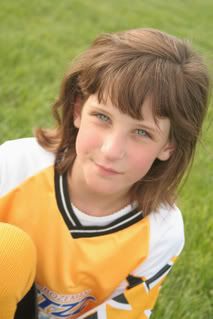 we went camping over the weekend w/ some really great friends, more friends of buck's than mine...but still fun. i didn't get very much sleep due to a 3 year old telling me she wanted to go home & was done w/ camping & wanted to sleep in her own bed, a dog that "poops" in the camper @ night & i have to try to clean it up w/o adding to the pile, trying to sleep w/ a husband who's had too many drinks & is snoring to let all hear that he IS sleeping! it rained of course on us a a couple of times. the girls had so much fun playing down by the lake & w/ the dogs. relaxing & good to get away.
jordan had a birthday party on saturday, just hours before we were to go camping. i pulled 2 crafts out of my head & put them together. they thought they were great. i was way in over my head this day. from the work week being a full load, trying to get a birthday party pulled off because we couldn't do it last weekend becuase of the holiday weekend, & trying to get packed for camping...GRRRR! i'd definitely had enough of these walls!
i'm going to have a short work week this week, so hopefully i can get some things done around here. & maybe scrapbook...i have assignments to do & i would love to just sit & scrap w/o any lines to follow. i did manage to pull off 2 layouts last week...
adding more to the girls' age comparison album...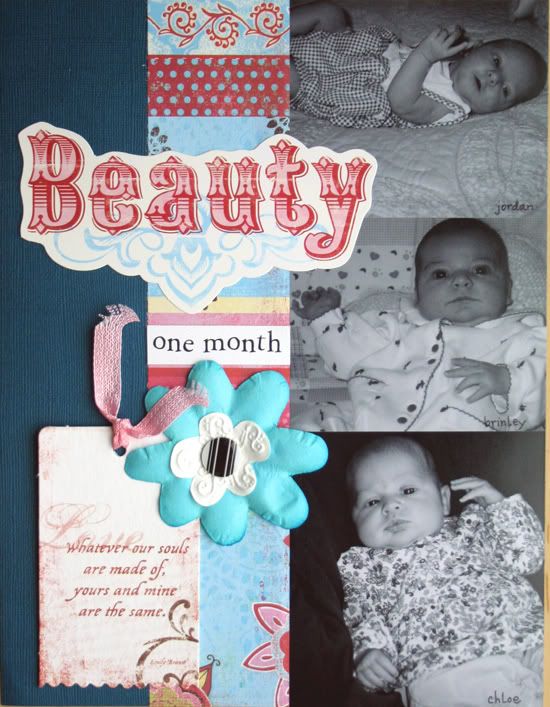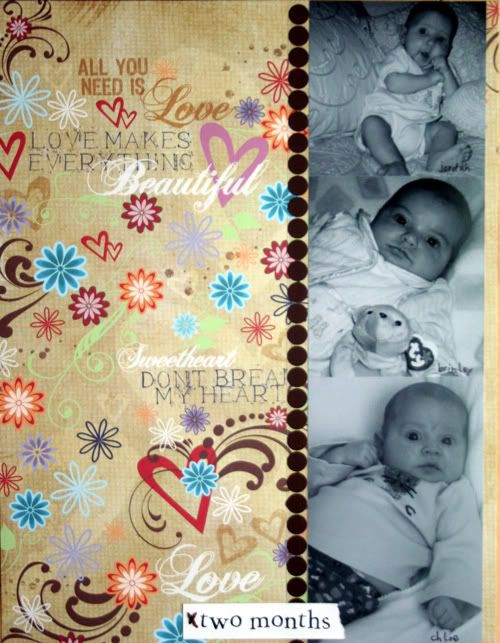 the girls get out of school on friday...looking forward to that...at least right now. we'll see how long before they claim they are bored & fighting! LOL! plus this is the first summer that i will be working, pretty full time, & they will be here at home alone w/ a sitter, of course. but it will be different for everyone...just hoping it will all be totally fine & everything runs somewhat smoothly!