happy father's day to all the dad's out there. to buck. to my dad. we're just staying home today & then later having a BBQ w/ my 2 best friends & their families...sara & lisa! should be so fun!
i've had this week off. tomorrow starts work. i've not worked a summer since before i had jordan. i have a 13 year old watching chloe. jordan & brinley are fine & can fetch for themselves...at least they all get to stay home every day & be in their own environment. that alone, i think, will be a huge benefit! i'm working 8-4 M-F. i'm quite sure it's going to kick my butt! but it means so much to get these darn bills paid off & go into winter feeling confident.
so i'm sure i won't be scrappin' much...which is so sad for me. my photo pile just keeps getting taller & taller by the day! i completed these last 2 layouts yesterday...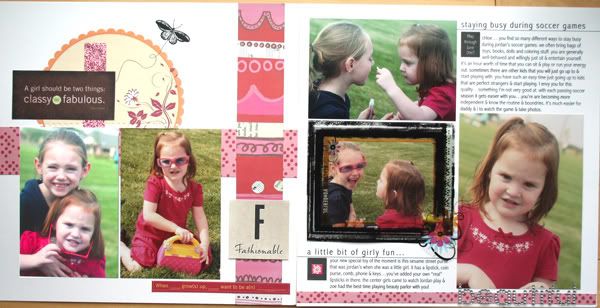 so i'm off...need to switch laundry around & do a bit of last minute touch up cleaning before the guests arrive!
hugs to everyone!