yesterday was such a whirlwind! i couldn't keep up! so first our day started out as any normal sunday would...making breakfast- blueberry pancakes, sausage & eggs (that we got from a local farmer- they were divine). then we discovered that romeo was missing! jordan figured out that he must of snuck out the door (which he loves to do & loves being outside & cries to go out if the girls are outside) when she fed sharpie. so once we realized, two hours after, we started the house search...just to make sure he wasn't sleeping somewhere (which is from a previous experience, LOL). no luck...the girls looked & then i looked & closed the doors to rooms after i checked each one! no luck! so then it set in that he had indeed ran outside behind jordan's back. so the search outside began. jordan & brinley got on their bikes & rode around the neighborhood for 3 hours looking for him. buck rode on his 4 wheeler (which i didn't think was a good idea because romeo wouldn't come to that...he freaks out w/ loud things...even the vacuum)...but he did anyways :). chloe & i drove around in the durango....calling out for him & watching both sides of the street. jordan really was feeling guilty & brinley was pointing fingers...we shot that down immediately because he's got out w/ all of us so far! poor jordan! she was bawling! so the gal that i work for is redoing her boys' bedrooms & playroom & is giving us some furniture (shelves & desk w/ hutch) so we loaded up the trailer & buck truck to head out for that. he wasn't home when we returned. we even set his food out! so...the girls & buck drove around again looking for him. chloe & i were inside getting things moved around in j & b's room....she had to go to the bathroom & got her panties just a bit wet...well we had to change them. chloe went in & got a pair of panties....i went in her room to make sure they were on the right way...of course not. in the mean time chloe told me that she heard romeo meowing! i was like what? then i heard it too. REMEMBER I LOOKED EVERYWHERE!!!!!!!!!!!!! it sounded like it was coming from her bed. now if you've ever seen chloe's bed (brinley's old one...w/ the drawers on the bottom)...it's rock solid...no way to get under it. did i mention chloe has to change her clothes a million times a day? well...she's constantly changing them & i can't keep the same outfit on her for more than 30 minutes it seems. well...buck came into help after we yelled for him. we took up her mattress & box springs & discovered a bunch of clothes behind the row of drawers... well there was a sag in the box spring. i touched it & realized it was ROMEO! are you kidding me? so i tore a small hole in the covering & he climbed out...what the? so while chloe was changing all her outfits she must of left the drawer open & he climbed in there to peek around & got trapped. we hunted all morning & afternoon for him!!!!!!!! what a relief though!
then i had the daunting task of rearranging j & b's room to accommodate that desk & hutch. & you know me...couldn't just move things around- i had to clean it as well. so now their room is clean & it looks great! i then moved our movies onto a new shelf & i have a new shelf that accommodates ALL my scrapbooks....i have over 70 of them! it looks so awesome. i'll have to take a photo to show you! it's so fab! so exciting to have them all in one place! i was up until 11pm last night moving & cleaning! what a day...i was so entirely sore! but now my house in sparkly clean!
i've been working 4 days a week...working for a client doing organization & errands twice a week. then i started working w/ one of brinley's friends mom's doing construction clean-up....not too bad. the $ is going to get these darn bills paid off! can't wait for that! i get so giddy just imagining the day!
now able to share these pages...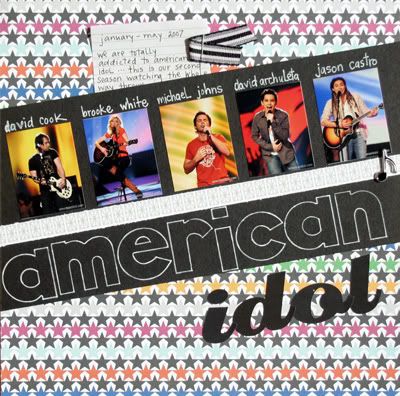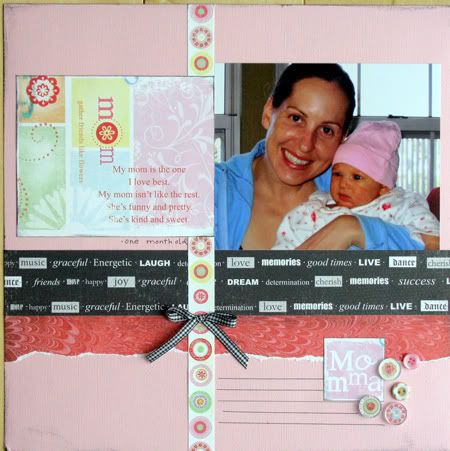 also a bit of a sneak peak @ something coming up....
also, something very near & dear...please continue to keep my niece, aspen, in your thoughts & prayers! she's going to TX here in a couple of weeks to be scoped for problems that have been ongoing for almost her entire life! too much detail to go into for now...i touch more on that when there is a "diagnosis"...which they are so hoping to get by going there to see this specialist!
just a little fyi...
You know that paying your bills electronically can save money, time and paper, but do you know how much? According to a new study from the PayitGreen Alliance, it's an awful lot; each American household receives approximately 19 bills and statements, from credit card bills to bank statements, and makes approximately 7 payments in paper form per month. And it really adds up.
By switching to electronic bills, statements, and payments, the average American household would, every year, save 6.6 pounds of paper, 171 pounds of greenhouse gases, 24 square feet of forest from deforestation and 63 gallons of wastewater. If just 2 percent of American households (2,287,680 households) made the switch, those number go up to 15,093,962 pounds of paper, 390,080,292 pounds (196,040 tons) of greenhouse gases and avoid creating 143,960,137 gallons of wastewater, enough to fill 218 Olympic-size swimming pools. Head on over to use PayitGreen's calculator to see how much you, and your friends and family, can save by going with electronic billing. ::PayitGreen