this morning i got a call from Jordan's friend, Payton....her dad. they took the both birds early in summer because of brinley's allergy to them. crystal bought kiwi for her when she was just 2 years old. kiwi passed away last night...he was 6. i had to break the news to brinley & jordan when they returned from school this afternoon. man was she ever upset...i knew it! it was just yesterday that she stood next to me @ my sb table & told me that she really wanted to see the birds. she took a picture of them to school today & hung it in her locker. & then this! poor girl!
a bit of an update on brinley...i'll just copy my journaling from the actual layout & post here...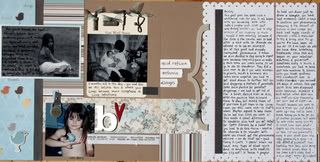 on photo of her in grass...this photo breaks my heart...i truely believe your medicine, pulmicort, makes you depressed, easily upset, easily agitated, on edge, emotional & generally unhappy. since we discovered these to be side effects & there is no smoke- we went to one treatment/day & you did a complete 360! so happy you're happy again.
main- brinley, this past year has been such a whirlwind ride for you. it all began with you becoming sick with colds & coughs. your first bout was during soccer- you had to stop because of your coughing so much. i thought it was mostly because of the fires & the smoke was so bad. after a visit w/ dr. ******* she advised us to see an allergist. you at this point had already contracted phneumonia 3 times. we also decided to stop going to urgent care because they only gave us med's & each time you were worse. so we go to see Dr. *******. they did a skin test to see if you were allergic to plants, molds & animals. all came back negative. you had to get blood drawn to further test for bird droppings & feathers of parakeets. came back positive for parakeet droppings- we had to git rid of the 2 birds, daisy & kiwi. we also, after the positive test, allowed them to stay, but moved them out of your room & put them in the living room. you still were sick- so that's when Payton agreed to take them. you've had kiwi since you were 2! this made a small difference. dr. ****** also had you get tested for cystic fibrosis by a sweat test. you had to do this twice- negative. dr ***** & dr. ***** both agreed you should get the phneumonia vaccine- we do that too- good thing it lasts 7 years! when we have any type of blood work done or anything with needles you flip out! it takes 4 people to hold you down just to draw a sample. you have had numerous chest x-rays to confirm you phneumonia frequency and the amount of mucous in your lungs. you have had many rounds of steroids- oral & nebulizer to try & bring your #'s up. you're #'s have been as low as 110 & as high as 240. you have done breathing treatments since this all began on your nebulizer. albuterol & pulmicort...sometimes every 4 hours & sometimes you had to take your neb. machine to school with you. thank goodness Mrs. Lundquist was so understandable- you missed 29 days of school this year. you've also been diagnosed with seasonal allergies & acid reflux. when does this all end? you also frequently wet your bed at night- we though because you were so sick & tired you just didn't wake up- now not so sure. i dread taking you to the dr. for yet another problem- but better be safe than sorry. your #'s of recent have been great- despite all the fires/smoke- we took 1 of your pulmicort's away & your great. even the edgy personality is gone- a side effect of pulmicort. now hopefully this fall will bring less missed school days & less illness & dr's visits. first- a flu shot! sorry- dr's orders!
chloe's version...i'm pretty sure she's on the same track as brinley...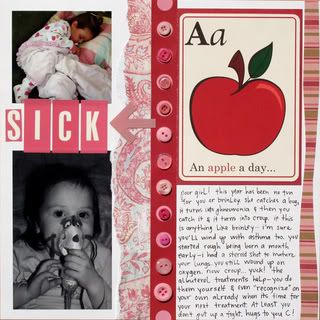 i'm going to be busy scrapping the weekend away...the scrapaddict.com crop starts @ midnight...i'm hoping to get tons done!